Massive grey concrete columns are now starting to rise at an expansive site behind a fenced-off area at Crescent and River roads in Portage la Prairie where a new, $455-million hospital is starting to take shape.
On a muddy makeshift road that rings the site, a flatbed has been loaded with large concrete supports. Two large crawler cranes are hoisting materials into position. Nearby, operators on various types of heavy equipment, along with several construction workers, can be seen across the dusty parcel of property.
By early 2026, the site will be home to a new Portage Regional Health Centre, a two-storey, 275,000-square-foot, 144-bed hospital being built near the shores of Crescent Lake to replace the Portage District General Hospital, a much smaller, 105,000-square-foot facility along 5 St. SE just a short distance away.
The older hospital is slated be demolished once the new one is in operation.
Construction of the facility began in early 2023. Piling work has been done and work on the foundation, stairs and elevator cores for the new structure are nearing completion. Structural steel  started recently and is slated to be completed in sections with building close-up completion targeted for next summer.
PCL is the construction manager on the project. SMS Engineering is the electrical and mechanical consultant, Crosier Kilgour & Partners Ltd. is structural consultant and KGS Group is the civil consultant.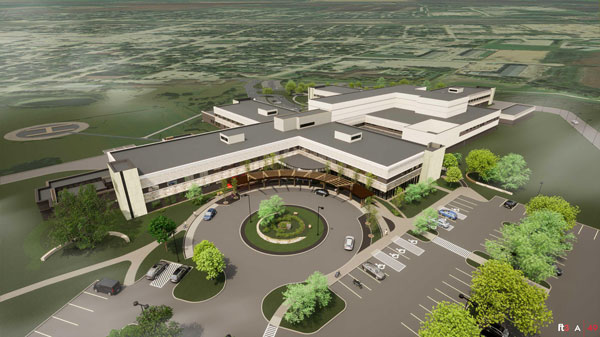 The two firms that designed the project, ft3 Architecture and Architecture 49, were inspired by the shape of the crescent lake adjacent to the building site and incorporated existing elements of nature found in the area. Renderings show a sleek-looking building with a crescent-shaped driveway at the entrance.
"One of the most prominent features in the new design is the emphasis on natural light," says Kyle MacNair, clinical change lead at Southern Health. "Large windows have been incorporated throughout the design and featured in every room, ensuring as much natural light as possible.
"The park-like campus and large outdoor patio spaces are some of the many highlights this new site will offer the community. All of these design elements are meant to instil a connection with nature."
The hospital is being built because the community's existing facility is nearly 70 years old and the population is growing. While several upgrades have taken place over the decades to the existing hospital, it was deemed more prudent to build new.
"Population growth in Portage la Prairie and surrounding areas has been steadily increasing and is expected to continue as new industries are anticipated over the coming years," says MacNair. "This growth has resulted in an increase in volume of services provided since Portage District General Hospital opened in 1956."
Portage la Prairie is about 83 kilometres west of Winnipeg and home to approximately 13,000 residents.

"Construction of this new facility is the result of the unwavering commitment and collaborative spirit of the community of Portage la Prairie, the Portage District General Hospital Foundation and the province," says MacNair. "The new health centre will provide a significant expansion of services to the residents of this area leading to faster care and improved quality of life."
The new hospital will have an emergency department with 19 treatment areas, an ambulatory care area, surgical department with three operating rooms and two specialty procedure rooms, a diagnostic imaging department, full-service lab and a cultural space.
"The space was designed in consultation with local indigenous partners," MacNair says. "It will be a circular space with fire suppression and air handling mechanics to facilitate cultural ceremonies such as smudging."
Technology is a big part of the new hospital. It will feature upgrades such as electronic health records, monitoring systems, automated dispensing cabinets and switchable privacy glass.
Interestingly, staff and doctors at the hospital were heavily engaged in the design process which included the creation of 3D mock-up spaces so they could experience and analyze layouts of various parts and provide critical feedback. The mock-ups included furniture, medical equipment, electrical outlets and windows made to exact dimensions.
The setups allowed staff to orient themselves and provide input that ultimately resulted in several changes to the design and layout of the spaces. This is the first instance of a mock-up space for a Manitoba hospital project.
"The 3D mock-up space was an integral exercise for informing the final design of the clinical spaces for the new hospital," says MacNair. "Engaging with clinical staff from all specialties to provide critical feedback on room design and layout was extremely valuable and ultimately resulted in several informed changes to the final design and layout of the clinical spaces."
link