Construction crews are mobilizing heavy equipment and preparing the grounds adjacent to Boundary Trails Health Centre in southern Manitoba for the first phase of a $64.4-million renovation and expansion project that will add new acute care in-patient beds and provide a larger, more modern space for programs.
Penn-co Construction Canada (2003) Ltd., construction manager on the project, is presently focused on building a dedicated site access approach to minimize the impact on day-to-day traffic and operations at the hospital.
"The project is in the early mobilization phase," explains Todd Blackman, manager of capital planning in the transformation management office at Shared Health which plans health care services across Manitoba. "Site fencing is underway and construction lay down areas are being built up to prepare for site excavations and foundations. Large earth moving equipment and pile rigs will be onsite for the first phase of construction."
The regional acute care facility, just off Provincial Trunk Highway 3 between Morden and Winkler, about 125 kilometres southwest of Winnipeg, is being expanded to accommodate the region's growing population and enable patients to receive treatment closer to home. Presently, many must go to Winnipeg. A two-storey in-patient building is being added along with a separate community health services building.
The in-patient building will be a 31,500-square-foot structure with 24 beds on the main floor. It will include 22 private patient rooms, one bariatric patient room and one air-isolation room. Patient rooms will be wired for mobile computers and staff will have access to satellite hallway computer stations for electronic charting.
The building will feature a visitor lounge and public washrooms on the first floor. The second floor will include labour, delivery and newborn care areas.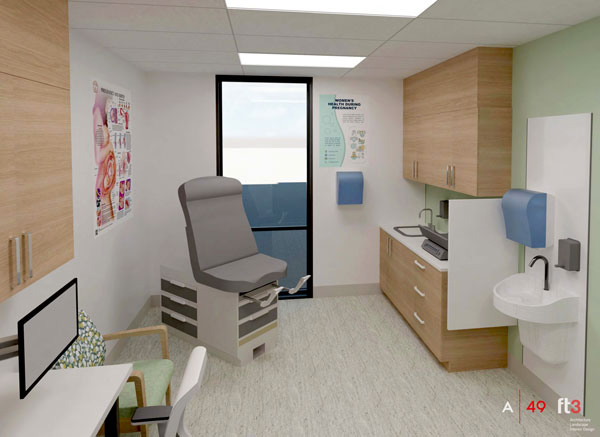 The community health services building will have an area of 41,500 square feet over two floors. The main floor will provide common support spaces, including a public entrance, reception and accessible meeting rooms. Rental space for food service, retail pharmacy and other potential services is also planned on the main floor of the building as well as a pharmacy, facility support space and staff washrooms.
The second floor will include common areas with multi-purpose rooms, administration and home care space.
Both new structures will be made primarily of concrete and steel and clad with brick, cement board and metal and glass that will tie into the existing health centre.
Renovations to the existing health centre will begin once programs have moved into the newly built community services building, providing larger spaces for several departments and programs such as surgery, cancer services, emergency, medical device reprocessing, ambulatory care and diagnostic services.
Plans call for work on the community services building to be completed by the end of 2024, with the in-patient expansion targeted for completion in 2025. Renovations to the existing space are expected to wrap up in 2026.
Prime consultants on the project are Architecture 49 and ft3 Architects. Crosier Kilgour & Partners Ltd. is structural consultant and SMS Engineering is the mechanical and electrical consultant. Project builders are following green building practices and will be registered with Efficiency Manitoba which offers programs and initiatives to help organizations achieve significant annual energy savings targets.
The project has been in the planning stages for a decade. The Boundary Trails Health Centre Foundation and Southern Health-Santé Sud have been working closely with the provincial government to get the project moving.
Blackman says increasing in-patient beds and adding a new community health services building will further strengthen the network of resources that makes Boundary Trails an important hub for medical resources.
"This has been a community-driven project with a local group of advocates led by the Boundary Trails Health Centre Foundation," he notes. "Community stakeholders were heavily involved in the development of the original functional program of the community services expansion and continue to be involved in reviewing designs and making suggestions for improvements."
Although the existing facility will remain in operation during the new construction, Blackman doesn't anticipate any problems.
"The building addition and renovations will have minimal impacts during construction. We will follow established processes and Canadian Standards Association standards to ensure that the risks of construction in an active health centre are mitigated."
Work at Boundary Trails is part of $812-million being spent by the provincial government to build, expand or renovate health care facilities across Manitoba.
link