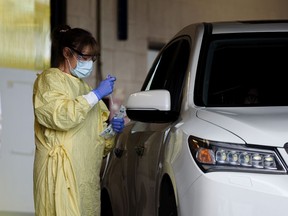 Article content
Beginning Saturday, Alberta Health Services will no longer screen visitors to its health centres for COVID-19 illness or exposure, while virus testing centres shut their doors.
Article content
The health authority announced April would bring an end to its front-door COVID-19 screening program, which had been in effect in some capacity since the pandemic began in March 2020.
Article content
The decision was made based on decreasing levels of respiratory illness in Alberta, AHS said.
They stressed anyone feeling unwell regardless of whether or not they have tested positive for a respiratory virus should still avoid visiting health-care settings unless they're actively receiving care.
"Masks will continue to be available at the entrance of AHS and Covenant sites across the province, as continuous masking will remain in place for all visitors, as well as staff, physicians, and volunteers at all acute care, continuing care and community sites," AHS said.
Article content
The move comes at the same time Alberta closes its PCR-testing centres for COVID-19, with those sites ceasing operations Friday. That molecular testing is now only available for people at risk of severe outcomes if needed to support clinical care, and for those living in some high-risk settings for outbreak management purposes. Free rapid-testing kits remain available at pharmacies.
Additionally, the province changed its COVID-19 isolation guidelines beginning Saturday. They advise those who are sick should stay home until symptoms improve; previously, they recommended those who tested positive for COVID-19 to isolate for five days.
The winding down of the two pandemic-era programs reflects a broader transition by the province towards an endemic approach to the novel coronavirus, a decision previously reflected in moves to lift all mandatory public-health measures last year and significantly reduce its data reporting on virus cases.
Article content
Albertans continue to contract COVID-19 and die from the virus, however.
In the two weeks preceding March 27, 24 more deaths in the previous were attributed to COVID-19. The pandemic's death toll sits at 5,643.
Among those newly reported deaths was a child under one-year old. Provincial data shows that death occurred in December 2022 and was later reclassified as being COVID-related. It's Alberta's first reported COVID-19 death of an infant.
As of March 27, there are 465 patients in Alberta hospitals with COVID-19, including 25 in intensive-care units. Total hospitalization rates sit at the lowest point since January 2022.
Twitter: @jasonfherring

link