Seymour Health, which has 70,000 to 100,000 patients, after receiving $6.8 million in bailout money from VCH, is still in financial trouble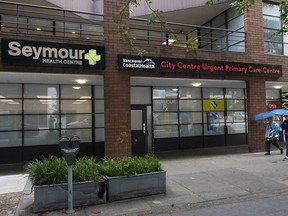 Article content
One of the two Vancouver clinics that Seymour Health operates was within days of being evicted in June for nonpayment of rent, which would have left thousands of patients without a doctor, according to a judgment on a Vancouver Coastal Health petition to put the clinic company into receivership.
Article content
Seymour Health, which has 70,000 to 100,000 patients, is still in financial trouble after receiving $6.8 million in bailout from VCH, B.C. Supreme Court Justice Shelley C. Fitzpatrick wrote in the judgment in which she granted the appointment of a receiver of the clinics.
Article content
The $6.8 million hasn't been repaid and the clinics' financial crisis from mid-2022 has continued.
"I conclude that the only reason why that crisis has not fully materialized into financial collapse since then is the funding that VCH provided, which has now decidedly come to an end and only recently, in April 2023," she wrote.
"In other words, I conclude that Seymour Health is back to being not just on the edge of solvency but in the thick of insolvency."
Article content
She noted in the judgment that Seymour Health was "adamantly opposed" to a receivership and said it has filed a lawsuit seeking millions of dollars in damages from VCH from its earlier dealings with its operations.
Seymour Health had applied to the court to convert VCH's petition to an action that could be heard in due time in the courts. Fitzpatrick dismissed that action.
She said the appointment of a receiver avoids the possible risks that would result in "serious repercussions to VCH and also to the patients."
"The primary purpose of any receivership is to stabilize the situation for the benefit of all stakeholders,"  including physicians and other staff, she said. "A stay of proceeding avoids creditors taking unilateral action against the debtor and its assets to the detriment of the overall estate."
Article content
In June 2022, Seymour Health owed back rent on the 7th Avenue clinic of $305,000, and by June of this year, that had doubled to $609,000. The landlord on June 15 served a demand for payment, which wasn't paid, and on June 19 advised VCH if rent wasn't paid, the clinic would be evicted on June 21.
The judge wrote that "some very late in the day negotiations with the landlord have staved off any action," but "any actions by creditors against Seymour Health will affect its ability to continue to operate."
Fitzpatrick said that Seymour Health "wishes to be left alone to continue to operate as best it can for the time being, without repaying any amounts to VCH. … such a position is untenable in the circumstances."
She noted that a benefit of the appointment of a receiver, Ernst & Young, is it will be granted powers to borrow up to $2.5 million more from VCH to keep the clinics open.
Article content
The owners of Seymour Health said its financial difficulties stem from its operation not receiving the licences and exemptions that would allow it to run lab services for its own patients and others, which is at the heart of its lawsuit against VCH and others. That has yet to heard in court.
After spending millions to prop up medical clinics, Vancouver Coastal Health says no more: court documents

Pressure mounts for Providence Health to change MAID policy
---
Support our journalism: Our in-depth journalism is possible thanks to the support of our subscribers. For just $3.50 per week, you can get unlimited, ad-lite access to The Vancouver Sun, The Province, National Post and 13 other Canadian news sites. Support us by subscribing today: The Vancouver Sun | The Province.
link