Centre issues heatwave health advisory as temperatures touch 'unusually high at some places in the country'
February, which is usually marked by the ebbing away of winter and the arrival of the pleasant spring weather, has witnessed unusually high temperatures in many parts of the country. This phenomenon points towards the possibility of extreme heatwave conditions in the coming months, making it necessary for everyone to safeguard themselves against rising temperatures. In the same light, the Ministry of Health and Family Welfare on Tuesday released a list of dos and don'ts to protect oneself against heatwave, days after the Indian Meteorological Department (IMD) issued its first heat advisory for 2023.
As we know, staying adequately hydrated should be one's top priority during hot and harsh summer weather. The advisory suggests drinking water frequently apart from carrying water during travels. "Consume salted drinks, like lemon water, buttermilk, lassi, fruit juices, or ORS (Oral Rehydration Solution)," it read, adding that one must also consume fresh fruits such as watermelon, cucumber, lemon, and orange.
Apart from hydration, it's advised to stay indoors as much as possible. "Stay at shaded places, use window shades and curtains, use fans, coolers and AC, and take cool baths," according to the Health Ministry. When venturing out of indoor spaces, don't forget to cover your head using a "cloth, hat, umbrella, cap, or a towel". Additionally, wear light-coloured, loose cotton clothes.
To protect yourself against rising temperatures, the Health Ministry urged everyone to avoid the sun between 12 pm to 3 pm, when sun exposure is the highest. Since parked vehicles tend to be hotter than normal, it is advised to not leave children in them. "Alcohol, tea, coffee, and carbonated soft drinks" should be avoided, it read further.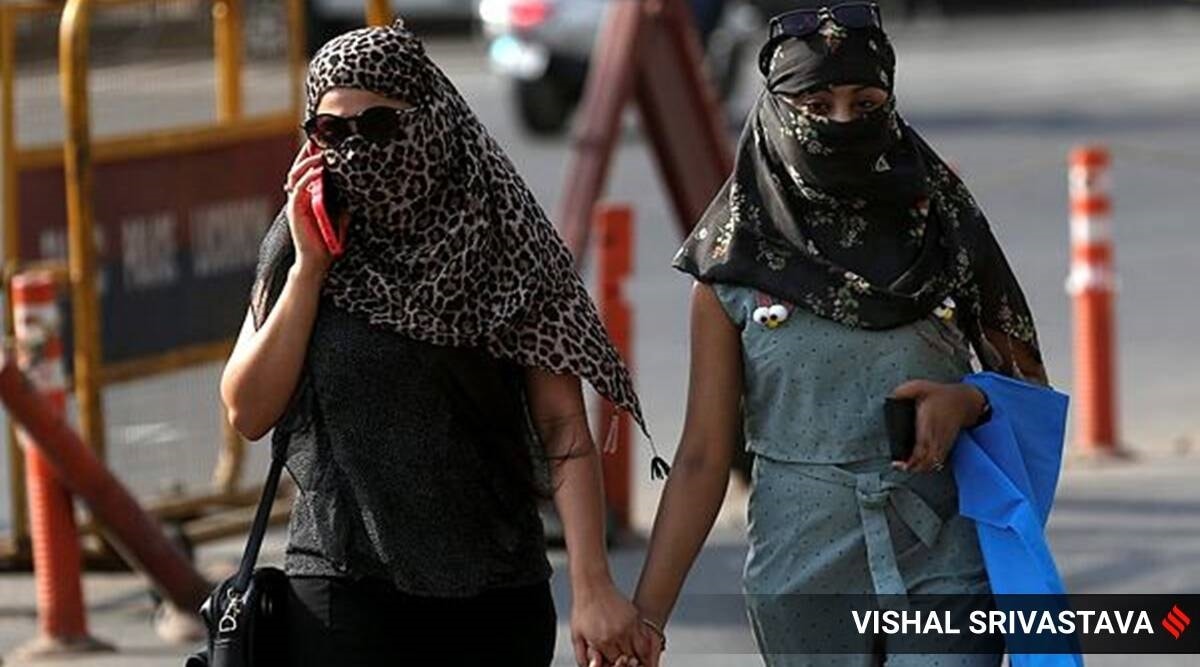 Cover yourself when heading out (Express photo by Vishal Srivastava)
Apart from these tips, the advisory also listed people who are most at risk during a heatwave.
*People working outside
*With heart disease or high blood pressure
*Pregnant women
*Above 65 years of age
*Young children
*Infants
Noting that temperatures have touched "unusually high at some places in the country", Union Health Secretary Rajesh Bhushan wrote to Chief Secretaries and Administrators of all states/union territories regarding daily surveillance on heat-related illnesses that will be done in all states and districts from March 1, 2023.
"The daily heat alerts, which are being shared by NPCCHH, NCDC, Ministry of Health and Family Welfare with states, indicate forecast of a heat wave for next few days and may be disseminated promptly at district and health facility level. State, district, and city health departments to ensure implementation of heat-related health action plans and support in planning, managing and assessing response to heat along with responding agencies," the letter read.
It added that health facility preparedness must be reviewed for the availability of adequate quantities of essential medicines, intravenous fluids, ice packs, ORS, and all necessary equipment. "Availability of sufficient drinking water at all health facilities and continued functioning of cooling appliances in critical areas must be ensured."
"Health facilities need to increase resilience to extreme heat by arranging uninterrupted electricity for constant functioning of cooling appliances, installation of solar panels (wherever feasible), energy conservation measures and measures to reduce indoor heat through cool/green rood, window shades, shade outside, etc. Rainwater harvesting and recycling plans may also be explored for self-sufficiency in water," Bhushan wrote.
We reached out to Dr Dilip Gude, Senior Consultant Physician, Yashoda Hospitals, Hyderabad, who further listed some dos and don'ts that you must keep in mind for the coming months.
Dos
*Always remember to hydrate. In climate-controlled environments at work and home, thirst centres may be suppressed but one needs to constantly hydrate to make for insensible water loss. This is water lost NOT via sweating but via diffusion through skin and evaporation through the respiratory tract.
*Loose-fitting, lightweight and light-coloured cotton clothes that help the body breathe and control sweating and allow heat dissipation. Damp clothing, wherever required.
*Use sunscreens and regularly reapply them.
*Be aware of local weather reports and the degree of heat waves.
*Cover head with a cloth umbrella or hat, if outside.
*Take frequent cold showers.
*Conserve and preserve rainwater and promote harvesting.
*Solar reflective cool roofing/painting with good cross ventilation at home helps.
*Keep emergency medical aid kit ready.
*Lots of indoor and outdoor plants.
Don'ts
*Use of sweetened beverages like colas should be strongly discouraged as they tend to osmotically further dehydrate the body.
*One should avoid alcohol, coffee, tea and aerated beverages.
*Avoid high protein non-vegetarian food and prefer freshly cooked food. Avoid salty, spicy, and oily foods.
*Do not leave elderly, children or pets in parked vehicles.
*Do not venture out barefoot.
*Avoid cooking during peak heat hours of the day. Eat smaller and more frequent easily digestible meals.
*Do not work out/exercise during hotter times of the day, rather, prefer cooler times.
*Avoid direct sunlight
📣 For more lifestyle news, follow us on Instagram | Twitter | Facebook and don't miss out on the latest updates!

link