March 3 clinic won't 'come close' to easing backlog; Algoma Ontario Health Team officials will map next strategy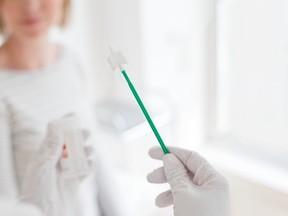 Article content
It's one pandemic hangover for which no quick cure appears in the medicine cabinet.
Article content
A cervical cancer screening backlog will continue even after a third local clinic for individuals without a primary care provider, a problem plaguing both those with and without doctors to call their own.
"We remain way behind on cervical screening," says Dr. Jodie Stewart, a primary care provider at Group Health Centre, which hosts a cervical screening clinic March 3, the third such Algoma Ontario Health Team-hosted service in so many months geared to catch up on screenings scotched, or delayed, when pandemic restrictions were in full stride.
"And our numbers tell us this (upcoming clinic) won't come close to meeting what the actual demand should be in the community," Stewart said.
Many screenings were affected then, and it's well known to medical officials the number of individuals with up-to-date cervical screenings –  the most common way to find cell changes in the cervix that may lead to cancer – has declined. In fact, during the first six months of the pandemic, there were some 63 per cent fewer screenings performed in Ontario, a number likely lager in Northern Ontario due to the fact there are fewer primary care providers here, yielding more "unattached" patients.
Article content
Stewart said cervical screening rates remain "way" lower than those of other tests provided here, including colon cancer examinations, which have "rebounded fairly well."
"I think the reason that they're low is just that it is a service that requires you to come in-person to see a health-care provider," Stewart told the Sault Star in an interview. "So, that's just not been available for a long time and people have been putting off primary care. And now the demand on primary care is quite high, so accessing the services is harder."
For the population that doesn't have a primary care provider – those targeted in clinics – such screening is a lower priority than having acute health-care needs met, Stewart said.
"And I think for some of this group, just learning about the clinic and finding out about what's out there is important in how we work as a community so that everybody knows that it's available to the population that needs it," she added.
Article content
The Algoma Nurse Practitioner-Led Clinic last October and Superior Family Health Team Clinic in mid-January saw 117 screenings; 65 attended the former and 52 signed up for the latter. The Algoma Nurse Practitioner-Led Clinic aimed to perform 100 tests.
Ontario Health Team official will join heads following the March 3 GHC clinic to determine next steps.
"But definitely, it's still a high-need area," Stewart said.
The GHC session is from 9 a.m. to 4 p.m. Call 705-759-7465 to book an appointment.
The medical community has repeatedly rung the alarm over the effects of serious medical tests being delayed over the past few years.
In fact, doctors in Ontario reported last year they were seeing more advanced cases of breast cancer after 400,000 fewer mammograms were performed in the province during the COVID-19 pandemic, the Ontario Medical Association said. Screenings have since returned to normal levels, but the organization warned that the temporary decrease in testing has led to many cases of the disease being diagnosed at later stages.
Article content
Stewart said she doesn't discount the possibly that clinic attendance has been lower than wished for due to the fact a total stranger is performing this intimate procedure – not a familiar figure.
"Ideally, everyone in the community would have a primary care provider who they know and trust," she added. "That's our goal. But it's not reality right now, unfortunately."
Beefing up local MD rosters would help.
"Yeah, that would be great … I would love that. That would make my job so much easier," Stewart said with a laugh.
Those under 25 are urged to talk to their family doctor or nurse practitioner about whether they should wait until 25 before starting cervical screening with the Pap test.
Since HPV is transmitted by sexual contact, having multiple sexual partners is associated with an increased risk for cervical cancer. But doctors recommend routine cervical cancer screening, regardless of sexual history. Women can stop regular screening with Pap tests at 70 if they have had three or more normal tests in the previous 10 years.
Currently, the Ontario Cervical Screening Program recommends that anyone with a cervix (women, transmasculine and non-binary people) who is, or has ever been, sexually active have a Pap test every three years, starting at 21.
Stewart said it's important transmasculine and non-binary people feel comfortable enough to take part.
"We would encourage them to," she added. "They are welcome. Anyone with a cervix requires screening, I would encourage them to attend."
On Twitter: @JeffreyOugler
link