Hospital remains inundated, however, with COVID patients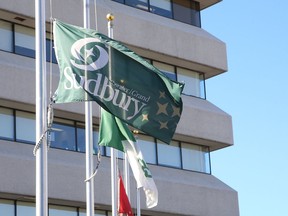 Article content
The city has lifted its state of emergency around COVID-19 and is relaxing many rules regarding masking and access to facilities, in keeping with direction from Queen's Park.
Article content
The local state of emergency, declared nearly two years ago, "is no longer required as the pandemic response continues toward recovery efforts and COVID-19 activities become a part of routine operations," the city said in a release.
The situation at Health Sciences North remains quite concerning, however, with COVID admissions currently topping levels experienced in each of the last two years and placing a strain on acute-care capacity.
As of Monday, HSN was utilizing 116 temporary beds in three non-hospital facilities along with unconventional spaces in the Ramey Lake Health Centre.
"The city will continue to support local hospital staff as they continue to battle the effects of the pandemic on our local health-care system," the release states. 
Under provincial regulation, masks will still be required in the hospital, as well as in other health-care and congregate-care settings, such as nursing homes (including the city-run Pioneer Manor), group homes and jails.
Transit users will also have to keep donning masks, whether on a city bus or inside the downtown terminal.
And while proof-of-vaccination requirements were lifted by the province earlier this month, businesses and organizations may still choose to demand immunization evidence.
As of Monday, though, masks will no longer be required in most city facilities, including leisure facilities, libraries and city hall itself.
Tom Davies Square is once again open for walk-in service, from 8:30 a.m. to 4:30 p.m., Monday to Friday, although residents who wish to book an appointment in advance can still do so by contacting 311. 
Article content
Many services are also available by telephone or through the Customer Service Portal (311.greatersudbury.ca).
In-person attendance at city council and most committee meetings will resume Tuesday. Residents, media and members of council will have the option to attend council chambers in person or attend virtually. 
In-person attendance at planning committee meetings is expected to resume in May.
Adopting or surrendering a pet at the city animal shelter in Wahnapitae remains appointment-only at this time, however. Residents are asked to contact 311 to book a time.
While masks will be optional in most settings, "individuals should assess their situation to determine what is best for them," the city said.
With the omicron variant still circulating widely, the recommendation from Penny Sutcliffe, medical officer of health, is to keep tugging on a mask, especially in crowded indoor settings and for those at higher risk for infection.
"We are gradually returning to as close to pre-pandemic life as we have been in two years," said Al Sizer, councillor for Ward 8 and deputy mayor. "While these continued changes are a sign of better days ahead, it doesn't mean throwing caution to the wind."
It's still important "to make simple, smart decisions to keep ourselves and our loved ones safe – like getting vaccinated and boosted, and staying home when we're sick," said Sizer. "Just as importantly, please be kind and respect the choices of others who may be approaching this new normal at a different pace."
Article content
Sudburians are encouraged to keep following basic but important measures to prevent the spread of illness. 
You should wash your hands often, wear a mask or face covering, cover your cough or sneeze with a tissue or your sleeve, and stay home if you feel sick.
To ensure maximum protection against COVID-19 and the variants, anyone who is eligible should also complete their vaccination series as soon as possible. 
For vaccine clinic information, visit tinyurl.com/32kyhhyu.
For COVID-19 updates and information related to city services, visit www.greatersudbury.ca/covid. 
For the most up-to-date local information on COVID-19, visit the Public Health Sudbury and Districts website at www.phsd.ca/coronavirus.
link