COVID-19: Four new deaths in twice-weekly Ottawa Public Health update; levels of the virus 'still high'
Article content
Ottawa
(Reported Friday, last update Tuesday)
Article content
4: New deaths
1,012: Total deaths
27: Ottawa residents in hospital due to active infections
0: In ICU because of an active infections
77: Confirmed COVID-19 patients in Ottawa hospitals as of Wednesday (includes non-Ottawa residents), 39 in hospital because of COVID-19 (1 in ICU) and 38 for other reasons (1 in ICU)
94: New COVID-19 cases (case numbers are considered underestimates with testing limited to certain groups)
89,315: Total cases
16: Ongoing outbreaks in institutional settings
11.3: Per cent test positivity (seven-day average as of Wednesday)
Source: Ottawa Public Health
The current situation in Ottawa
Ottawa Public Health said this week that its monitoring indicators continue to paint "an encouraging picture" of the levels of respiratory viruses circulating in the capital "though it's worth noting that the levels of COVID-19 are still high."
Article content
In the weekly respiratory virus snapshot covering Jan. 22-29 and issued Wednesday, the health unit said that vaccination against influenza and COVID-19, wearing masks in indoor public places and staying home when sick are still the best tools to limit the spread of the viruses.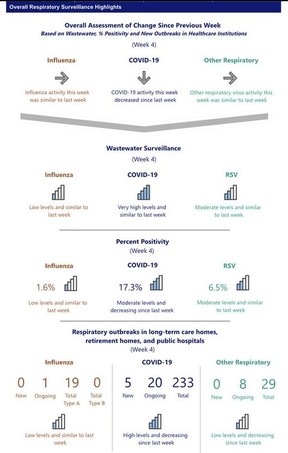 Anyone with questions about whether they're eligible or due to a flu or COVID-19 shot, or their options for treatment if they get COVID-19, can visit their website or call  613-580-6744 to talk to a nurse, OPH said Wednesday.
How to get vaccinated against COVID-19 (and flu) in Ottawa
Find out more about getting a COVID-19 booster at Ottawa Public Health's community clinics. Book a COVID-19 vaccination appointment through Ontario's online portal or by calling the Provincial Vaccine Contact Centre at 1-833-943-3900 or make an appointment at a participating pharmacy.
Article content
Flu shots are available at pharmacies and OPH flu shot clinics serve children aged six months to five years and their household members and people without OHIP who couldn't get the vaccine through pharmacies or health-care providers.
How to get tested and treated in Ottawa
Ontario announced last week that more people are now eligible for PCR testing for COVID-19.
Anyone 18 and older qualifies for testing if it has been at least six months since their last COVID-19 shot or infection, as well as anyone 18 and older who is unvaccinated. Previously, the only people under 60 who were eligible for testing were people who were immunocompromised or who had risk conditions and fewer than three vaccine doses. Additionally, anyone 60 and older now qualifies for PCR testing, up from the previous general cutoff of age 70.
The changes are meant to align with eligibility for Paxlovid treatments for COVID-19.
Ottawa residents can find out who's eligible for testing and how to book tests and seek treatment at a local care clinic or assessment centre on the health unit's website.
Pharmacists can prescribe Paxlovid, an antiviral drug used to reduce severe outcomes from COVID-19 to eligible people at no cost, both in person and virtually. People can use Ontario's COVID-19 online antiviral treatment screener to see if they're at higher risk of severe illness and might benefit from the medication.
Families can also check out CHEO's page on when to go to the emergency department and alternatives to the ED.
link