COVID-19: One new death in twice-weekly OPH update; 'Clearly COVID is far from over'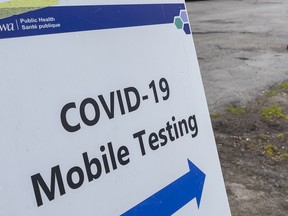 Article content
COVID-19 in Ottawa
Article content
(Reported Tuesday, last update Friday)
Article content
1: New deaths
1,008: Total deaths
30: Ottawa residents in hospital due to an active infection
2: In ICU because of an active infection
89: Confirmed COVID-19 patients in Ottawa hospitals as of Sunday (includes non-Ottawa residents), 50 in hospital because of COVID-19 (5 in ICU) and 39 for other reasons (0 in ICU)
115: New COVID-19 cases (case numbers are considered underestimates with testing limited to certain groups)
89,221: Total cases
20: Ongoing outbreaks in institutional settings
11.7: Per cent test positivity (seven-day average as of Sunday)
Source: Ottawa Public Health
The current situation in Ottawa
On the same day the World Health Organization confirmed that COVID-19 continues to be a "public health emergency of international concern," Ottawa Public Health tabled a draft budget reflecting that COVID-19 is expected to be an ongoing public health issue in Ottawa for the foreseeable future.
Article content
Before the draft budget was tabled at Monday's board of health meeting, Medical Officer of Health Dr. Vera Etches warned that levels of COVID-19 in Ottawa remain "concerningly elevated" even as rates of influenza and RSV have dropped dramatically after an earlier surge.
She noted that the highly contagious Omicron subvariant XBB.1.5 is spreading quickly across the province. Public Health Ontario forecasts the subvariant nicknamed Kraken now makes up 36.8 per cent of all cases in the province and is growing.
"Clearly COVID is far from over."
For the fourth year in a row, costs related to the COVID-19 pandemic are expected to make up a significant portion of Ottawa Public Health's budget. The $128 million 2023 OPH draft budget includes $77 million in base funding, the bulk of which covers salaries and benefits, and $51 million in one-time COVID-19 funding, to cover costs associated with the pandemic.
Article content
Some of the public health budget is funded by both the province and the City of Ottawa, with the province paying 70 per cent. Other areas are fully funded by the province or the city, or covered by fees. The province pays the entire cost of pandemic-related expenses.
The health board is scheduled to vote on the draft budget at its February meeting.
How to get vaccinated against COVID-19 (and flu) in Ottawa
Find out more about getting a COVID-19 booster at Ottawa Public Health's community clinics. Book a COVID-19 vaccination appointment through Ontario's online portal or by calling the Provincial Vaccine Contact Centre at 1-833-943-3900 or make an appointment at a participating pharmacy.
Flu shots are available at pharmacies and OPH flu shot clinics serve children aged six months to five years and their household members and people without OHIP who couldn't get the vaccine through pharmacies or health-care providers.
Article content
How to get tested and treated in Ottawa
Ontario announced Thursday that more people are now eligible for PCR testing for COVID-19.
Anyone 18 and older qualifies for testing if it has been at least six months since their last COVID-19 shot or infection, as well as anyone 18 and older who is unvaccinated. Previously, the only people under 60 who were eligible for testing were people who were immunocompromised or who had risk conditions and fewer than three vaccine doses. Additionally, anyone 60 and older now qualifies for PCR testing, up from the previous general cutoff of age 70.
The changes are meant to align with eligibility for Paxlovid treatments for COVID-19.
Ottawa residents can find out who's eligible for testing and how to book tests and seek treatment at a local care clinic or assessment centre on the health unit's website.
Article content
Families can also check out CHEO's page on when to go to the emergency department and alternatives to the ED.
Pharmacists can prescribe Paxlovid, an antiviral drug used to reduce severe outcomes from COVID-19 to eligible people at no cost, both in person and virtually. People can use Ontario's COVID-19 online antiviral treatment screener to see if they're at higher risk of severe illness and might benefit from the medication.
Where to get COVID-19 rapid tests
Last month, Ontario extended a program providing free rapid antigen test kits for COVID-19 to the end of June 2023.
People can use their postal code to find participating pharmacy and grocery store locations.
'Patient, kind-hearted' Eganville care worker mourned; son charged with second-degree murder

Killer snapped after abuse, slurs, defence alleges in BBQ murder trial
-with files from Elizabeth Payne, The Canadian Press
link