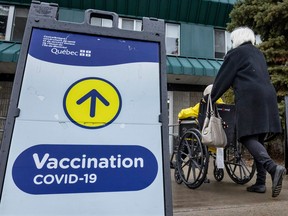 Article content
Ottawa
(Reported Friday, last update Tuesday)
Article content
1: New death
1,021: Total deaths
19: Ottawa residents in hospital due to an active infection
0: In ICU because of an active infection
74: Confirmed COVID-19 patients in Ottawa hospitals as of Wednesday (includes non-Ottawa residents), 40 in hospital because of COVID-19 (4 in ICU) and 34 for other reasons (1 in ICU)
96: New COVID-19 cases (case numbers are considered underestimates with testing limited to certain groups)
323: Total cases
22: Ongoing outbreaks in institutional settings
17.3: Per cent test positivity (seven-day average as of Wednesday)
Source: Ottawa Public Health

The current situation
The federal government has stopped shipping rapid COVID-19 antigen tests to provinces as millions are set to expire within the year, and experts say the once-essential tool has lost its importance in the pandemic.
Article content
There are 90 million rapid tests in the federal inventory, Health Canada said in an email. About 80,000 of those are set to expire within six months and 6.5 million within the year. The rest expire within two years.
"Canada has robust inventories and is well prepared for COVID response," Anne Genier, with Health Canada, said in an email.
Ottawa has ordered more than 811 million rapid tests since the beginning of the pandemic with a price tag of about $5 billion. About 680 million of those went to provinces and territories.
Health Canada said the decision to end shipments at the end of January was made in collaboration with provinces and territories, as the regions have enough supply.
Nazeem Muhajarine, a professor of epidemiology at the University of Saskatchewan, said he estimates that for every five tests given out by provinces and territories during the pandemic there are two tests sitting in a warehouse.
Article content
He said Canada needed to procure as many tests as it could when they were available.
"We have to have a plan — that's key."
Muhajarine said it is difficult to know how important the rapid antigen tests will continue to be, because there is very little communication now about COVID-19, let alone government plans to address challenges the pandemic may still bring.
"That communication has really fallen off precipitously," he said. "Nobody is talking about COVID, certainly not talking about where to get tests if they need one."
Ontario has extended a program providing free rapid antigen test kits for COVID-19 to the end of June.
People can use their postal code to find participating pharmacy and grocery store locations.
Article content
In an update Wednesday, Ottawa Public Health reported that overall COVID-19, influenza and other respiratory virus activity were all similar for the week of Feb. 19-25 compared the previous week based on wastewater surveillance, the per cent of lab tests coming back positive and new outbreaks in health-care institutions.
Among the indicators, wastewater showed "very high levels and increasing" for COVID-19 while levels of flu and respiratory syncytial virus (RSV) were low and similar to the previous week.
"Especially during these winter months, it's important to continue using your layers of protection like wearing a well-fitting mask when in indoor and/or crowded public places and staying home when sick," OPH had said on social media Sunday.
Article content
How to get vaccinated against COVID-19 (and flu) in Ottawa
Find out more about getting COVID-19 vaccinations at Ottawa Public Health's community clinics and neighbourhood health and wellness hubs. Book COVID-19 vaccination appointments through Ontario's online portal or by calling the Provincial Vaccine Contact Centre at 1-833-943-3900, or make appointments at participating pharmacies.
Flu shots are available at pharmacies, and OPH flu shot clinics serve children aged six months to five years and their household members and people without OHIP who couldn't get the vaccine through pharmacies or health-care providers.
How to get tested and treated in Ottawa
Pharmacists can dispense Paxlovid, an antiviral drug used to reduce severe outcomes from COVID-19 to eligible people at no cost, both in person and virtually. People can use Ontario's COVID-19 online antiviral treatment screener to see if they're at higher risk of severe illness and might benefit from the medication.
Article content
Ottawa residents can find out who's currently eligible for testing and how to book tests and seek treatment at local care clinics or assessment centres on the health unit's website.
Families can also check out CHEO's page on when to go to the emergency department and alternatives to the ED.
-with files from The Canadian Press
This article is available for free — outside of our paywall — because we believe this is a matter of crucial public interest. If you'd like to support us as we continue to provide journalism that matters for all Ottawans, please subscribe: https://ottawacitizen.com/subscribe/
Environment Canada issues snowfall warning as 'Texas low' approaches

Gatineau police investigating gunshots fired at city bus overnight
link