COVID-19: Ottawa Public Health reports few new deaths, stresses importance of masking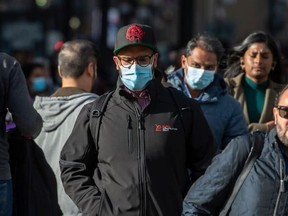 Article content
Ottawa
(Reported Friday, last update Tuesday)
Article content
5: New deaths
961: Total deaths
12: Ottawa residents in hospital due to active infections
1: In ICU because of active infections
107: Confirmed COVID-19 patients in Ottawa hospitals as of Thursday (including non-Ottawa residents) — 53 in hospital because of COVID-19 (3 in ICU) and 54 for other reasons (1 in ICU)
110: New COVID-19 cases (case numbers are considered underestimates with testing limited to certain groups)
86,005: Total cases
40: Ongoing outbreaks in institutional settings
15.9: Per cent test positivity in the community (seven-day average as of Wednesday)
Source: Ottawa Public Health
The current public health situation in Ottawa
In a weekly COVID-19 "snapshot" issued Thursday, Ottawa Public Health said circulating levels of COVID-19, as well as other respiratory virus, such as the flu and RSV, remain high.
Article content
The agency noted that, "due to ongoing data system changeovers, data for new COVID-19 hospitalizations is not included in this week's snapshot."
OPH noted a total of 40 ongoing COVID outbreaks in Ottawa, considered a moderate level and slowly dropping.
OPH continued to stress the importance of wearing a well-fitted mask when in indoor and/or crowded public spaces.
And "every person who stays home when feeling sick," also makes a difference.
"It all matters. And it all helps," OPH says.
It's hoped that a recommendation by the province that all youths aged 16 and 17 be taken to "adult" hospitals will help the tight situation at CHEO, which continues to experience serious overcrowding.
How to get vaccinated against COVID-19 (and flu) in Ottawa
Article content
Ottawa's Medical Officer of Health, Dr. Vera Etches, has urged people to get a COVID-19 booster and a flu shot this fall.
OPH says there are 14 Neighbourhood Wellness Hubs where people can drop in to get a COVID-19 vaccine.
People can book vaccination appointments through Ontario's COVID-19 vaccination portal or by calling the Provincial Vaccine Contact Centre at 1-833-943-3900 or make appointments through participating pharmacies.
Everyone older than six months is eligible for flu shots. They are available at more than 250 Ottawa pharmacies.
OPH said Thursday that its flu shot clinics had expanded their eligibility to include children aged six months to five years and their household members and continued to serve people without OHIP who couldn't get the vaccine through pharmacys or health-care providers.
Article content
How to get tested and treated for COVID-19 in Ottawa
Antiviral treatments are available for people with symptoms — even if they're mild — who are at higher risk of severe COVID-19, but they must be taken within the first five days of symptoms starting.
People can use Ontario's COVID-19 antiviral treatment screener to see if they're at higher risk of severe illness and might benefit from the medication.
With lab testing in the province prioritized for people at increased risk and in high-risk settings, Ottawa residents can find out more about who's eligible and how to book tests and seek treatment on the health unit's website.
Where to get COVID-19 rapid tests in Ottawa
Ontario is distributing free rapid antigen test kits through participating pharmacy and grocery store locations.
With files from Elizabeth Payne
link