COVID-19: Two new deaths in Ottawa Public Health update; 'not just COVID out there'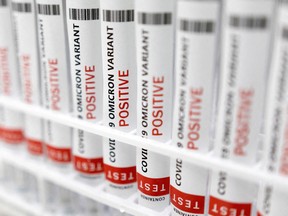 Article content
COVID-19 in Ottawa
Article content
(Reported Friday, last update Tuesday)
Article content
2: New deaths
970: Total deaths
17: Ottawa residents in hospital due to an active infection
4: In ICU because of an active infection
108: Confirmed COVID-19 patients in Ottawa hospitals as of Wednesday (includes non-Ottawa residents), 48 in hospital because of COVID-19 (4 in ICU) and 60 for other reasons (1 in ICU)
154: New COVID-19 cases (case numbers are considered underestimates with testing limited to certain groups)
86,525:Total cases
19: Ongoing outbreaks in institutional settings
9.8: Per cent test positivity in the community (seven-day average as of Wednesday)
Source: Ottawa Public Health
The current public health situation in Ottawa
Ottawa Public Health said in its weekly "snapshot" Thursday that overall COVID-19 trends are down compared to a month ago but "it's not just COVID out there."
Article content
"So just focusing on COVID-19 levels could make you think the overall levels of risk are lower than before," the health unit said. "But, that's not the case."
CHEO is under pressure from respiratory viruses, like influenza and respiratory syncytial virus (RSV), and both viruses raise the community risk — including to the health-care system, OPH said.
It's adding wastewater indicators for flu and RSV to what it's now calling a respiratory virus snapshot.
"That does not, in any way, mean we aren't worried about COVID-19 anymore," OPH said. "We're trying to paint a better picture of the viruses posing risks to our community."
The wastewater viral signal was "very high" for flu and "moderate" for COVID-19 and RSV, OPH said. For COVID-19, the per cent of lab tests coming back positive and new hospital admissions were "moderate" and the level of new outbreaks was low.
Article content
Wearing masks and staying home when sick also help stem the spread of RSV and flu and getting a flu shot and staying up to date on COVID-19 vaccines protects individuals and the people around them.
How to get vaccinated against COVID-19 (and flu) in Ottawa
Visit OPH online at ottawapublichealth.ca for the closest vaccination options.
People can book vaccination appointments through Ontario's COVID-19 vaccination portal or by calling the Provincial Vaccine Contact Centre at 1-833-943-3900, make appointments at participating pharmacies or visit a Neighbourhood Wellness Hub.
Flu shots are available at more than 250 Ottawa pharmacies. OPH flu shot clinics serve children aged six months to five years and their household members and continued to serve people without OHIP who couldn't get the vaccine through pharmacies or health-care providers.
Article content
How to get tested and treated for COVID-19 in Ottawa
The Ottawa Hospital Clinical Assessment Centre (1081 Carling Ave., Suite 601) has lowered its minimum age for appointments from 18 years to 14 aiming "to increase care options for Ottawa residents within the community and outside of hospital emergency departments."
With lab testing in the province prioritized for people at increased risk and in high-risk settings, Ottawa residents can find out who's eligible and how to book tests and seek treatment at a local care clinic or assessment centre on the health unit's website.
Families can also check out CHEO's page on when to go to the emergency department and alternatives to the ED, including local care clinics.
Article content
Antiviral treatments are available for people with symptoms — even if they're mild — who are at higher risk of severe COVID-19, but they must be taken within the first five days of symptoms starting.
People can use Ontario's COVID-19 antiviral treatment screener to see if they're at higher risk of severe illness and might benefit from the medication.
Where to get COVID-19 rapid tests in Ottawa
Ontario is extending a program providing free rapid antigen test kits for COVID-19 to the end of June next year.
It was previously extended this summer until Dec. 31. Health Minister Sylvia Jones says the program will now be extended to June 30, 2023.
People can use their postal code to find participating pharmacy and grocery store locations.
-with files from The Canadian Press
This article is available for free — outside of our paywall — because we believe this is a matter of crucial public interest. If you'd like to support us as we continue to provide journalism that matters for all Ottawans, please subscribe: https://ottawacitizen.com/subscribe/
COVID-19 update: Quebec reports 11 more deaths

Drop in COVID alertness could create deadly new variant – WHO
link