COVID-19: Two new deaths in twice-weekly OPH update; 'Show people you care about them by not exposing them to a virus'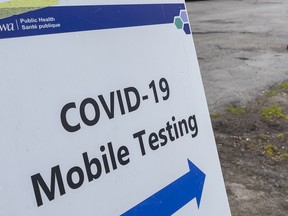 Article content
Ottawa
(Reported Friday, last update Tuesday)
Article content
2: New deaths
977: Total deaths
24: Ottawa residents in hospital due to an active infection
3: In ICU because of an active infection
137: Confirmed COVID-19 patients in Ottawa hospitals as of Wednesday (includes non-Ottawa residents), 56 in hospital because of COVID-19 (4 in ICU) and 81 for other reasons (1 in ICU)
146: New COVID-19 cases (case numbers are considered underestimates with testing limited to certain groups)
86,827:Total cases
25: Ongoing outbreaks in institutional settings
12.2: Per cent test positivity in the community (seven-day average as of Tuesday)
Source: Ottawa Public Health
The current public health situation in Ottawa
The wastewater viral signal for influenza and respiratory syncytial virus (RSV) are both "very high," Ottawa Public Health said in a weekly "snapshot" of respiratory virus activity issued Thursday.
Article content
But while levels of COVID-19 in sewage and the per cent of lab tests for the virus coming back positive were both moderate "they're showing an increase after weeks of decline," the health unit said Thursday.
"It's a reminder that COVID-19 is still circulating (and) protective layers like masks (and) vaccination (with) boosters are still useful," OPH said.
"With the holidays fast-approaching, let's all remember … as much as many of us have been looking forward to gathering with friends (and) family, we must stay home when sick," the health unit warned.
"Show people you care about them by not exposing them to a virus."
As non-clinical Red Cross staff began working overnight shifts at CHEO this week to help with an unprecedented surge of severely ill children, adult hospitals in the city were preparing for their own tough viral seasons.
Article content
Among them, Queensway Carleton Hospital has seen 32 patients over the past 30 days who were positive for influenza. Nineteen were admitted to hospital, four to intensive care.
In Ottawa, 28 per cent of people tested were positive for influenza, according to the most recent data from Ottawa Public Health. That compares to an average of 2.6 per cent positivity for the same week over the past three years.
How to get vaccinated against COVID-19 (and flu) in Ottawa
Get a COVID-19 bivalent booster if eligible and now is the time to get a flu shot because it takes two weeks for the jab to take effect, Ottawa Public Health said.
"So in order to have the best possible protection this holiday season, this week is prime time to get your flu vaccine."
Article content
Flu shots are available at more than 250 Ottawa pharmacies. OPH flu shot clinics serve children aged six months to five years and their household members and continued to serve people without OHIP who couldn't get the vaccine through pharmacies or health-care providers.
People can book COVID-19 vaccination appointments through Ontario's vaccination portal or by calling the Provincial Vaccine Contact Centre at 1-833-943-3900, make appointments at participating pharmacies or visit a Neighbourhood Wellness Hub.
How to get tested and treated for COVID-19 in Ottawa
Ontario will allow pharmacists to prescribe an antiviral drug used to reduce severe outcomes from COVID-19.
Starting Monday,  pharmacists will be able to prescribe Paxlovid to eligible people at no cost both in person and virtually.
Article content
It's a move Chief Medical Officer of Health Dr. Kieran Moore said last month that the government was considering in part to help keep people out of hospital, especially in rural areas where access to primary care physicians can be limited.
The antiviral medication is taken orally within five days of symptom onset and is recommended for people at higher risk of COVID-19 complications, including people over 60 and people who are immunocompromised.
People can use Ontario's COVID-19 antiviral treatment screener to see if they're at higher risk of severe illness and might benefit from the medication.
With lab testing in the province prioritized for people at increased risk and in high-risk settings, Ottawa residents can find out who's eligible and how to book tests and seek treatment at a local care clinic or assessment centre on the health unit's website.
Families can also check out CHEO's page on when to go to the emergency department and alternatives to the ED, including local care clinics.
Where to get COVID-19 rapid tests
Ontario is extending a program providing free rapid antigen test kits for COVID-19 to the end of June 2023.
People can use their postal code to find participating pharmacy and grocery store locations.
-with files from Elizabeth Payne, The Canadian Press
Parents upset about ear-splitting construction noise next to school

Firefighters rescue construction crane operator after medical emergency
link