Here's your weekly update with everything you need to know on the COVID situation in B.C. and around the world.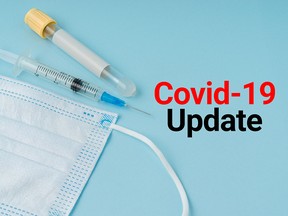 Article content
Here's your update with everything you need to know about the COVID situation in B.C. and around the world for the week of Dec. 22-28. This page will be updated with the latest COVID news and related research developments daily throughout the week, so be sure to check back often.
Article content
You can also get the latest COVID-19 news delivered to your inbox weeknights at 7 p.m. by subscribing to our newsletter here.
Article content
---
Here are the latest weekly B.C. figures given on Dec. 22:
• Hospitalized cases: 349 (down 25)
• Intensive care: 35 (up four)
• New cases: 609 over seven days ending Dec. 17 (down 50)
• Total number of confirmed cases: 391,897
• Total deaths over seven days ending Dec. 17: 22 (total 4,806)
Read the full report here | Next update: Jan. 5.
NOTE: There is no new data on Thursday, Dec. 29 because of the holidays. The next update will be Jan.5. 
---
LATEST NEWS
Canada not following lead of US, others, in requiring COVID tests for travellers arriving from China
As the United States and other nations impose new mandatory COVID-19 testing rules on travellers of flights originating in China, Canada is choosing instead to watch and wait.
Article content
Cases of the novel coronavirus are surging in China after Beijing opted to end its zero-COVID policies mandating strict quarantines and lockdowns, as well as tight restrictions on its borders.
Now with China preparing to reopen its borders early in the new year, officials around the world are concerned floods of potentially infected travellers could soon be disembarking at their airports.
But Canada won't be among the six nations intending to impose extra measures on travellers arriving in this country on flights originating in China.
In a statement, the Public Health Agency of Canada said it is "closely monitoring" the situation and will advise of any changes via a travel health notice.
—Bryan Passifiume, National Post
Article content
The three respiratory viruses that had been causing chaos in the fall in Quebec hospitals — COVID-19, influenza and respiratory syncytial virus — are all on the decline, the province's public health research institute said Thursday.
It's unclear, however, whether gatherings during the holidays will lead to a resurgence of one or more of them.
Institut national de sante publique du Quebec reported 1,952 new cases of influenza for the seven days ending Dec. 24. That number included 1,943 cases of influenza A and nine cases of influenza B.
The data represents a 31 per cent drop compared with the 2,837 cases of influenza reported in the seven days ending Dec. 17. As well, the test positivity rate dropped over the same period to 17 per cent from 22 per cent.
Article content
Earlier this month, Quebec public health director Dr. Luc Boileau expressed concern about a rise in COVID-19 hospitalizations, but so far, the number of COVID-19 patients has also been on the decline.
—The Canadian Press
U.S. to impose mandatory COVID-19 tests for travellers from China
The United States will impose mandatory COVID-19 tests on travellers from China, U.S. health officials said on Wednesday, joining India, Italy, Japan and Taiwan in taking new measures after Beijing's decision to lift stringent zero-COVID policies.
The officials told reporters that beginning on Jan. 5, all air passengers two years old and older will require a negative result from a test no more than two days before departure from China, Hong Kong or Macao.
Article content
Passengers who test positive more than 10 days before a flight can provide documentation of recovery in lieu of the negative test result, the federal officials said.
In an abrupt change of policy, China this month began dismantling the world's strictest COVID regime of lockdowns and extensive testing, putting its battered economy on course for a complete re-opening next year.
Read the full story here.
— Reuters
How COVID lockdowns messed with our brains, increasing anxiety and depression
Israeli neuroscientist Alon Chen can change the mood, the "mental state" of an animal. "We can make a mouse more or less anxious, more or less depressed-like, by changing the activity of specific brain areas or nerve cells," says Chen, president of the Weizmann Institute of Science.
Article content
COVID has also manipulated human brains, not as much through any direct effects of the virus, but, Chen suspects, through the emotional toll three years of living with the pathogen has taken. Chen was in Toronto recently to raise awareness and philanthropic support for the Weizmann Institute, where scientists recently succeeded in growing synthetic mouse embryos using stem cells taken from skin, and not eggs and sperm.
In an interview with the National Post's Sharon Kirkey, Chen talked about why the human brain remains an enigma, what happens to our brains when exposed to a chronic stressor like COVID and why the need for better treatments for anxiety and depression is "immense."
Read the full Q&A here.
— Sharon Kirkey, National Post
Article content
Canadians fined at least $15M for breaking COVID quarantine rules in 2022, data shows
Canadians who were caught violating federal COVID-19 quarantine rules racked up at least $15 million in fines this year, according to the Public Health Agency of Canada, but it's not clear how much of that will actually be paid.
The agency provided data to the House of Commons in the fall in response to a request from Conservative MP Eric Duncan.
This year saw the widespread lifting of Canada's COVID-19 health restrictions. Until October, travellers were required to follow testing and quarantine rules, depending on their vaccination status, and upload their public health information through the ArriveCan app.
Read the full story here.
Article content
— The Canadian Press
China to scrap COVID-19 quarantine for incoming passengers
China will drop a COVID-19 quarantine requirement for passengers arriving from abroad starting Jan. 8, the National Health Commission announced Monday in the latest easing of the country's once-strict virus-control measures.
Currently, arriving passengers must quarantine for five days at a hotel, followed by three days at home. That is down from as much as three weeks in the past.
The scrapping of the quarantine requirement is a major step toward fully reopening travel with the rest of the world, which the government severely curtailed in a bid to keep the virus out.
The restrictions have prevented most Chinese from traveling abroad, limited face-to-face diplomatic exchanges and sharply reduced the number of foreigners in China for work and study.
Article content
Read the full story here.
— Associated Press
Medicago cuts ties with Philip Morris as WHO rejects plant-based COVID shot
Medicago Inc. severed ties with cigarette maker Philip Morris International Inc after the World Health Organization rejected the Canadian company's COVID-19 vaccine, according to a tobacco control body.
Covifenz, the world's first plant-based COVID vaccine, was jointly developed by Medicago, which is owned by Mitsubishi Chemical, Philip Morris and Glaxo. The Canadian government, which provided $173 million in funding for its development, has cleared it for use.
"Tobacco corporations, vaccines and governments don't mix well and we applaud the expulsion of Philip Morris from the Medicago collaboration," Les Hagen, the executive director of a not-for-profit organization ASH Canada, said in a statement Monday.
Article content
Read the full story here.
— Bloomberg News
Long COVID: Could mono virus or fat cells be playing roles?
A British historian, an Italian archaeologist and an American preschool teacher have never met in person, but they share a prominent pandemic bond.
Plagued by eerily similar symptoms, the three women are credited with describing, naming and helping bring long COVID into the public's consciousness in early 2020.
Rachel Pope, of Liverpool, took to Twitter in late March 2020 to describe her bedeviling symptoms, then unnamed, after a coronavirus infection. Elisa Perego in Italy first used the term "long COVID," in a May tweet that year. Amy Watson in Portland, Oregon, got inspiration in naming her Facebook support group from the trucker cap she'd been wearing, and "long hauler" soon became part of the pandemic lexicon.
Article content
Nearly three years into the pandemic, scientists are still trying to figure out why some people get long COVID and why a small portion — including the three women — have lasting symptoms.
Millions of people worldwide have had long COVID, reporting various symptoms including fatigue, lung problems, and brain fog and other neurological symptoms. Evidence suggests most recover substantially within a year, but recent data show that it has contributed to more than 3,500 U.S. deaths.
Here's some of the latest evidence.
— Associated Press
'The ICU is full': medical staff on frontline of China's COVID fight say hospitals are 'overwhelmed'
In more than three decades of emergency medicine, Beijing-based doctor Howard Bernstein said, he has never seen anything like this.
Article content
Patients are arriving at his hospital in ever-increasing numbers; almost all are elderly and many are very unwell with COVID and pneumonia symptoms, he said.
Bernstein's account reflects similar testimony from medical staff across China who are scrambling to cope after China's abrupt U-turn on its previously strict COVID policies this month was followed by a nationwide wave of infections.
It is by far the country's biggest outbreak since the pandemic began in the central city of Wuhan three years ago. Beijing government hospitals and crematoriums also have been struggling this month amid heavy demand.
"The hospital is just overwhelmed from top to bottom," Bernstein told Reuters at the end of a "stressful" shift at the privately owned Beijing United Family Hospital in the east of the capital.
Article content
"The ICU is full," as are the emergency department, the fever clinic and other wards, he said.
"A lot of them got admitted to the hospital. They're not getting better in a day or two, so there's no flow, and therefore people keep coming to the ER, but they can't go upstairs into hospital rooms," he said. "They're stuck in the ER for days."
Read the full story here.
— Reuters
China's COVID-19 surge raises odds of new coronavirus mutant
Could the COVID-19 surge in China unleash a new coronavirus mutant on the world?
Scientists don't know but worry that might happen. It could be similar to Omicron variants circulating there now. It could be a combination of strains. Or something entirely different, they say.
"China has a population that is very large and there's limited immunity. And that seems to be the setting in which we may see an explosion of a new variant," said Dr. Stuart Campbell Ray, an infectious disease expert at Johns Hopkins University.
Article content
Every new infection offers a chance for the coronavirus to mutate, and the virus is spreading rapidly in China. The country of 1.4 billion has largely abandoned its "zero COVID" policy. Though overall reported vaccination rates are high, booster levels are lower, especially among older people. Domestic vaccines have proven less effective against serious infection than Western-made messenger RNA versions. Many were given more than a year ago, meaning immunity has waned.
The result? Fertile ground for the virus to change.
Read the full story here.
— Associated Press
Number of B.C. deaths decreases slightly
A weekly COVID update from the B.C. Centre for Disease Control revealed 22 deaths of people who died within 30 days of a positive COVID test as of Dec. 17, a drop of five from the previous week.
Article content
That number is preliminary, however, and will be updated in later reports as more data comes in.
There were 349 people in hospital who tested positive for the virus, with 35 of those in intensive care, as of Thursday.
China health commission stops publishing daily COVID figures
China's National Health Commission (NHC) stopped publishing daily COVID-19 data on Sunday, amid doubts about their reliability as infections have exploded in the wake of an abrupt easing of tough restrictions.
"Relevant COVID information will be published by the Chinese Center for Disease Control and Prevention for reference and research," the commission said in a statement. It did not specify the reasons for the change or how frequently China CDC will update COVID information.
Article content
The NHC's halt to reporting daily infection and death totals comes as concerns grow around the lack of vital information since Beijing made sweeping changes to a zero-COVID policy that had put hundreds of millions of its citizens under relentless lockdowns and battered the world's second-largest economy.
Despite the record surge of infections, the NHC had reported no COVID deaths nationwide for four consecutive days before halting the data release. China narrowed its definition for reporting COVID deaths, counting only those from COVID-caused pneumonia or respiratory failure, raising eyebrows among world health experts.
Read the full story here.
Three out of 10 Canadians say they wear masks in public: Study
Article content
Three out of 10 Canadians say they mask-up in public, according to a new Angus Reid Institute study.
It says a large group of unmasked Canadians say they wouldn't like the government to force them to take a more cautionary approach.
Half of Canadians are in favour of re-implementing mask mandates if cases of COVID-19 go up this winter.
Thirty-one per cent of people in the study say they wear a mask more than half of the time in public.
Read the full story here.
Regular exercise protects against fatal COVID, study shows
Men and women who worked out at least 30 minutes most days were about four times more likely to survive COVID-19 than inactive people, according to an eye-opening study of exercise and coronavirus outcomes among almost 200,000 adults in Southern California.
Article content
The study found that exercise, in almost any amount, reduced people's risks for a severe coronavirus infection. Even people who worked out for as little as 11 minutes a week — yes, a week — experienced lower risks of hospitalization or death from covid than those who moved about less.
"It turns out exercise is even more powerful than we thought" at protecting people from severe covid, said Robert Sallis, a clinical professor at Kaiser Permanente Bernard J. Tyson School of Medicine in Los Angeles and senior author of the new study.
The findings add to mounting evidence that any amount of exercise helps lower the ferocity of coronavirus infections, a message with particular relevance now, as holiday travel and gatherings ramp up and COVID cases continue to rise.
Article content
Read the full story here.
— The Washington Post
Immunity debt is not a myth: Why it seems like everybody is sick right now
Although Canada has never maintained a running tally of seasonal illnesses, it's clear that the country is being absolutely hammered by a tidal wave of flu and respiratory viruses right now.
Children's hospitals have been overwhelmed since Halloween with what one Montreal physician has described as an "explosive" flu season. The country's critical shortage of childhood cold medication also continues apace, with Health Canada now saying the backlog won't fully clear until sometime in 2023.
There is compelling evidence that much of this sickness is a side effect of COVID restrictions — although there remain members of the medical community who are resolutely claiming otherwise.
Article content
The basic idea is that social distancing, masking and school closures not only slowed the circulation of COVID-19, but also curbed the usual spread of illnesses such as the flu, respiratory syncytial virus (RSV) and common cold. And now, with civil society reopened, all these seasonal viruses are playing a vicious game of catchup.
Read the full story here.
— Tristin Hopper
---
What are B.C.'s current public health measures?
MASKS: Masks are not required in public indoor settings though individual businesses and event organizers can choose to require them.
Masks are also encouraged but not required on board public transit and B.C. Ferries, though they are still required in federally regulated travel spaces such as trains, airports and airplanes, and in health care settings.
Article content
GATHERINGS AND EVENTS: There are currently no restrictions on gatherings and events such as personal gatherings, weddings, funerals, worship services, exercise and fitness activities, and swimming pools.
There are also no restrictions or capacity limits on restaurants, pubs, bars and nightclubs; and no restrictions on sport activities.
CARE HOMES: There are no capacity restrictions on visitors to long-term care and seniors' assisted living facilities, however, visitors must show proof of vaccination before visiting. Exemptions are available for children under the age of 12, those with a medical exemption, and visitors attending for compassionate visits related to end-of-life.
Visitors to seniors' homes are also required to take a rapid antigen test before visiting the facility or be tested on arrival. Exemptions to testing are available for those attending for compassionate visits or end-of-life care.
Article content
---
How do I get vaccinated in B.C.?
Everyone who is living in B.C. and eligible for a vaccine can receive one by following these steps:
• Get registered online at gov.bc.ca/getvaccinated to book an appointment in your community.
• Or, if you prefer, you can get registered and then visit a drop-in clinic in your health authority.
• The system will alert you when it is time to go for your second dose.
• The same system will also alert you when it is time for your booster dose.
---
Where can I get a COVID-19 test?
TESTING CENTRES: B.C.'s COVID-19 test collection centres are currently only testing those with symptoms who are hospitalized, pregnant, considered high risk or live/work with those who are high risk. You can find a testing centre using the B.C. Centre for Disease Control's testing centre map.
Article content
If you have mild symptoms, you do not need a test and should stay home until your fever is gone. Those without symptoms do not need a test.
TAKE-HOME RAPID ANTIGEN TESTS: Eligible British Columbians over the age of 18 with a personal health number can visit a pharmacy to receive a free take-home test kit containing five COVID-19 rapid antigen tests.
---
More news, fewer ads: Our in-depth journalism is possible thanks to the support of our subscribers. For just $3.50 per week, you can get unlimited, ad-lite access to The Vancouver Sun, The Province, National Post and 13 other Canadian news sites. Support us by subscribing today: The Vancouver Sun | The Province.
B.C. government continues the pandemic wage top-up for care home workers

The viral immunity debate has no simple answer — but masks make a difference, says researcher

UBC researchers discover compound that could halt colds, COVID

Holiday parties are back as British Columbians tap a need to be together
link