Here's your weekly update with everything you need to know on the COVID situation in B.C. and around the world.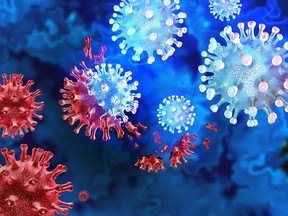 Article content
Here's your update with everything you need to know about the COVID situation in B.C. and around the world for the week of Feb. 2-Feb. 9. This page will be updated with the latest COVID news and related research developments daily throughout the week, so be sure to check back often.
Article content
Here are the latest weekly B.C. figures given on Feb. 2:
• Hospitalized cases: 204 (down 24)
• Intensive care: 23 (up one)
• New cases: 293 over seven days
• Total number of confirmed cases: 395,070
• Total deaths over seven days: 30 (total 5,106)
Read the full report here | Next update: Feb. 9
---
LATEST NEWS
'Overwhelmed' pandemic puppy breeders flooding shelters with pets, says B.C. SPCA
SPCA care centres across B.C. are dealing with an influx of puppies and dogs from a bunch of breeders who began operating during the pandemic.
Several shelters in the Interior recently took in 21 healthy golden retrievers, including 17 puppies, the latest in an influx of dogs.
"The B.C. SPCA is dealing with a record number of large-scale intakes of dogs and puppies, as individuals who set up breeding operations during COVID are closing down their operations," says Eileen Drever, senior officer for protection and stakeholder relations at the SPCA.
Article content
"People were very keen to get pets during the isolation of COVID and we saw an increase in the number of people breeding animals during that time," said Drever. "Now that people are back to work and to their regular routines, the market has dropped off and we are getting calls for help from breeders who are overwhelmed with the number of animals in their care."
—Joseph Ruttle
U.S. House votes to end foreign air traveller COVID vaccine requirement
The U.S. House of Representatives on Wednesday voted to end a requirement that most foreign air travelers be vaccinated against COVID-19, one of the few remaining pandemic travel restrictions still in place.
The vote was 227 to 201 with seven Democrats joining Republicans. No Republicans voted against the bill.
Article content
The Biden administration in June dropped its requirement that people arriving in the United States by air must test negative for COVID but has not lifted Centers for Disease Control and Prevention (CDC) vaccination requirements for most foreign travellers.
The White House said Tuesday it was opposed to the bill saying the vaccine requirement "has allowed loved ones across the globe to reunite while reducing the spread of COVID-19 and the burdens it places on the health care system in the United States." It is not clear if the Senate will take up the bill.
The White House plans to end the COVID public health emergency on May 11. "As we approach the end of the public health emergency, the administration will review all relevant policies, including this one," the White House said.
Article content
The CDC says vaccines continue to be the most important public health tool for fighting COVID-19 and recommends all travellers be vaccinated.
— Reuters
Prominent B.C. anti-vaxxer died of fentanyl overdose, coroner rules
The B.C. Coroners Service has ruled New Westminster anti-vaxxer Makhan Singh Parhar died of an accidental fentanyl overdose at home.
According to the report, Parhar was found dead by family members in the bathroom of his home at 6:30 a.m. on Nov. 4, 2021. He was last seen alive at around midnight Nov. 3.
Coroner Damian Balam wrote in his report that Parhar was 48 when he died.
"Upon physical examination at the scene by the attending coroner, Mr. Parhar was found lying on the floor. There was no observable traumatic injury, evidence of foul play, or evidence of acute self harm. Paraphernalia commonly associated with illicit substance use was found nearby (uncapped syringe, burnt spoon, glass pipe)," Balam wrote.
Article content
The coroner's report puts to bed a myth that Parhar died from COVID-19, which was based on statements he made on social media a few days before his death that he wasn't feeling well.
Read the full story here.
— Staff Reporter
New York mayor ending COVID vaccine mandate for city workers
New York Mayor Eric Adams said on Monday that he was lifting a controversial COVID-19 vaccine mandate for municipal workers and the city's Department of Education employees.
The United States' largest city by population will also end the vaccination requirements, which began in late 2021, for nonpublic school, early child care, and daycare staff.
The mandate will end on Friday if the decision is ratified, as expected, at the upcoming city Board of Health Meeting, Adams, a Democrat, said in a statement.
Article content
Adams noted that since more than 96% of the city's workers have taken the COVID vaccine "this is the right moment for this decision."
The decision comes four months after New York ended a COVID vaccine mandate for private employers, and 10 months after the mayor lifted vaccine requirements for professional athletes and performers.
Roughly 1,780 former municipal workers who were fired for declining to submit proof that they had taken the vaccine will be able to reapply for their old jobs.
— Reuters
Drug companies face COVID cliff in 2023 as sales set to plummet
Pharmaceutical companies that made billions from the pandemic over the past two years selling vaccines and treatments are now up against a steep COVID cliff and investor pressure to spend their windfalls wisely.
Article content
Western drugmakers including Pfizer Inc, BioNTech SE , Moderna Inc, Gilead Sciences Inc, AstraZeneca Plc and Merck & Co are estimated to have brought in about $100 billion in revenue from COVID vaccines and treatments in 2022.
Company and analyst estimates suggest those sales could fall by nearly two-thirds this year due to built up product inventories around the world including in the countries that pay the most. Population immunity from high rates of vaccination and previous infections means that demand for treatments could dip as well.
These companies are used to steep revenue drops known as patent cliffs that occur when their exclusivities on big-selling drugs expire and generic rivals move in, but they strategize for those swings for years.
Article content
"When you think about traditional drug and vaccine development and longevity of sales, it's usually much more spread out," Morningstar analyst Damien Conover said. "This is very, very concentrated."
The sudden inflow of revenue should prod companies to strike deals and link up with new partners, he said.
BMO Capital Markets analyst Evan Seigerman said companies should use the quick cash for transformative deals.
"Pfizer did these $10 billion deals to build their portfolio and I think they need to do something bigger and more impactful," he said, referring to the $5.4 billion buyout of Global Blood Therapeutics and $11.6 billion purchase of migraine drugmaker Biohaven Pharmaceutical.
Pfizer has been the biggest corporate beneficiary of the pandemic financially, with more than $56 billion in 2022 revenue from the vaccine it developed with German partner BioNTech and from its COVID-19 antiviral treatment Paxlovid.
Article content
Pfizer has said it expects that revenue to drop to around $21.5 billion in 2023, although some analysts believe that forecast is overly optimistic.
— Reuters
China's power in Asia diminished by COVID zero, study shows
China's standing in the Asia-Pacific has been damaged by its decision to stick with COVID Zero for most of 2022, leaving the U.S. to cement its position as the most influential power in the region, according to an Australian research group.
The Sydney-based Lowy Institute's Asia Power Index for 2023 shows that China registered the greatest decline out of the 26 nations and territories in the report, while strong economic links and defense ties solidified the U.S. as the leading power in the Asia-Pacific.
Article content
The index measures power based on 133 indicators across eight core themes, assessing how much sway is held diplomatically, economically and militarily. Overall, U.S. was placed first, followed by China, Japan, India and Russia.
Susannah Patton, project lead for the Asia Power Index at Lowy, said China's score had dipped across almost every indicator, as the country's connections with the rest of Asia declined "sharply" during COVID zero.
"We've heard about the economic impact of China's border closures but this really shows us for the first time I think the strategic impact of the border closures," she said.
China's rankings on cultural influence and economic capability fell the most, due to Beijing shutting off its citizens and businesses from the world for much of the year. One area where it did see improvement was in its military capability, closing the gap with the US from 27 points in 2018 to 23 points in 2022. The report notes its extensive military drills around Taiwan.
Article content
Patton said almost all countries had seen a dip in their rankings in 2022, driven partly by the aftershocks of the COVID-19 pandemic, with only Australia and Indonesia bucking the trend in the top 10 powers in the Asia Pacific.
— Bloomberg
Even as the pandemic abates, some issues are still lingering, with some who need blood transfusions appealing to hospitals and Canada's blood supplier with the request that they receive blood from unvaccinated donors.
The requests are based on unfounded beliefs about vaccine "tainted" blood that have percolated among skeptics and conspiracy theorists, but they highlight the ongoing tensions over vaccination, even as the world moves into year four of COVID.
Article content
The true number of inquiries for "unvaccinated" blood is difficult to pin down. Canadian Blood Services said it has received a limited number, but would not say how many, and when the National Post reached out to half a dozen hospitals and hospital networks, most did not respond to requests to comment.
Still, reports of people refusing blood from vaccinated donors appear to figure in to what some have called a "clean blood" movement, driven by misinformation and some alternative-medicine practitioners. "Pure blood" has become a bio description on dating apps, while Agence France-Presse reports that a Swiss naturopath is working to create supplies of "mRNA-free" blood, worldwide. Canada is among the countries where Zurich-based George Della Pietra is hoping to establish a presence.
Article content
— The National Post
The Quebec-based biopharmaceutical firm that produced a COVID-19 vaccine is being shut down by parent company Mitsubishi Chemical.
The Japanese chemical company said Thursday it would stop marketing the Medicago-produced Covifenz vaccine, which is plant-based and was approved by Health Canada one year ago for adults aged 18 to 64.
Mitsubishi Chemical said it had been preparing to commercially produce the Covifenz vaccine but decided against doing so because of the "significant changes" in the COVID-19 vaccine environment.
The company said it would dissolve Medicago because it is no longer "viable" to continue marketing its products.
Article content
Quebec Economy Minister Pierre Fitzgibbon says the province is working with the federal government and Mitsubishi to find a buyer for Medicago, which he says develops important technology for the life sciences sector.
— The Canadian Press
California won't require COVID vaccine to attend schools
California won't make children get the coronavirus vaccine to attend schools, state public health officials said Friday, reversing a state policy first announced by Gov. Gavin Newsom in 2021.
The nation's most populous state plans to formally end its coronavirus emergency order on Feb. 28, ending some of Newsom's authority to quickly alter or change laws.
As the state prepares to end that order, it has also backed away from plans to issue emergency regulations adding the COVID-19 vaccine to the list of required school vaccinations, the California Department of Public Health said in a statement. Any effort to do so would need to go through the Legislature, the statement said.
Article content
The department "is not currently exploring emergency rulemaking to add COVID-19 vaccinations to the list of required school vaccinations, but we continue to strongly recommend COVID-19 immunization for students and staff to keep everyone safer in the classroom," the statement said.
Newsom in Oct. 2021 said California would require coronavirus vaccines for school kids with some exceptions, making him the first governor to announce such a plan. Then, last year, state officials said the requirement would be delayed until at least summer 2023 while the state waited for the Food and Drug Administration to give the vaccines final approval.
— The Associated Press
U.S. House plans vote to end foreign air traveler COVID vaccine mandate
Article content
The U.S. House of Representatives plans to vote next week on a bill that would end a requirement that most foreign air travelers be vaccinated against COVID-19, Majority Leader Steve Scalise said on Friday.
The Biden administration in June dropped its requirement that people arriving in the country by air must test negative for COVID-19 but has not lifted Centers for Disease Control and Prevention (CDC) vaccination requirements.
Currently, adult visitors to the United States who are not citizens or permanent residents must show proof of vaccination before boarding their flight, with some limited exceptions.
Republican Representative Thomas Massie introduced the measure to rescind the vaccine requirement. "The CDC's unscientific mandate is separating too many people from their families and has been doing so for far too long. It needs to end," he said on Twitter.
Article content
The CDC says vaccines continue to be the most important public health tool for fighting COVID-19 and recommends all travelers be vaccinated. The CDC did not immediately comment Friday.
The U.S. Travel Association said Thursday it has "long supported the removal of this requirement and see no reason to wait until the May expiration of the public health emergency – particularly as potential visitors are planning spring and summer travel."
In December, the United States imposed mandatory negative COVID-19 test requirements on most travelers from China as COVID infections rocketed there.
— Reuters
'Died suddenly' posts twist tragedies to push vaccine lies
Results from 6-year-old Anastasia Weaver's autopsy may take weeks. But online anti-vaccine activists needed only hours after her funeral this week to baselessly blame the COVID-19 vaccine.
Article content
A prolific Twitter account posted Anastasia's name and smiling dance portrait in a tweet with a syringe emoji. A Facebook user messaged her mother, Jessica Day-Weaver, to call her a "murderer" for having her child vaccinated.
In reality, the Ohio kindergartner had experienced lifelong health problems since her premature birth, including epilepsy, asthma and frequent hospitalizations with respiratory viruses. "The doctors haven't given us any information other than it was due to all of her chronic conditions. … There was never a thought that it could be from the vaccine," Day-Weaver said of her daughter's death.
But those facts didn't matter online, where Anastasia was swiftly added to a growing list of hundreds of children, teens, athletes and celebrities whose unexpected deaths and injuries have been incorrectly blamed on COVID-19 shots. Using the hashtag #diedsuddenly, online conspiracy theorists have flooded social media with news reports, obituaries and GoFundMe pages in recent months, leaving grieving families to wrestle with the lies.
Article content
There's the 37-year-old Brazilian television host who collapsed live on air because of a congenital heart problem. The 18-year-old unvaccinated bull rider who died from a rare disease. The 32-year-old actress who died from bacterial infection complications.
The use of "died suddenly" — or a misspelled version of it — has surged more than 740% in tweets about vaccines over the past two months compared with the two previous months, the media intelligence firm Zignal Labs found in an analysis conducted for The Associated Press. The phrase's explosion began with the late November debut of an online "documentary" by the same name, giving power to what experts say is a new and damaging shorthand.
"It's kind of in-group language, kind of a wink wink, nudge nudge," said Renee DiResta, technical research manager at the Stanford Internet Observatory. "They're taking something that is a relatively routine way of describing something — people do, in fact, die unexpectedly — and then by assigning a hashtag to it, they aggregate all of these incidents in one place."
Article content
The campaign causes harm beyond just the internet, epidemiologist Dr. Katelyn Jetelina said.
Read the full story here.
— The Associated Press
Weekly B.C. COVID data: 30 new deaths, hospitalizations still falling
While British Columbia lost another 30 lives among people who had recently tested positive for COVID-19 last week, the number in hospital continues to fall steadily.
A weekly report from the B.C. Centre for Disease Control released Thursday showed that 204 were in hospital with the virus, down 24 from a week earlier. Critical care patients rose by one to 23.
Another 293 positive cases were identified, though that number under-estimates the prevalence of COVID-19 in the population due to limited PCR testing.
Article content
The number of deaths reported a week earlier among those who had had a positive COVID test in the 30 days before they died was revised upward from 27 to 40 as more data came in.
In total, B.C. has lost 5,106 lives since the start of the pandemic. Data suggest slightly less than half of those cases had COVID-19 as their underlying cause of death, while it may have been a contributing factor in others.
— Joseph Ruttle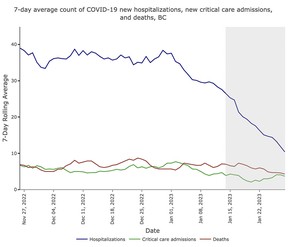 COVID-19 tests mandatory for travellers from China for two more months
People arriving on flights to Canada from China, Hong Kong and Macao will have to do a COVID-19 test before they board for another two months, after Canada announced it would renew border restrictions on air travel from those areas Thursday.
Article content
The government mandated pre-boarding tests for people coming from those places last month after China removed longstanding public-health restrictions, causing a countrywide outbreak of the virus.
The test requirement is now expected to remain in place until April 5, the Public Health Agency of Canada announced in a statement Thursday.
The government says it is concerned about reports of a dramatic increase in COVID-19 cases in China, and a lack of data available from China about potential variants that could be spreading through the country.
Read the full story here.
— The Canadian Press
Quebec drops recommendation that all should get booster vaccine
Quebec is now targeting booster vaccine doses at particular groups — the immunocompromised and those on dialysis, as well as vulnerable people who have never had COVID-19.
Article content
But vaccines will continue to be offered to anyone who wants them and the province's vaccination clinics will remain open, Dr. Luc Boileau, Quebec's public health director, said Thursday at his first COVID update since before Christmas.
Until now, the province had recommended that all Quebecers get a booster dose six months after their last dose.
Boileau said the change is based on a recommendation from the Comité sur l'immunisation du Québec.
Read the full story here.
— Montreal Gazette
B.C. CDC reminds residents to get a bivalent COVID-19 booster
British Columbians are being encouraged to get a bivalent COVID-19 booster to protect themselves against the current Omicron variants of the virus that continue to circulate.
Article content
Anyone who was invited to get a bivalent vaccine and hasn't yet booked an appointment is reminded to respond to the invitation or ask for a new one at 1-833-838-2323.
More than 1.6 million people have gotten a bivalent booster since the end of last summer, but many others remain eligible who haven't done so.
"Those who received a monovalent booster in the summer of 2022 are eligible for a bivalent booster," said a notice from the Ministry of Health on Wednesday. Anyone who was vaccinated with a monovalent six months ago should receive an invite from the Get Vaccinated program.
Current health advice from the National Advisory Committee on Immunization say a second bivalent booster is not recommended as the protection from the first booster should still keep people protected. That guidance will be updated in the coming weeks.
Article content
—Joseph Ruttle
EI justified in denying benefits to man fired for not getting COVID vaccine, court rules
When Anthony Cecchetto refused to get a COVID shot or submit to antigen testing for the virus, he was fired from his job at a Toronto-area group of hospitals.
The consequences of his actions didn't end there. Now out of work, Cecchetto was also denied employment insurance (EI), on the grounds that he had been dismissed for misconduct.
He challenged that decision, but a Federal Court judge has just ruled against him, saying the reason for his firing met the EI law's definition of misconduct. The term means only that someone consciously defied an employer's policies, even if there was no "malicious intent," the court said.
Cecchetto is not alone in challenging what happened to him. Attracting little public attention, scores of workers fired for refusing to be vaccinated have appealed subsequent decisions to refuse them EI benefits, too. The large majority of cases heard by the federal Social Services Tribunal have gone against the employees.
— Postmedia News
Republican-led panel targets COVID relief dollars for review
WASHINGTON — More than 1,000 people have pleaded guilty or have been convicted on federal charges of defrauding the myriad COVID-19 relief programs that Congress established in the early days of the pandemic. And more than 600 other people and entities face federal fraud charges.
But that's just the start, according to investigators scheduled to testify Wednesday to a congressional committee as House Republicans mark the beginning of what they promise will be aggressive oversight of President Joe Biden's administration.
The House Committee on Oversight and Accountability is holding its first hearing in the new Congress on fraud and waste in federal pandemic spending. Congress approved about $4.6 trillion in spending from six coronavirus relief laws, beginning in March 2020 when Donald Trump was president.
— Associated Press
Coroner rules Montreal girl died at school because of heart problem, not COVID vaccine
The coroner has ruled that natural causes, based on an underlying heart condition, were to blame for the 2021 death of a 15-year-old girl at Louis-Riel school in Rosemont.
Malaka Rizkalla collapsed in class and died Sept. 7, 2021. The next day, rumours were swirling that the COVID-19 vaccine caused her death. Anti-vaccine activists arrived at the school to protest against a vaccination campaign that was about to get underway at the school.
The girl's death became a rallying cry for anti-vaccine militants who allege the death was caused by a vaccine against COVID-19. A group came to the school the day after her death and became involved in a shouting match with teachers, claiming that the vaccination campaign was responsible for the girl's death, and that the school was hiding the truth. The school board confirmed there had been no vaccination campaign on the day the girl died. The campaign started a day later. The girl had been vaccinated twice, with the second dose having been administered two months before.
In his report, coroner Jean Brochu explained that the girl had a cardiac arrhythmia, which nearly caused her to drown in 2015. At that time, a pacemaker was implanted in her chest.
— Postmedia News
WHO maintains highest alert over COVID, but sees hope ahead
The World Health Organization (WHO) said on Monday that COVID-19 continues to constitute a public health emergency of international concern, its highest form of alert.
The pandemic is likely in a "transition point" that continues to need careful management to "mitigate the potential negative consequences," the agency added in a statement.
It is three years since the WHO first declared that COVID represented a global health emergency. More than 6.8 million people have died during the outbreak, which has touched every country on Earth, ravaging communities and economies.
However, the advent of vaccines and treatments has changed the pandemic situation considerably since 2020, and WHO director-general Tedros Adhanom Ghebreyesus has said he hopes to see an end to the emergency this year, particularly if access to the counter-measures can be improved globally.
— Reuters
World 'dangerously unprepared' for next pandemic: International Red Cross
The world is "dangerously unprepared" for future pandemics, the International Federation of the Red Cross and Red Crescent Societies (IFRC) say in a report published on Monday, calling on countries to update their preparedness plans by year-end.
In its World Disasters Report 2022, the IFRC said "all countries remain dangerously unprepared for future outbreaks" despite COVID-19 killing more people than any earthquake, drought or hurricane in history.
"The next pandemic could be just around the corner. If the experience of COVID-19 won't quicken our steps toward preparedness, what will?" said Jagan Chapagain, secretary general of the IFRC, the world's largest disaster response network.
"There will be no excuse for a continued lack of preparedness after having gone through three terrible years."
Read the full story here.
— Reuters
---
What are B.C.'s current public health measures?
MASKS: Masks are not required in public indoor settings though individual businesses and event organizers can choose to require them.
Masks are also encouraged but not required on board public transit and B.C. Ferries, though they are still required in federally regulated travel spaces such as trains, airports and airplanes, and in health care settings.
GATHERINGS AND EVENTS: There are currently no restrictions on gatherings and events such as personal gatherings, weddings, funerals, worship services, exercise and fitness activities, and swimming pools.
There are also no restrictions or capacity limits on restaurants, pubs, bars and nightclubs; and no restrictions on sport activities.
CARE HOMES: There are no capacity restrictions on visitors to long-term care and seniors' assisted living facilities, however, visitors must show proof of vaccination before visiting. Exemptions are available for children under the age of 12, those with a medical exemption, and visitors attending for compassionate visits related to end-of-life.
Visitors to seniors' homes are also required to take a rapid antigen test before visiting the facility or be tested on arrival. Exemptions to testing are available for those attending for compassionate visits or end-of-life care.
How do I get vaccinated in B.C.?
Everyone who is living in B.C. and eligible for a vaccine can receive one by following these steps:
• Get registered online at gov.bc.ca/getvaccinated to book an appointment in your community.
• Or, if you prefer, you can get registered and then visit a drop-in clinic in your health authority.
• The system will alert you when it is time to go for your second dose.
• The same system will also alert you when it is time for your booster dose.
---
link