Here's your weekly update with everything you need to know on the COVID situation in B.C. and around the world.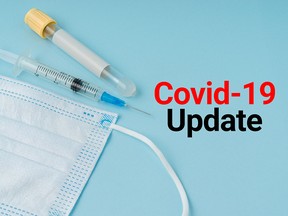 Article content
Here's your update with everything you need to know about the COVID situation in B.C. and around the world for the week of Feb. 23-March 1. This page will be updated with the latest COVID news and related research developments daily throughout the week, so be sure to check back often.
Article content
You can also get the latest COVID-19 news delivered to your inbox weeknights at 7 p.m. by subscribing to our newsletter here.
Article content
---
Here are the latest weekly B.C. figures given on Feb. 23:
• Hospitalized cases: 240 (up five)
• Intensive care: 17 (up two)
• New cases: 356 over seven days
• Total number of confirmed cases: 396,066
• Total deaths over seven days: 22 (total 5,192)
Read the full report here | Next update: March 2
---
LATEST NEWS
Jump in number of people in hospital in B.C. with COVID-19
Hospitals in B.C. saw a 20 per cent jump in the number of people who have COVID-19 over the past week from 193 to 240.
The B.C. Centre for Disease Control also reported an increase in the weekly number of people who died in hospital while COVID-19 positive from 13 to 22.
Article content
There are 17 people with COVID-19 in intensive care compared to 15 in the previous week.
The B.C. CDC reports COVID-19 data on patients whether or not they are in hospital due to the virus.
Staffing shortages, unpreparedness plagued Alberta long-term care home response: Auditor
Alberta's long-term care facilities were generally understaffed and unprepared to handle the deadly first waves of COVID-19, according to a report from the province's auditor general.
Doug Wylie concluded that while both Alberta Health and Alberta Health Services put forward a pandemic response in publicly funded continuing-care sites, many of the actions were ineffective.
"Continuing-care facilities serve some of the most vulnerable of our society. These are our parents, grandparents and friends who deserve to be kept safe," Wylie said in a statement accompanying the Thursday release of his report into how the province responded to COVID-19 outbreaks at the facilities.
Article content
"The COVID-19 response was impeded by insufficient preparedness and structural barriers — many of which have been long-standing — that existed at the start of the pandemic."
Read the full story here.
— Calgary Herald
South Korea will not require travelers from China to test for COVID-19 upon arrivals from next month although they will still need to take pre-departure tests, a South Korean official said on Wednesday, its latest easing of rules to stop the virus.
South Korea imposed several restrictions on passengers from China after it lifted its stringent zero-COVID policy late last year, but it has been easing them, citing an improved COVID situation in its neighbour.
Article content
Effective March 1, South Korea will also allow flights from China to land in airports other than its main Incheon International Airport, which has been the sole gateway for flights from China since early January.
Mandatory PCR tests before departure for passengers from China will remain in place until March 10, Kim said, to monitor and evaluate the impact of the rule relaxation.
—Reuters
Quebec pharmacies might not distribute free COVID rapid tests beyond March 31
Quebec is working on a plan to distribute the 63 million rapid tests stored in its warehouses, but it's unclear if it will continue to hand out the kits via pharmacies after March 31.
The province is "currently defining its strategy for (distributing the) rapid tests remaining in its inventory," Health Ministry spokesperson Robert Maranda said Monday.
Article content
"There is no change at the moment" in how Quebec will distribute the tests, Maranda said, but he did not answer when asked what will happen after March 31.
That's the day a distribution deal between the government and an association of Quebec pharmacists is set to expire.
Negotiations to possibly renew that agreement are continuing, said a spokesperson for the Association québécoise des pharmaciens propriétaires (AQPP). It represents the owners of 1,900 pharmacies across the province.
— Montreal Gazette
Messaging on vaccine mandate stoked 'Freedom Convoy' anger: Rouleau report
Justice Paul Rouleau says the Canada Border Services Agency made a bad situation worse when it mishandled the announcement of a vaccine mandate for truckers early last year, amid rampant anger and false information around the pandemic.
Article content
Rouleau pointed out the agency's mistake in his more than 2,000-page report released last Friday, which concluded that the federal Liberal government was justified in invoking the Emergencies Act last winter to respond to "Freedom Convoy" protests in downtown Ottawa.
"Public health measures were not the only cause of the Freedom Convoy protests, but they were certainly an important one," he wrote.
Read the full story here.
— The Canadian Press
Merck's COVID pill fails to prevent infection among household members
Merck & Co Inc said on Tuesday its COVID-19 pill was not effective at cutting the risk of coronavirus infections in people living with someone infected with the virus.
The results were similar to data from rival Pfizer Inc , whose COVID pill Paxlovid also failed to prevent infections among household contacts.
Article content
The two antiviral drugs are approved as treatments for individuals at risk of severe disease, but enthusiasm for the Merck pill has waned since it was shown to be only 30% effective versus 90% for Pfizer's Paxlovid.
Merck's late-stage trial enrolled over 1,500 participants, who were household contacts exposed to an individual with at least one symptom and had recently tested positive for COVID-19. Its Lagevrio pill, also known as molnupiravir, was given every 12 hours for five days and was compared with a placebo group.
— Reuters
One person arrested after anti-maskers protest inside Surrey Memorial Hospital ER
One person was arrested after a group of people entered Surrey Memorial Hospital's emergency room on Sunday afternoon and demanded they not be required to wear masks, despite not having a medical exemption.
Article content
The incident was captured on a livestream on the organizer's Facebook account and shared across social media.
Surrey RCMP Cpl. Vanessa Munn said police were called to the hospital at 96 Avenue and King George Boulevard around 3:20 p.m. to support security staff, who were dealing with "five individuals causing a disturbance and refusing to leave."
"While police were en route, they were updated that a physical altercation had occurred and a security guard had been assaulted," Munn said.
Read the full story here.
— David Carrigg
Chicago Blackhawks captain Jonathan Toews announced Sunday that he is dealing with symptoms of long COVID-19 and chronic immune response syndrome.
Article content
Toews hasn't played since Jan. 28. The Blackhawks placed the 34-year-old center on injured reserve on Wednesday with what they said was a non-COVID-19-related illness.
"It has been really challenging to play through these symptoms," Toews said in a statement released by the team. "In the last few weeks, it has reached the point where I had no choice but to step back and concentrate on getting healthy. I am thankful for the patience and support of my teammates, the coaching staff, and the entire Blackhawks organization."
—The Associated Press
White-tailed deer could reintroduce some COVID strains to humans: Study
Oh, deer. New York State white-tailed deer in 2020-21 had a widespread infection of COVID-19 variants, including Alpha, Delta and Gamma, that humans no longer have, according to a Cornell University study.
Article content
The study, published in the Proceedings of the National Academy of Sciences of the United States of America (PNAS) on Jan. 31, says there are concerns about whether deer could re-introduce nearly extinct variants back to humans.
Scientists from Cornell's College of Veterinary Medicine say the virus likely moved from humans to deer at some point — via feeding or baiting them for hunting — before going "nearly extinct" in people.
"Findings indicate that white-tailed deer – the most abundant large mammal in North America – may serve as a reservoir for variant SARS-CoV-2 strains that no longer circulate in the human population," say researchers.
They say the findings "raised concerns about the role of white-tailed deer in the epidemiology and ecology of the virus."
Article content
— Toronto Sun
British Columbia's auditor general says the Ministry of Health struggled at times to collect reliable information for groups at high risk of COVID-19 infection as it shaped its vaccination campaign.
In his latest report on the province's COVID-19 vaccine coverage, auditor general Michael Pickup says the Health Ministry had ways to estimate vaccination rates for residents and staff in about 500 long-term care and assisted-living facilities but the process was cumbersome.
Obstacles included staff turnover and a lack of data on privately funded facilities.
"The ministry monitored vaccination rates for long-term care and assisted-living residents and staff. However, there is no centralized registry for them," Pickup said at a new conference after his report was tabled in the legislature on Thursday.
Article content
—The Canadian Press
---
What are B.C.'s current public health measures?
MASKS: Masks are not required in public indoor settings though individual businesses and event organizers can choose to require them.
Masks are also encouraged but not required on board public transit and B.C. Ferries, though they are still required in federally regulated travel spaces such as trains, airports and airplanes, and in health care settings.
GATHERINGS AND EVENTS: There are currently no restrictions on gatherings and events such as personal gatherings, weddings, funerals, worship services, exercise and fitness activities, and swimming pools.
There are also no restrictions or capacity limits on restaurants, pubs, bars and nightclubs; and no restrictions on sport activities.
Article content
CARE HOMES: There are no capacity restrictions on visitors to long-term care and seniors' assisted living facilities, however, visitors must show proof of vaccination before visiting. Exemptions are available for children under the age of 12, those with a medical exemption, and visitors attending for compassionate visits related to end-of-life.
Visitors to seniors' homes are also required to take a rapid antigen test before visiting the facility or be tested on arrival. Exemptions to testing are available for those attending for compassionate visits or end-of-life care.
---
How do I get vaccinated in B.C.?
Everyone who is living in B.C. and eligible for a vaccine can receive one by following these steps:
• Get registered online at gov.bc.ca/getvaccinated to book an appointment in your community.
• Or, if you prefer, you can get registered and then visit a drop-in clinic in your health authority.
• The system will alert you when it is time to go for your second dose.
• The same system will also alert you when it is time for your booster dose.
Article content
---
Where can I get a COVID-19 test?
TESTING CENTRES: B.C.'s COVID-19 test collection centres are currently only testing those with symptoms who are hospitalized, pregnant, considered high risk or live/work with those who are high risk. You can find a testing centre using the B.C. Centre for Disease Control's testing centre map.
If you have mild symptoms, you do not need a test and should stay home until your fever is gone. Those without symptoms do not need a test.
TAKE-HOME RAPID ANTIGEN TESTS: Eligible British Columbians over the age of 18 with a personal health number can visit a pharmacy to receive a free take-home test kit containing five COVID-19 rapid antigen tests.
---
More news, fewer ads: Our in-depth journalism is possible thanks to the support of our subscribers. For just $3.50 per week, you can get unlimited, ad-lite access to The Vancouver Sun, The Province, National Post and 13 other Canadian news sites. Support us by subscribing today: The Vancouver Sun | The Province.
White-tailed deer could reintroduce some COVID strains to humans: Study

Vancouver park board expected to abolish mandatory COVID-19 vaccination policy for contractors
link