Here's your weekly update with everything you need to know on the COVID situation in B.C. and around the world.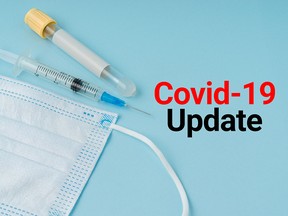 Article content
Here's your update with everything you need to know about the COVID situation in B.C. and around the world for the week of Jan. 26-Feb. 1. This page will be updated with the latest COVID news and related research developments daily throughout the week, so be sure to check back often.
Article content
You can also get the latest COVID-19 news delivered to your inbox weeknights at 7 p.m. by subscribing to our newsletter here.
Article content
---
Here are the latest weekly B.C. figures given on Jan. 26:
• Hospitalized cases: 228 (down 40)
• Intensive care: 22 (up five)
• New cases: 408 over seven days
• Total number of confirmed cases: 394,774
• Total deaths over seven days: 27 (total 5,061)
Read the full report here | Next update: Feb. 2
---
LATEST NEWS
WHO decision on COVID-19 emergency won't effect Canada's response: Tam
The World Health Organization will announce Monday whether it thinks COVID-19 still represents a global health emergency but Canada's top doctor says regardless of what the international body decides, Canada's response to the coronavirus will not change.
Article content
The WHO's emergency committee, which was struck in 2020 when COVID-19 first emerged as a global health threat, will vote today on whether to maintain the emergency designation.
WHO director-general Tedros Adhanom Ghebreyesus will make the final call based on the advice the committee gives him.
He warned earlier this week that he remains concerned about the impact of the virus, noting there were 170,000 deaths from COVID-19 reported around the world in the last two months.
Canada's chief public health officer Dr. Theresa Tam says the COVID-19 situation in Canada is fluctuating but relatively stable, with no evidence of a surge in cases anywhere.
Canadian data suggest hospitalizations are falling again after a brief increase over Christmas and in early January.
Article content
Read the full story here.
— The Canadian Press
COVID-19 hospitalizations fall in B.C.
The number of people in B.C. hospitals who have COVID-19 has fallen over the past week from 268 to 228. There were 408 new cases reported over the same time period, down from 560 reported the week before.
Latest data from the B.C. Centre for Disease Control shows there are 22 people in intensive care who have COVID-19 and 27 people died with the disease over the past week.
Beliefs that COVID-19 is exaggerated or an outright hoax, that vaccines can alter a person's DNA or cause other "covered-up problems" cost Canada an estimated 2,800 lives and thousands of hospitalizations over nine months of the pandemic, according to a new report.
Article content
The estimates, based on models, are conservative, the authors said, because they don't capture all  the "flow-on consequences" of misinformation, such as postponed surgeries, doctors' billings, the cost of treating long COVID or "the social unrest and moral injury to healthcare workers."
"Misinformation is an urgent societal concern that affects us all," reads the expert panel report from the Council of Canadian Academies, the latest group to raise alarms over an "infodemic" of falsehoods that spread as widely and rapidly as COVID-19.
According to the far-ranging report, between March and November 2021, misinformation helped sway an estimated 2.4 million people in Canada to delay or refuse to get vaccinated against COVID. Had they been vaccinated as soon as they became eligible, by the end of November 2021, there would have been nearly 200,000 fewer cases of COVID and 13,000 fewer hospitalizations.
Article content
—Sharon Kirkey
U.S. CDC: Updated COVID vaccines prevented illness from latest variants
The updated COVID-19 boosters from Pfizer Inc/BioNTech SE and Moderna helped prevent symptomatic infections against the new XBB-related subvariants, offering new evidence of how the vaccines perform against these fast-spreading strains, U.S. officials said on Wednesday.
"Today we have additional evidence to show that these updated vaccines are protecting people against the latest COVID-19 variants," Dr. Brendan Jackson, head of the U.S. Centers for Disease Control and Prevention's COVID-19 response, told reporters in a briefing.
Released last fall, the updated boosters target the BA.4 and BA.5 Omicron variants of the SARS-CoV-2 virus, which are no longer dominant. The now-dominant XBB-related subvariants are derived from the BA.2 version of Omicron.
Article content
Lab studies had suggested that vaccine protection was lower against the XBB variants compared with prior variants, raising questions about how well the vaccines worked against these rising strains of the virus, Jackson said.
Read the full story here.
— Reuters
China says COVID deaths, severe cases have fallen over 70% per cent since peak
Critically ill COVID-19 cases in China are down 72 per cent from a peak early this month while daily deaths among COVID-19 patients in hospitals have dropped 79 per cent from their peak, the Center for Disease Control and Prevention said on Wednesday.
The figures, published on the centre's website, come after a prominent government scientist said over the weekend that 80 per cent of China's 1.4 billion population had already been infected, making the possibility of a big COVID-19 rebound over the next two or three months remote.
Article content
China abruptly ended its strict zero-COVID policy in early December after three years and infections surged across the world's most populous country.
While officials have said infections have peaked, some global experts have warned about the possibility of a surge in cases in rural areas less equipped to deal with them as millions of Chinese travel home for family reunions during the ongoing Lunar New Year holiday.
— Reuters
Some rural B.C. mayors call for end to vaccine mandates to get more nurses working
Fed up with rolling emergency room closures, some rural B.C. mayors are calling on the province to end the vaccine mandate for health workers as a way to get sidelined nurses back on the job.
Health Minister Adrian Dix said that option is not on the table, but the province has a range of other tools to boost the health-care workforce in rural parts of B.C.
Article content
Merritt Mayor Michael Goetz said the Nicola Valley Hospital has been temporarily closed four times since Christmas.
Read the full story here.
— Katie DeRosa
B.C. teacher reprimanded for yelling at health workers at school COVID vaccine clinic
A teacher in the B.C. Interior has been reprimanded by the provincial regulator for yelling at health workers about his objections to a COVID-19 vaccination clinic at his school.
Patrick James Nelson signed a consent resolution agreement with the B.C. Commissioner for Teacher Regulation that was posted on Tuesday.
In it, he admitted to confronting the workers at a vaccine clinic in the cafeteria of the school where he works on Oct. 6, 2021. The clinic had been set up by School District No. 82 and Interior Health to vaccinate any students legally allowed to make the decision for themselves.
Article content
Read the full story here.
— Joseph Ruttle
Gym target of 'ludicrous' human-rights complaint for following Ontario COVID rules
The pandemic and its related public-health restrictions have not been easy on Hub Climbing.
The operator of two rock-climbing gyms near Toronto struggled to pay bills during the months of lost business, still almost went bankrupt and stayed afloat only after its proprietors took out personal loans, says co-owner Steven Brown.
But Brown says the final straw came just last month, when he learned he must go through the arduous process of defending a human-rights complaint — essentially because Hub obeyed the law and implemented provincial public-health rules.
Former People's Party of Canada (PPC) candidate Florian Bors alleges Hub Climbing discriminated against him when it denied him access to their gym in Markham for not being vaccinated against COVID — at a time when proof of immunization was legally required to enter non-essential businesses.
Article content
The Human Rights Tribunal of Ontario (HRTO) initially told Bors it didn't have the jurisdiction to hear the grievance, but changed course in December, informing him his claim would "continue in the tribunal process" and notifying Hub of the case against it.
— The National Post
U.S. FDA proposes shift to annual COVID vaccine shots
The U.S. health regulator on Monday proposed the use of one dose of the latest updated COVID-19 shot annually for healthy adults, similar to the influenza immunization campaign, as it aims to simplify the country's current COVID-vaccine strategy.
The Food and Drug Administration's proposal was outlined in its briefing documents ahead of a meeting of its panel of external advisers on Thursday.
It has also asked the panel to consider the usage of two COVID vaccine shots a year for some young children, and in older adults and persons with compromised immunity.
The regulator also sought its advisers' views on the need for routine selection of variants for updating the vaccine, similar to the way strains for flu vaccines are changed annually.
The agency's proposal was on expected lines, following its announcement of its intention for the update last month. The Biden administration has also been planning for a campaign of vaccine boosters every fall season.
— Reuters
COVID-19 wastewater surveillance expands to Interior, Island Health
The B.C. Centre for Disease Control (BCCDC) says COVID-19 wastewater monitoring has been expanded to communities in the Interior and Island health regions.
Wastewater surveillance is used to get a picture of how prevalent the virus is in a community, and can provide dynamic information in a more broad sense than individual testing for COVID-19.
"The information we receive from wastewater is valuable in conjunction with other data to help us understand the impact of COVID-19 and how it is spreading in our communities," says Natalie Prystajecky, lead of the wastewater project and head of the environmental microbiology program at the BCCDC's Public Health Laboratory.
"While using wastewater to understand the dynamics of disease is not new, it was only during the pandemic that this surveillance tool was widely adopted around the world."
— Joseph Ruttle
---
What are B.C.'s current public health measures?
Article content
MASKS: Masks are not required in public indoor settings though individual businesses and event organizers can choose to require them.
Masks are also encouraged but not required on board public transit and B.C. Ferries, though they are still required in federally regulated travel spaces such as trains, airports and airplanes, and in health care settings.
GATHERINGS AND EVENTS: There are currently no restrictions on gatherings and events such as personal gatherings, weddings, funerals, worship services, exercise and fitness activities, and swimming pools.
There are also no restrictions or capacity limits on restaurants, pubs, bars and nightclubs; and no restrictions on sport activities.
CARE HOMES: There are no capacity restrictions on visitors to long-term care and seniors' assisted living facilities, however, visitors must show proof of vaccination before visiting. Exemptions are available for children under the age of 12, those with a medical exemption, and visitors attending for compassionate visits related to end-of-life.
Article content
Visitors to seniors' homes are also required to take a rapid antigen test before visiting the facility or be tested on arrival. Exemptions to testing are available for those attending for compassionate visits or end-of-life care.
---
How do I get vaccinated in B.C.?
Everyone who is living in B.C. and eligible for a vaccine can receive one by following these steps:
• Get registered online at gov.bc.ca/getvaccinated to book an appointment in your community.
• Or, if you prefer, you can get registered and then visit a drop-in clinic in your health authority.
• The system will alert you when it is time to go for your second dose.
• The same system will also alert you when it is time for your booster dose.
---
Where can I get a COVID-19 test?
Article content
TESTING CENTRES: B.C.'s COVID-19 test collection centres are currently only testing those with symptoms who are hospitalized, pregnant, considered high risk or live/work with those who are high risk. You can find a testing centre using the B.C. Centre for Disease Control's testing centre map.
If you have mild symptoms, you do not need a test and should stay home until your fever is gone. Those without symptoms do not need a test.
TAKE-HOME RAPID ANTIGEN TESTS: Eligible British Columbians over the age of 18 with a personal health number can visit a pharmacy to receive a free take-home test kit containing five COVID-19 rapid antigen tests.
---
More news, fewer ads: Our in-depth journalism is possible thanks to the support of our subscribers. For just $3.50 per week, you can get unlimited, ad-lite access to The Vancouver Sun, The Province, National Post and 13 other Canadian news sites. Support us by subscribing today: The Vancouver Sun | The Province.
Parents demand B.C. schools do more to improve air quality as triple epidemic rages

Flu season is already winding down, says B.C. Ministry of Health
link