Here's your weekly update with everything you need to know on the COVID situation in B.C. and around the world.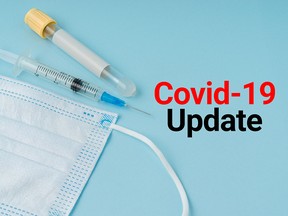 Article content
Here's your update with everything you need to know about the COVID situation in B.C. and around the world for the week of Nov. 24-30. This page will be updated with the latest COVID news and related research developments daily throughout the week, so be sure to check back often.
Article content
You can also get the latest COVID-19 news delivered to your inbox weeknights at 7 p.m. by subscribing to our newsletter here.
Article content
---
Here are the latest weekly B.C. figures given on Nov. 24:
• Hospitalized cases: 328 (same)
• Intensive care: 37 (up 11)
• New cases: 498 over seven days ending Nov. 19 (up 14)
• Total number of confirmed cases: 389,479
• Total deaths over seven days ending Nov. 19: 21 (total 4,642)
Read the full report here | Next update: Dec. 1 
---
LATEST NEWS
CRA clawing back $3.2B from suspect COVID-19 aid payments, but that's just the start
CRA is clawing back $3.2 billion in COVID-19 financial aid benefit overpayments, a staggering number that's just the beginning of the agency's monumental task of recouping billions in excessive or fraudulent payments through hastily designed emergency programs.
Article content
In a wide-ranging interview with National Post Tuesday, two top Canada Revenue Agency (CRA) officials, Frank Vermaeten and Marc Lemieux, said the organization has sent out 825,000 debt notes (or "notices of redetermination") to Canadians it suspects received ineligible or excess payments from any number of the COVID-19 programs for individuals as of Nov. 18.
But that number will only grow as CRA investigators look over millions of applications for half a dozen COVID-19 programs until at least 2025.
They also revealed the agency has already discovered about 25,000 cases of fraudulent payments tied to identity theft, "a scale we haven't seen in the past."
Read the full story here.
— Christopher Nardi, National Post
Article content
New census data shows how commuting dropped during pandemic, labour force aging
Statistics Canada says there were 2.8 million fewer commuters in 2021 than in 2016, as the pandemic drove a shift toward remote work.
In a new census release, the federal agency says COVID-19 altered commuting patterns for Canadian workers with fewer people driving, taking transit or walking and bicycling in 2021 compared to five years before.
With fewer cars on the road, commute times also fell. StatCan notes that commute times are now rising again, though commutes are still faster than they were in 2016.
Given the impact of the pandemic on remote work and commuting, StatCan also compared the 2021 data with updated numbers from this spring. That showed that by May 2022, the number of people driving to work was back to 2016 levels.
Article content
The number of people taking public transit was still lower than it was six years ago, making up just 7.7 per cent of all workers.
Read the full story here.
— The Canadian Press
Twitter rolls back its COVID misinformation policy
Twitter Inc has rolled back a policy that was aimed at tackling misinformation related to COVID-19 on the social media platform, lending itself to the risk of a potential surge in false claims even as cases rise in China and some parts of the world.
The move also comes amid concerns of Twitter's ability to fight misinformation after it let go about half of its staff, including those involved in content moderation, under new boss Elon Musk.
"Effective November 23, 2022, Twitter is no longer enforcing the COVID-19 misleading information policy," according to an update on its blog page. The update was first reported by CNN on Tuesday.
Article content
The specific measures that Twitter will drop were not immediately clear, and the company did not immediately respond to a request to share more information.
Read the full story here.
— Reuters
Students sent home, police on patrol as China curbs protests
Chinese universities sent students home and police fanned out in Beijing and Shanghai to prevent more protests Tuesday after crowds angered by severe anti-virus restrictions called for leader Xi Jinping to resign in the biggest show of public dissent in decades.
Authorities have eased some controls after demonstrations in at least eight mainland cities and Hong Kong — but maintained they would stick to a "zero-COVID" strategy that has confined millions of people to their homes for months at a time. Security forces have detained an unknown number of people and stepped up surveillance.
Article content
With police out in force, there was no word of protests Tuesday in Beijing, Shanghai or other major mainland cities that saw crowds rally over the weekend. Those were the most widespread protests since the army crushed the 1989 student-led Tiananmen Square pro-democracy movement.
In Hong Kong, about a dozen people, mostly from the mainland, protested at a university.
Beijing's Tsinghua University, where students rallied over the weekend, and other schools in the capital and the southern province of Guangdong sent students home. The schools said they were being protected from COVID-19, but dispersing them to far-flung hometowns also reduces the likelihood of more demonstrations. Chinese leaders are wary of universities, which have been hotbeds of activism including the Tiananmen protests.
Article content
Universities said classes and final exams would be conducted online.
Authorities hope to "defuse the situation" by clearing out campuses, said Dali Yang, an expert on Chinese politics at the University of Chicago.
— Associated Press
Edmonton emergency doctor Shazma Mithani came off a shift one night last week with a horrifying thought: If this continues, we are going to have kids die in the waiting room.
There were never fewer than 30 or 40 sick, ailing and hurt babies and children waiting to be seen over the course of her 10-hour shift at Edmonton's Stollery Children's Hospital which, like many kids' hospitals across Canada, is being pushed to capacity and beyond.
Article content
Most of the two dozen ER beds were already filled with children who couldn't safely be sent home, because most of them couldn't breathe properly. These children needed to be moved to beds upstairs, but there were no empty beds there to move them to, and so instead they waited, for hours on end, in Mithani's overrun department with a crammed waiting room just beyond it, full of anxious parents and coughing, fidgeting and feverish kids who had no place else to go.
The doctor tried to see children in the waiting room every chance she could. Each time Mithani went out to check, "It was just this kind of low level of chaos." Kids crying and worried parents pleading with the triage nurse, "How much longer is it going to be?"
Babies breathing rapidly from RSV, the virus driving a freakish and alarming number of respiratory infections, and toddlers with bad asthma flare-ups and croup. Multiple kids with abnormal vital signs and critically low oxygen levels who need immediate action and who would normally go straight to resuscitation rooms, except all the "resus" beds were already occupied.
Article content
— The National Post
Clinics aim to help long-COVID patients get through their day
Inside a Surrey health care centre, a physiotherapist and a physiologist have created an innovative project to help patients with long COVID get through life while struggling with exhaustion, breathlessness and confusion.
Their main message? Do the reverse of everyone else.
"It's really the opposite of how we live our lives, especially in today's society. We're all about achieving and getting something done and being productive," said Janice Schonewille, a Fraser Health clinical exercise physiologist who specializes in lung rehabilitation.
"And this is about sitting back, taking it easy, being OK with second place. It's being reasonable about your expectations of yourself."
Article content
Last year, Schonewille and physiotherapist Amy Sangha, who specializes in heart rehabilitation, started seeing patients from Surrey's long-COVID clinic. They realized these patients were in much worse shape than most other people they see at the Jim Pattison Outpatient Care and Surgery Centre.
Read the full story here.
—Lori Culbert
A year after Omicron began its assault on humanity, the ever-morphing coronavirus mutant drove COVID-19 case counts higher in many places just as Americans gathered for Thanksgiving. It was a prelude to a wave that experts expect to soon wash over the U.S.
Phoenix-area emergency physician Dr. Nicholas Vasquez said his hospital admitted a growing number of chronically ill people and nursing home residents with severe COVID-19 this month.
Article content
"It's been quite a while since we needed to have COVID wards," he said. "It's making a clear comeback."
Nationally, new COVID cases averaged around 39,300 a day as of Tuesday — far lower than last winter but a vast undercount because of reduced testing and reporting. About 28,000 people with COVID were hospitalized daily and about 340 died.
—The Associated Press
Alberta bans mask mandates in schools, guarantees in-person learning option for students
The Alberta government is putting new constraints on how the province's schools can move to online learning, as well as specifying that mask-wearing can't be a condition of attending class.
Changes announced Thursday mean school authorities can shift Grade 1 through Grade 12 classes online only if they also maintain an in-person option for parents who want to keep sending their kids to school.
Article content
The government also stated that students from early childhood programs to Grade 12 can't be denied in-person education "due to their personal decision to wear or not wear a mask."
The new regulations come into effect immediately. Specific educational programming being provided in a hospital or correctional facility, for example, will be exempt from the in-person learning requirement.
The move follows rising concerns about high student absenteeism rates with this year's fall respiratory virus season hitting particularly hard. In the first winter season without public-health protections since 2020, respiratory syncytial virus (RSV), influenza and COVID-19 are all circulating.
— The National Post
Article content
Pandemic lockdowns are expanding across China, including in a city where factory workers clashed this week with police, as the number of COVID-19 cases hits a daily record.
Residents of eight districts of Zhengzhou, home to 6.6 million people, were told to stay home for five days beginning Thursday except to buy food or get medical treatment. Daily mass testing was ordered in what the city government called a "war of annihilation" against the virus.
During clashes Tuesday and Wednesday, Zhengzhou police beat workers protesting over a pay dispute at the biggest factory for Apple's iPhone, located in an industrial zone near the city. Foxconn, the Taiwan-based owner of the factory, apologized Thursday for what it called "an input error in the computer system" and said it would guarantee that the pay is the same as agreed to and in official recruitment posters.
Article content
In the previous 24 hours, the number of new COVID cases rose by 31,444, the National Health Commission said Thursday. That's the highest daily figure since the coronavirus was first detected in the central Chinese city of Wuhan in late 2019.
—The Associated Press
B.C. hospitalizations steady, but number of ICU patients up 40 per cent
The number of people in B.C. hospitals with COVID-19 has stayed steady compared to last week, although more people are needing critical care.
The latest data released Thursday by the B.C Centre for Disease Control, showed 37 people with COVID-19 in ICU, up from 26 last week. The overall number of patients in hospital with COVID stayed the same at 328.
These figures reflect the number patients who tested positive for the virus while in hospital or in the ICU ward, including those who were admitted to hospital for other reasons.
Article content
There were 21 deaths attributed to COVID-19 over the last seven days, bringing the total deaths to 4,642.
— Cheryl Chan
Updated COVID vaccines offer better protection than original: U.S. study
Updated COVID-19 boosters offer increased protection against new variants in people who have previously received up to four doses of the older vaccine, a real-world study in the United States showed.
The study of over 360,000 people, published in Morbidity and Mortality Weekly Report, offers the first evidence that the new vaccines by Pfizer-BioNTech and Moderna provide better protection compared to the original shots.
Since their introduction in September, the vaccine boosters, which contain both original and Omicron BA.4/5 coronavirus strain, provided greater benefit to younger adults aged 18-49 years that those in the older age group.
Article content
When given eight months or more apart, relative vaccine effectiveness of the new boosters compared with the original vaccine shots was 56 per cent among people aged 18–49 years, 48 per cent among those 50–64 years, and 43 per cent among persons aged 65 years and older, the study showed.
— Reuters
Dr. Fauci pleads with Americans to get COVID shot in final White House briefing
Dr. Anthony Fauci, the U.S. health official celebrated and vilified as the face of the country's COVID-19 pandemic response, used his final White House briefing on Tuesday to denounce division and promote vaccines.
Fauci, who plans to retire soon as President Joe Biden's top medical adviser and top U.S. infectious disease official, has dealt with the thorny questions around health crises from HIV/AIDS to avian flu and Ebola.
Article content
But it was his handling of COVID – and his blunt assessments from the White House podium that Americans needed to change their behavior in light of the pandemic – that made him a hero to public health advocates while serving under President Donald Trump, a villain to some on the right and an unusual celebrity among bureaucratic officials used to toiling in obscurity. Fauci has regularly been subjected to death threats for his efforts.
True to form, Fauci used the final press briefing to strongly encourage Americans to get COVID vaccines and booster shots, and touted the effectiveness of masks, all of which became partisan totems in the United States.
— Reuters
B.C. CDC drops self-isolation requirements for COVID-19
Article content
British Columbians who have COVID-19 are no longer required to self-isolate.
That's according to the most recent guidance from the B.C. Centre for Disease Control (CDC), posted to their website with little fanfare on Nov. 17.
"Starting Nov. 17, 2022, people who have COVID-19 are no longer required to self-isolate," new language on the website states.
Before the change, the website had stated that fully vaccinated individuals "need to self-isolate at home for five days and until your symptoms improve and you no longer have a fever." Unvaccinated adults were required to self-isolate for 10 days.
The new guidance doesn't differentiate between vaccinated and unvaccinated people.
Read the full story here.
— Nathan Griffiths
Article content
Beijing's biggest district urges residents to stay home as COVID cases rise
Beijing's most populous district urged residents to stay at home on Monday, extending a request from the weekend as the city's COVID-19 case numbers rose, with many businesses shut and schools in the area shifting classes online.
Nationally, new case numbers held steady on Sunday near April peaks as China battles outbreaks in cities across the country, from Zhengzhou in central Henan province to Guangzhou in the south and Chongqing in the southwest.
Still, China is trying to ease the impact of containment measures that drag on the economy and frustrate residents fed up with lockdowns, quarantine and other disruptions, even as it reiterates its commitment to its zero-COVID approach.
Article content
On Sunday, Beijing city officials urged residents of the sprawling Chaoyang district – home to nearly 3.5 million people as well as embassies and office towers – to remain at home on Monday.
— Reuters
The Toronto Transit Commission will be ending its mandatory COVID-19 vaccination requirement for workers and offering to reinstate employees who were terminated as a result of the policy without back pay.
The transit agency said this week its vaccine mandate will be lifted on Nov. 27, though it is continuing to encourage employees to stay up-to-date with COVID-19 vaccinations.
The TTC said the mandate, introduced on Sept. 7, 2021, came after consulting with public health officials and based on "the best available science at the time."
Article content
"The policy ensured employee illnesses were kept to a bare minimum and allowed the TTC to continue delivering its essential service throughout the pandemic," the agency said in a news release.
Employees who were terminated as a result of the policy will be invited to return to work and will maintain their seniority. However, they will not be eligible for back pay — a move that could prompt lawsuits.
— The Canadian Press
Federal government encourages people to use masks while travelling
Canada's transport minister says the federal government strongly encourages people to wear masks on planes and trains as regions across the country report increasing pressure on the health-care system, but he stopped short of making it a requirement.
Article content
Omar Alghabra said the advice follows a briefing Thursday with Dr. Theresa Tam, Canada's chief public health officer.
"I continue to wear my mask when I'm travelling on a plane," Alghabra told a news conference.
"Given the pressure that our hospitals are dealing with and our health-care system, I think it's the kind thing to do to protect others around us."
— The Canadian Press
Are RSV and the flu really making kids sicker? What emergency room doctors are seeing
The message was alarming: seven little children had to be resuscitated over the span of 48 hours in the emergency department of Ottawa's children's hospital. Three on Monday. "Sunday there were 4," tweeted Children's Hospital of Eastern Ontario President Alex Munter.
Article content
"Help stop the spread of preventable infectious disease," Munter posted before pleading for residents to mask up and heed other public health advice.
When asked about the nature of the resuscitation cases, a CHEO spokesperson said Thursday that some, but not all, of the seven children mentioned had a respiratory viral illness.
Still, the tweet echoed some anecdotal reports that children caught in the respiratory viral storm seem sicker than years past. "It's the worst I've seen in my 14 years on staff," tweeted Dr. Tracey Bruce, a pediatric anesthesiologist at McMaster Children's Hospital. "Multiple viral infections, often in the same child," and secondary bacterial infections "with catastrophic implications and incredible morbidity," Bruce said. "Please wear a damn mask!"
Article content
Read the full story here.
— Postmedia News
Shoppers Drug Mart parent company says cough and cold sales hit all-time high
Canada's biggest drugstore chain says sales of cough and cold products hit an all-time high this fall.
Loblaw Cos. Ltd. chairman and president Galen G. Weston says the combination of COVID-19, RSV and the flu led to a record number of cough and cold medication sales at the company's pharmacies, which include Shoppers Drug Mart and Pharmaprix.
He says the manufacturers of multinational and generic brands have had trouble keeping up with the spike in demand.
Weston says the "unusual pressure" on the industry has led to shortages, leaving retailers with limited stock for some medications. He says manufacturers are working hard to get more product available, but it's difficult to say when the shortages will end.
Article content
Read the full story here.
— The Canadian Press
---
What are B.C.'s current public health measures?
MASKS: Masks are not required in public indoor settings though individual businesses and event organizers can choose to require them.
Masks are also encouraged but not required on board public transit and B.C. Ferries, though they are still required in federally regulated travel spaces such as trains, airports and airplanes, and in health care settings.
GATHERINGS AND EVENTS: There are currently no restrictions on gatherings and events such as personal gatherings, weddings, funerals, worship services, exercise and fitness activities, and swimming pools.
There are also no restrictions or capacity limits on restaurants, pubs, bars and nightclubs; and no restrictions on sport activities.
CARE HOMES: There are no capacity restrictions on visitors to long-term care and seniors' assisted living facilities, however, visitors must show proof of vaccination before visiting. Exemptions are available for children under the age of 12, those with a medical exemption, and visitors attending for compassionate visits related to end-of-life.
Visitors to seniors' homes are also required to take a rapid antigen test before visiting the facility or be tested on arrival. Exemptions to testing are available for those attending for compassionate visits or end-of-life care.
---
How do I get vaccinated in B.C.?
Everyone who is living in B.C. and eligible for a vaccine can receive one by following these steps:
• Get registered online at gov.bc.ca/getvaccinated to book an appointment in your community.
• Or, if you prefer, you can get registered and then visit a drop-in clinic in your health authority.
• The system will alert you when it is time to go for your second dose.
• The same system will also alert you when it is time for your booster dose.
---
Where can I get a COVID-19 test?
TESTING CENTRES: B.C.'s COVID-19 test collection centres are currently only testing those with symptoms who are hospitalized, pregnant, considered high risk or live/work with those who are high risk. You can find a testing centre using the B.C. Centre for Disease Control's testing centre map.
If you have mild symptoms, you do not need a test and should stay home until your fever is gone. Those without symptoms do not need a test.
TAKE-HOME RAPID ANTIGEN TESTS: Eligible British Columbians over the age of 18 with a personal health number can visit a pharmacy to receive a free take-home test kit containing five COVID-19 rapid antigen tests.
---
More news, fewer ads: Our in-depth journalism is possible thanks to the support of our subscribers. For just $3.50 per week, you can get unlimited, ad-lite access to The Vancouver Sun, The Province, National Post and 13 other Canadian news sites. Support us by subscribing today: The Vancouver Sun | The Province.
B.C. CDC drops self-isolation requirements for COVID-19

Can't find children's Tylenol or Advil? Here's what you can do
link