Inside the South Keys Health Center practitioner clinic: "The only one who has answers is me, and I don't have answers."
Get the latest from Bruce Deachman straight to your inbox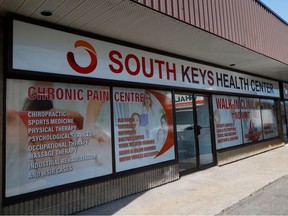 Article content
I walked into the South Keys Health Center on Friday afternoon, eager to get information about their fee-for-service model. I'd read that for $400 a year, I can quickly access a nurse practitioner who, although unable to bill OHIP, can otherwise perform many of the functions that the family doctor I don't have would.
Located in an unremarkable, almost unnoticeable, strip mall on Bank Street, just north of Hunt Club Road, the clinic (or at least the reception area that I could see) was bright and clean, its orange walls befitting the season.
Article content
"Hi there," I said to the woman at the reception desk. "I was hoping to get some information about your services." I explained to her that I don't have a primary care provider.
"So you want to sign up?" she asked.
"Well, I want to get some information first," I replied. "So it's $400 a year? Does that include services?"
She nodded. "All the services."
"So I wouldn't have to pay for things after that, or would I?"
"I can't answer that yet, because we're not open yet," she said, noting that their program won't begin for two or three weeks. "To be honest, all these details I don't know. All I know is it's $400 a year."
"So what is and isn't covered?" I persisted.
"I know we use OHIP cards, but the program is not included. Other details we still have no answers."
"Is there someone else here on site who does have those answers?"
"The only one who has answers is me, and I don't have answers."
"Interesting," I replied. She urged me to send an email to the clinic, indicating that I want to sign up.
"Or ask questions," I interjected.
Clearer answers are found on their website. I learned that the $400 registration fee includes first-time assessment and treatment plan; unlimited video appointments; onsite lab testing; on-click prescription refills (I'm not sure if that should read "one-click"); and on-time appointments (On-time? One-time?). Follow-up visits will run you $75 for 30 minutes. A prescription refill by fax or phone: $30.
Article content
Medical clinics that charge fees for access to nurse practitioner-provided care are increasingly becoming part of health care in Ontario, and their proliferation is a divisive topic, with many worried they'll lead to a system where people are divided into haves and have-nots.
On the one hand, the fee-for-service model coming to South Keys could help fill some holes in the province's health-care system.
In the Champlain region alone, which includes Ottawa and much of Eastern Ontario, it's estimated that 134,000 people don't have a family doctor. That leads to increased stresses on the existing system, including at hospitals unable to cope with the volume of patients. It also contributes to generally poorer health outcomes everywhere and will continue to do so as the population ages.
So it makes sense, then, that those with the means — and many without — would jump at the opportunity to use such clinics. Nobody wants to wait months or years for medical treatment as their condition worsens.
Much of that fee simply helps balance the fact that Ontario nurse practitioners, who perform many of the functions typically associated with physicians such as prescribing medications and ordering tests, can't bill OHIP and, thus, are typically locked into salaried positions, which the clinics have to pay.
Article content
Meanwhile, a potential downside of the fee-for-service model is that it's just the tip of the two-tiered health-care system iceberg. There are certainly arguments to be made in favour of two-tiered health care, such as improving access and reducing strain on the public system.
At the same time, however, we've seen numerous examples of it worsening conditions for many people, especially in the U.S., where chronic underfunding for public hospitals and clinics stands in stark contrast to newer, better-equipped ones that only the privileged can access. That disparity should not lie at the bottom of this slippery slope.
It's an imperfect situation, one that highlights the province's failures in fixing the health-care system.
When criticized, provincial governments in situations like these often promise that no one will ever have to pay for treatment. And maybe that's even true, but it's an awfully hard pill to swallow when you're waiting months to see an oncologist.
I reached out to the Ontario Ministry of Health to ask if it supported such clinics and saw a role for them in the province's health care system. "We will not tolerate any clinic charging for services," ministry spokesperson W.D. Lighthall replied in an email. "While at this time, services delivered by nurse practitioners who are not part of a nurse practitioner-led clinic are not covered by OHIP, we are taking steps to review this and shut down bad actors taking advantage of patients.
Article content
"It is a violation of the Commitment to the Future of Medicare Act (CFMA) to charge an individual for an OHIP-insured service or a component of an insured service."
I then asked whether having to pay a registration fee to access a clinic was the same as paying for an OHIP service at a clinic, but didn't receive clarification.
I confess the cynic in me sometimes wonders if privatization of health care is actually an end goal of the province's failure to fix the system — make it so bad that people need to find alternative solutions.
Instead, what should have been done all along, and what needs to be done, is to eliminate the conditions whereby private clinics become a necessity. Simply put, publicly funded health care needs to be shored up to meet people's needs.
Some of that will cost taxpayers. Staff at the South East Ottawa Community Health Centre, for example, are earning only 94 per cent of their 2017 salary scale. Over the past six years, inflation has risen more than 20 per cent. "Staff are coming to me with tears in their eyes saying that they love it here and that the work they do is so incredibly important, but they can't afford it," says Kelli Tonner, the centre's executive director. "They have to go elsewhere."
Article content
The province desperately needs more doctors and nurse practitioners and should look at the differences in how those positions are treated and how they deliver services. According to Tonner, there is currently one publicly funded online nurse-practitioner-led clinic in Eastern Ontario — the East Region Virtual Care Clinic — where people who don't have primary-care providers can get medical attention without having to pay for it. There should be more.
Other solutions, policy decisions such as improving home care, will prove less expensive in the long run. And we need to closely examine fee-for-service clinics and decide if they're part of the solution or the problem and do it before they become standard practice. Because climbing up the slippery slope will be a lot more difficult than going down.
Related Stories
PSAC thought it had negotiated a great deal with the government on remote work. But since then, little has changed

Canadian military armoured vehicle and truck in the midst of Gaza protest in Montreal
Our website is your destination for up-to-the-minute news, so make sure to bookmark our homepage and sign up for our newsletters so we can keep you informed.
link