Dr. Robert Cushman retires after long, high-profile career in public health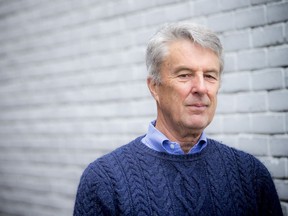 Article content
During the feverish months that led to Ottawa's total ban on indoor smoking in April 2001, the face of the city's crusading medical officer of health was often featured on pub dartboards.
Article content
Dr. Robert Cushman was the driving force behind the law, which made Ottawa the largest city in Canada — and only the third in the country — to enact such a far-reaching ban. The policy faced intense criticism at the time, and Cushman was denounced as a dictator and zealot.
Article content
"I had a bodyguard for a year-and-a-half," Cushman, now 75, recalled in an interview Thursday to mark his retirement after almost three decades as a public health official. "But the beauty of it was that it took off: It was really a catalyst for smoking bans in so many places."
Cushman fought a series of public health battles during his long career, campaigning for everything from needle exchange programs to bicycle helmet laws to a ban on the use of cosmetic pesticides.
Article content
He's to step down Friday as Renfrew County's medical officer of health.
Cushman held the job for six years, even though it was supposed to be just a four-month appointment. The physician pegged to replace him went elsewhere, which meant Cushman was at the helm of the Renfrew County and District Health Unit when the COVID-19 outbreak began in March 2020.
The pandemic, he said, proved to public health officials across the globe that infectious diseases can still wreak havoc on society.
"Clearly, those of us who thought infectious diseases had their day, how wrong we were," Cushman said. "It has reared its ugly head and it's back… And the best tool we have available to us is vaccination."
The pandemic, he said, also demonstrated that Ontario's health care system has "too many silos." Early in the pandemic, he said, health care officials decided to protect hospital capacity, and were slow to pivot from that position once it became clear that long-term care homes were the most vulnerable link in the system.
Article content
"Ontario really needs seven or eight robust, regional health authorities where you have an integrated approach and you can make changes after a 90-minute meeting," Cushman argued. Too many decisions about local health care are now made by the Ministry of Health in Toronto, he said.
Born in Rhode Island and raised in Montreal where his father was an Alcan executive, Cushman studied economics at Harvard University — and pondered a career in law — before deciding on medicine.
He picked up some pre-med courses in his senior year and was fortunate, he said, to be accepted into medical school at McMaster University.
Cushman graduated in family medicine, and later earned a master's degree in epidemiology from McMaster and an executive MBA from the University of Ottawa.
Article content
As a young doctor, he worked with Inuit and Cree communities in northern Quebec and then spent three years at a 250-bed hospital in Zambia in the late 1970s. Only four doctors were on staff, and he was called on to perform a vast range of medical services, including surgery.
"There, you could really see the importance of public health," he said. "We were actually seeing HIV on our tuberculosis wards, but we didn't know what it was."
In Ottawa, Cushman worked as a primary care physician in CHEO's emergency room, and at the Somerset West Community Health Centre. He spent 10 years as Ottawa's high-profile medical officer of health and six years as CEO of the Champlain Local Health Integration Network (LHIN), where he fought to reduce surgical and diagnostic wait times, expand addiction treatment programs and improve care for the elderly.
In retirement, Cushman said, he wants to continue volunteering as a teacher's aide at Glashan Public School, and devote more time to skiing, travel and novels.
Dr. Ian Gemmill will replace Cushman as Renfrew County's medical officer of health on an interim basis.
Treasury Board president calls return-to-office plan 'right of employer'

Bob Dobson has planted 40,000 trees on his farm near Cobden over 51 years — and he's not done yet
link