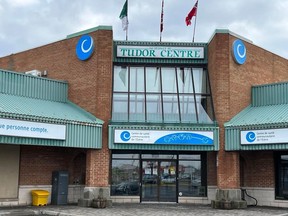 Article content
A health-care pilot project offered by a large provider of services across the region is showing early signs of success.
Article content
The Centre de santé communautaire de l'Estrie (CSCE) said it is doing its part to reduce overcrowding in emergency rooms by offering more availability to its primary health clients for urgent or semi-urgent appointments, through the Nurse Practitioner Emergency Clinic Project.
It got underway earlier this month, and in an interview on Friday morning, program manager for primary health Étienne Grandmaître Saint-Pierre said "we're fully booked – it's working full-steam."
The emergency appointments are mostly virtual or by telephone, and are available to all CSCE primary health clients, regardless of where they normally receive services. For example, a client from the CSCE clinic in Embrun with sinusitis symptoms may access to a virtual emergency appointment with a nurse practitioner (NP) located at the Cornwall clinic.

Article content
The CSCE said it's also important to note some consultation reasons require an in-person visit. If necessary, at the request of the nurse practitioner, clients would be asked to go to their local CSCE clinic site to provide a sample or to complete a test. The service is only available to those who are already primary care patients with the CSCE.

"We boosted our ability to provide emergency appointments, (and) we're very happy with the extra opportunity to offer primary care,'' Grandmaître Saint-Pierre said. "Like any new initiative, we pilot it and see if it meets the need."
Centre de santé communautaire de l'Estrie adapted services in 2020-21

Cornwall parade a driving force behind Mental Illness Awareness Week

Men's support group at CSCE in Cornwall a growing success
With the emergency appointment clinics sometimes offered on weekends but mostly on Monday and Friday, a dozen people – and sometimes more – are receiving service each of those days.
Article content
Grandmaître Saint-Pierre said four CSCE sites have stepped up in providing extra time to offer the clinics, and the CSCE has been able to be a good team player in doing its part to reduce overcrowding in emergency rooms. He acknowledged it's a balancing act, having sufficient resources and time to meet emergency appointment needs, with consideration for staff members better spent focusing on medium- or long-term care; but that so far, so good.
The CSCE said it was extending a warm thank you to the four CSCE nurse practitioners who responded to the call to provide more availability for these emergency appointments, and better meet the needs of underserved communities in eastern Ontario.
The CSCE is the hub of French-language health services in eastern Ontario, and it has health centres in Cornwall, Alexandria, Crysler, Embrun, Bourget, and Limoges. Cornwall and some other centres prioritize service for the francophone community, given francophones face bigger barriers accessing health care in their first language across eastern Ontario. However there are some CSCE sites that provide care to anglophone patients.
The region is also served by the Seaway Valley Community Health Centre.

link