Funding to reduce wait times for surgery and MRI and CT scans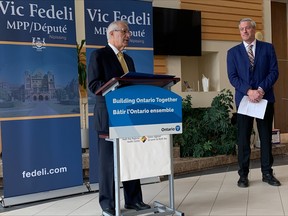 Article content
Supports for people with complex mental health issues and reduced wait times for MRI and CT scans are part of the $3.6 million investment Nipissing MPP Vic Fedeli announced Friday at North Bay Regional Health Centre.  
Article content
"We make a lot of announcements in North Bay. A lot of business announcements, a lot of film announcements, but when you boil it all down there's nothing without your health. Every single person sometime in their life will be here," Fedeli said.  
"There is nothing worse than chronic pain and to know the opportunity to have that corrected is being expanded here will bring welcome relief to families and joy to a lot of people."  
The funding investments include $2.784 million to improve supports for people with complex mental health issues.  
Some of the money will be used to support initiatives aimed at improving staff and patient safety, including short-term staffing, training, software and equipment designed to enhance the safety and security of forensic units.   
Article content
Funding will also be used to support dual diagnosis programs.  
Heinrich said surgical wait times will be further reduced as a result of $389,000 in funding to support surgical recovery initiatives.  
He said the $327,500 for MRI and CT operation funding will be used to also reduce wait times and increase access for patients needing diagnostic imaging.  
"We've already hired additional technicians, they're in place already, which is increasing our capacity," Heinrich said.  
"We can actually grow our capacity much larger for diagnostics by simply extending our hours."  
Heinrich confirmed the health centre's MRI machines do not operate 24-hours a day.  
According to Heinrich, the North Bay Regional Health Centre's wait time for a MRI is 40 days and 16 days for a CT scan.  
Article content
The average wait for cataract surgery is 60 days at the North Bay health centre compared to the provincial average of 204 days.  
Wait time for hips and knees is 80 days compared to the provincial average of 205 days.  
"We have seen much improvement in our oncology wait times. Our average wait time for oncology is 20 days. The provincial average is 113."  
Heinrich said he's extremely proud of his team for how they managed the pandemic.  
"There were three required surgical shutdowns, which created much of the backlog in the province. One of the things we did we were able to stop and start more efficiently and we prioritized patients effectively. We made sure our staffing complement in key areas was bolstered so they were ready for a period of tremendous growth for us."  
The North Bay Central Ambulance Communications Centre received almost $120,000 in additional base funding and a one-time funding allocation of $30,657.  
link