Anyone five years old and older can get both a flu and COVID shot at the same time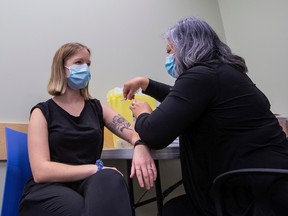 Article content
Sarah Peterson left the Northgate Community Health Centre with two sore arms on Monday.
Article content
She got her flu shot in one arm, then turned around so the bivalent COVID-19 booster vaccine could go in the other. It's the first time that Albertans have been able to book their influenza and COVID shots together, with the newest booster rolling out around the same time as the annual flu immunization campaign.
Article content
The flu vaccine is now available at Alberta Health Services clinics, in pharmacies and at some doctors' offices. Anyone five years old and older can get both a flu and COVID shot at the same time.
Flu vaccine available in Alberta starting next week, Pfizer COVID-19 bivalent booster to roll out Oct. 24

Experts weigh in on COVID cases and booster shots as fall increases transmission risk
Peterson is finishing her studies in occupational therapy, which often involves working with people with health conditions that put them at risk, and her fiancé is also immunocompromised.
Article content
With the added protection from vaccination, "we both feel safer going out into the community," she said.
"And there's not that anxious feeling that I might bring something home to him."
In Alberta, Moderna's bivalent COVID vaccine targeting the BA.1 subvariant is available only for adults 18 and older. Pfizer's bivalent vaccine targeting the BA.4 and BA.5 subvariants will be available for people 12 and older starting Oct. 24.
Public-health experts have advised taking the COVID booster that's available when you're eligible, especially if it's been more than five months since your last shot.
The bivalent booster can be given to people who already have at least an initial "primary series" of COVID vaccines, which for most means two previous shots. A fall booster is recommended as long as it's been five months since you last got COVID or had a COVID vaccine. Some who might be at a high risk from the disease can get the booster after a shorter three-month wait.
Article content
Doctors expect worse flu season compared to previous years
So far in 2022, there have been 40 lab-confirmed cases of influenza in Alberta.
AHS lead medical officer of health of communicable diseases Dr. Kristin Klein said flu shots are especially important this year, since COVID restrictions that suppressed flu spread over the past two years are no longer in effect.
"Definitely anticipate that it will be worse than the last couple of years," she said.
Young children and adults older than 65 are at higher risk of serious health problems from influenza, and the immunization doesn't guarantee you won't get the flu, but it reduces your chances of getting it and spreading it to others.
Looking to other countries in the southern hemisphere, where the flu season takes place over our summer months, Klein said there's increased flu activity after a couple "atypical" years.
Article content
"So what that means is we're going to see probably several thousand cases, as well as the impacts on our hospitals and ICUs."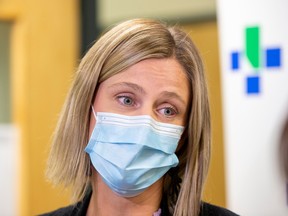 Klein added there's understandable fatigue around COVID at this point, but the start of flu season is a good reminder to assess your immune protection.
"Having the simplicity of offering both vaccines this fall at the same appointment, I'm really hoping people take that opportunity and come get immunized."
Albertans can book flu and COVID vaccines at bookvaccine.alberta.ca, by calling 811 or by contacting a local pharmacy. Some pharmacies may also offer walk-in appointments.
Children between six months and five years old have to be immunized at an AHS clinic or in a doctor's office. They're also the only group that can't get both vaccines at the same time, and instead have to wait 14 days between the shots.

link