More than 900 patients affected by nurse practitioner Carrie Perra's departure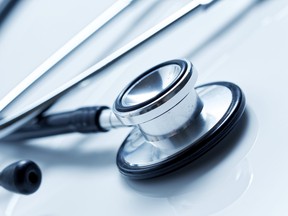 Article content
Group Health Centre will bank on temporary health-care professionals to care for patients affected by the recent departure of a nurse practitioner.
Article content
"For the time being, we were able to secure temporary locum coverage for her roster, ensuring that all 917 patients would continue to receive uninterrupted care," Giordan Zin, GHC communications manager, told the Sault Star this week.
Article content
The Sault Star has learned that nurse practitioner Carrie Perra has given up her GHC practice, sending out a letter to patients earlier this month outlining to which services they remain entitled and those they don't.
"I can imagine that this news may be unexpected and unsettling for you, but please know that both the Algoma District Medical Group and the Group Health Centre are actively seeking new physicians and nurse practitioners," said Perra's letter, obtained by the Sault Star.
Article content
While GHC's search for a new primary care provider is underway, any patient rostered to Perra will still have access to centre care, Zin said.
"Intermittent coverage by locum physicians and the availability of our same-day clinic will help bridge the gap," he said, adding GHC has also notified Perra's patients of the departure and has directed them to continue reaching out through the same number, 705-759-7450, to schedule appointments or ask questions.
Perra wrote it has been a "privilege to have been a part" of her patients' health care.
"I am humbled by the trust you placed in me," she wrote. "Any of us have come to know each other well over that time, which made making this decision that much more difficult for me as I know how challenging it has become to access primary care. Please continue to advocate for and prioritize your health, and I wish the absolute best for you all."
Article content
She did not indicate future career plans. However, according to her LinkedIn page, she is employed by Sault Area Hospital. The Ontario Sunshine List indicates Parra earned $124,115 in 2022, a 9.7 per cent raise from her 2021 salary of $113,197.
Perra's patients enrolled in MyChart, an online patient portal and mobile app that provides access to medical information, records and appointments, as well as allows clients to message health-care providers, will "experience no interruption" in their account services, aside from the physician/patient communication function, which was be temporarily disabled starting Thursday, Zin said.
"It can be reactivated once a permanent primary care provider has been recruited," he added.
Article content
Algoma District Medical Group and GHC, which has more than 60,000 enrolled patients, are "actively" recruiting new physicians and nurse practitioners.
"The challenges in attracting health-care professionals are not unique to GHC or our region, but we are optimistic," Zin said. "Group Health Centre's unique model of care, combined with the lifestyle advantages of the Algoma District, makes us a compelling choice for physicians and nurse practitioners seeking new opportunities."
GHC currently has 10 nurse practitioners, registered nurses with advanced education trained to assess patient needs, order and interpret diagnostic and laboratory tests, diagnose disease, formulate and prescribe medications and treatment plans, "committed to providing exceptional care to our patients," said Zin, adding that, in the past, GHC has had a "fluctuating" number of such professionals, ranging between eight and 10.
Article content
"However, this number is insufficient to meet our community's demand for primary care," he said. "As a result, we are continuously seeking to recruit more NPs and physicians to support the growing demand for access to primary care services."
Securing locums, physicians who do temporary placements in communities, is a challenge, especially in some specialties.
Sault Area Hospital has been dependent for some time on locum support for plastic surgery service, the hospital said. And is even more so now with the late-September departure of Dr. Henry Liu, leaving Dr. Tim Best the sole plastic surgeon in these parts.
"Plastic surgery has been a specialty that is difficult to recruit to in the North for many years," the hospital told the Sault Star in September, also indicating that sending patients elsewhere could be a possibility.
Article content
A financial incentive for locums – physicians who do temporary placements in communities — to cover rural and Northern Ontario was recently renewed. The Temporary Summer Locum Program was set to expire Sept. 30.
The extra funding – it replaced a COVID-era top-up geared to provide relief for rural areas – has been effective in avoiding emergency department closures at North Shore Health Network sites, especially Thessalon, which shouldered temporary closures earlier this year.
North Shore Health Network received good news on the MD recruitment front recently with the arrival of Dr. Amy Vine,  a 2021 NOSM University graduate, who will work at the Huron Shores Family Health Team's Bruce Mines site, taking over the rostered list from a previous practice of Dr. Diederik Muller, as well as supporting emergency coverage in Thessalon, some 90 kilometres east of Sault Ste. Marie.
On X: @JeffreyOugler
link