Article content
It looks like a vending machine, but it is really a high-tech health intervention.
Ontario's first "Our Healthbox" was launched Wednesday at the Carlington Community Health Centre.
Article content
The vending machine, which is accessible 24/7, dispenses harm-reduction supplies, information and other items — from hats and socks to menstrual hygiene products.
Its developer says the sky is the limit when it comes to the products, services and information it can distribute.
Article content
"It becomes a conduit offering people things that might be helpful to them," said Dr. Sean B. Rourke. He developed Our Healthbox at the MAP Centre for Urban Health Solutions at St. Michael's Hospital in Toronto.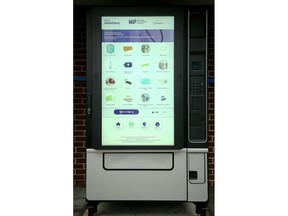 The machine also collects data about which products and services are being used, and why, in order to help public health officials understand trends and keep the machine restocked.
The machine, which is now located just outside the Carlington Community Health Centre on Merivale Road, contains HIV self-test kits, granola bars, naloxone kits, tampons, COVID-19 test kits, warm socks, and condoms, among other things. It offers a video screen with information about how to use the naloxone kit, along with other information.
The team began distributing the vending machines in New Brunswick earlier this year. The Carlington Community Health Centre is the first location in Ontario, and there are plans to deploy 100 across the country in the coming months, said Rourke. The next ones he is working on with Dr. Aaron Orkin, an ER doc and MAP scientist, will be going into shelters in Toronto.
Article content
All the products are free and the machine is available for anyone over the age of 16. Users are required to sign in, anonymously. It asks a few questions and collects some basic demographic information.
Rourke said it is up to the agencies in charge of each machine to determine which supplies would best serve members of their community.
"We encourage self-testing kits for HIV, but they decide what array of supplies is needed."
Rourke said the program's aim is to reach and support people who are underserved and often have undiagnosed complex issues without putting barriers in their way. Some people would not access some of the supplies if they had to go inside and see a health provider, he noted.
"It's not just harm reduction. It is also things we take for granted and things people need just to get through the day and take care of their health and hygiene," said Rourke. "This is a health-care intervention."
Related Stories
Water will be turned off in parts of the General campus Thursday to disinfect the system after legionellosis cases

Union holds rally outside Canada Life office to highlight complaints over health-care plan
Share this article in your social network
link