'It's not just a man and his dog': Echelon's boss says negative 'myths' surround data centres
THE BOSS OF a fresh entrant to the Irish data centre market thinks the industry needs to tackle "misinformation" about their developments in order to avoid getting bogged down by planning issues.
Echelon Data Centres, a firm controlled by London- and Dublin-based property company Aldgate Developments, has announced plans to invest €1 billion in the creation of two data centres in Ireland.
The company already has planning permission to develop a 44,000 sq m data centre in Clondalkin, Co Dublin – which would be the size of six Aviva Stadium pitches – and another similar-sized facility in Arklow, Co Wicklow.
The development of data centres in Ireland has been a contentious topic in recent years, with numerous developments – such as Apple's facility in Athenry – stalled by planning and legal objections.
Facebook and Amazon have come up against opposition to their developments and last year, when the State floated a plan to build its own data centre, it admitted the Irish planning system was a risk to the viability of the project. 
Speaking to Fora, Echelon boss Niall Molloy said his firm has not yet come up against planning issues at local council level in relation to the Clondalkin and Arklow data centres.
Last week, a third-party objector lodged an An Bord Pleanála appeal seeking several conditions to be attached to South Dublin County Council's approval of Echelon's Clonalkin facility.
Its Arklow development has yet to be given the go ahead by Wicklow County Council – but it has received local support.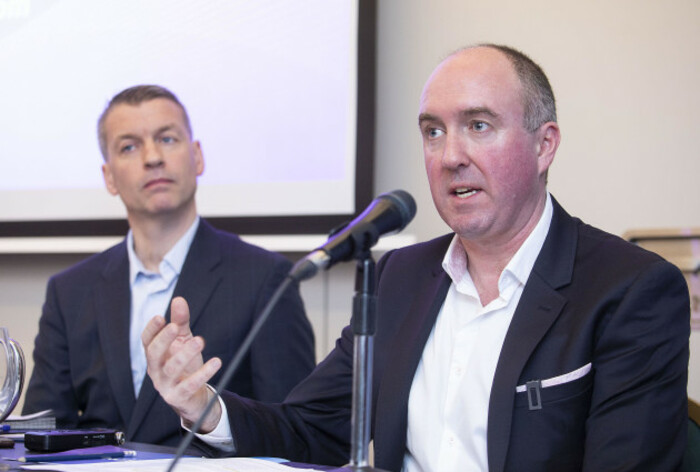 Source: Peter Houlihan
Molloy said the industry needs to tackle "misinformation" around energy consumption and jobs creation at data centres to show that the facilities are worthwhile investments. 
Semi-state grid operator Eirgrid forecast that energy demand in the Republic would continue to increase in the coming years "largely due to new data centres". It warned that "generation capacity or equivalent may need to be available … to accommodate this additional demand in the short-term".
Last year, Fora analysis revealed that if Amazon realises its data centre masterplan in Ireland, its facilities would likely consume more electricity than every household in a city the size of Waterford or Galway.
Molloy said Echelon has to look at schemes to self-generate power – possibly through investment in green energy projects off-site – but he is adamant the power grid has the capacity to deal with the demand.
"The issue around the power grid has been used for PR purposes negatively beyond what it should have been. That is one of the great myths around all of this. The grid has enough generation capacity, the problem you have is peak loads," he said.
He acknowledged that data centres use large amounts of energy but argued their impact on the grid is limited.
"You've got to be slightly careful with comparisons. It's very easy to say, 'You're putting in a big centre and therefore taking power that could otherwise power residential (developments)'.
"The peak consumption of a data centre doesn't necessarily coincide with the traditional two-hour peak in winter evenings. Therefore a data centre's actual impact on the grid could be very low."
Job creation
Molloy said another "myth" the sector needs to tackle is the perception that – despite large swathes of investment to build the facilities – data centres are not significant employers.
"You have the stereotypical joke that a data centre involves a man and a dog – the man to feed the dog and the dog to keep the man away from the machines. That isn't actually the case," he said.
Echelon said it will hire 100 operational staff in Clondalkin upon completion and a further 90 once the Arklow facility is completed. Over 900 construction workers will also be hired during the development phase of both data centres.
For comparison, Facebook's centre in Clonee reportedly employs 300 staff in various capacities while Amazon has previously said it employs more than 1,000 people in data centre operations.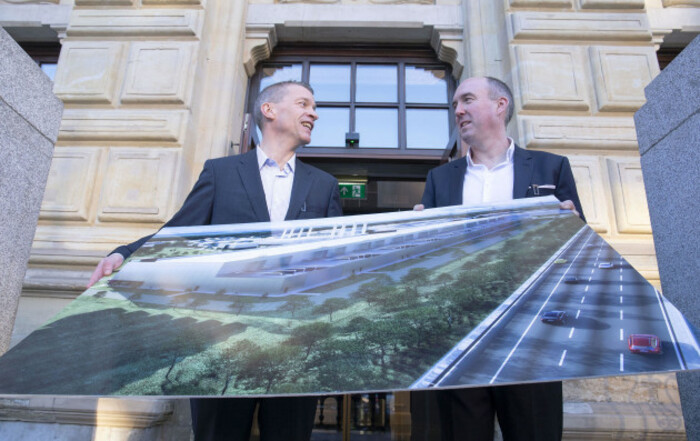 Source: Peter Houlihan
Molloy also argued that there is knock-on employment at tech companies like Facebook, Salesforce and Amazon in Ireland as a result of data centres.
"There is a necessity to educate people to say we can't have the tech and cloud jobs on the one hand and not have data centres on the other. It's not realistic," he said.
"And their investment in data centres is so large that jobs in office work will tend to follow where they can get data centres. It requires a bit of explaining for us to do and it needs to be explained better by the industry, quite frankly."
Expansion
Echelon is looking to get the jump on a new trend, which has started in the US, that has seen real estate investment trusts move into data centre development.
"Historically, a lot of these big companies will build their own data centres on the basis the investment is so large, it's quicker to do it themselves," Molloy said.
He said the data centre sector has become developer-led in the US and is moving to a leasing model because large tech companies want to expand at a faster pace.
"Facebook, Amazon, Microsoft, they have an insatiable demand. Beyond that you also have a massive influx of new entrants who are not at that scale, like TV streaming companies – Disney, Sky, etc."
Echelon plans to ramp up its activity in Ireland and Northern Ireland, with expansions into the UK and mainland Europe to follow. 
Molloy would not comment on locations beyond the two announced by the firm to date, but noted that the company has looked at other regions of Ireland away from the capital. 
"We try to follow places where fibre and power are available. And rather than willy-nilly development policy, expansion will be in response to feedback from occupiers and where they want to expand next."
Get our NEW Daily Briefing with the morning's most important headlines for innovative Irish businesses. 
link