Article content
West Islanders are already coping with the complexities of Quebec's health-care system, from lengthy wait lists to finding a family doctor to overcrowded hospital emergency wards. Now there's a stir in the community over a notice that the Brunswick Medical Centre, one of three designated super clinics in the territory covered by the West Island regional health authority, is being put up for sale by its group of owners.
Article content
Brunswick Medical Centre CEO Vince Trevisonno told the Montreal Gazette he wants to dispel any speculation.
Article content
"We're not declaring bankruptcy. We're not closing. We are undergoing a sales process," he said. 
"The sales process is being done in a certain way," he added. "There was a notice of intention in order to be in control of the sales process (instead of the banks)."
The sale is to include the building and the clinics it houses. A deal should be finalized in the next few months, Trevisonno stated. The process will be done systematically, with the operations portion probably sold first and the building after. 
"There's no talk of closing anything down. It would be a continuity," Trevisonno said. "Management has been asked to stay on with the sales process."
He noted the past few years have proved problematic for clinics across Canada due to the COVID-19 pandemic, and that physicians pay a fee for practising at Brunswick but are not employed by the clinic.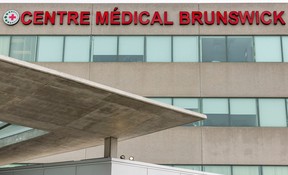 The centre, located just northeast of the Fairview Pointe-Claire shopping centre, underwent a $20-million expansion about four years ago. It's one of three health-care institutions listed as GMF-R network family medicine super clinics by the Montreal West Island CIUSSS, alongside Statcare (also in Pointe-Claire) and Mednam Lachine.
Article content
The GMF-R status indicates a clinic performs 20,000 or more consultations annually. All GMF-R clinics are open seven days a week, noted West Island CIUSSS spokesperson Alexandre Cadieux.
Clinics such as Statcare and Brunswick are often cited as non-emergency care alternatives to the Lakeshore General Hospital's ER, which had an occupancy rate of 168 per cent Wednesday morning, with 13 patients waiting on stretchers for over 48 hours.
Statcare, which is across the street from the Lakeshore General, was established in 1988. It was sold by its co-founders in 2021 to ELNA Medical, a Montreal-based firm that owns a network of primary and specialty health-care clinics in Canada, including about 25 in Quebec. At the time of acquisition, it was noted Statcare provides walk-in general medical services covered by Quebec's public health insurance, and serves around 60,000 patients annually.
West Islanders seeking care should note the walk-in clinic at Statcare now requires an appointment. A would-be patient who strolled into the clinic first thing Sunday morning was told that in the wake of COVID-19, people can't just walk in. The care seeker told the Montreal Gazette that after being given a number to call, they realized the phone line was staffed on site and went up to said staffer, who then booked them an appointment for the next day.
Upon returning Monday morning, after a nursing triage, there was a brisk one-on-one with the lone doctor on duty, who provided prescriptions but noted he didn't have time for follow-up questions. 
Hopefully, the Brunswick centre finds new owners in due course. West Islanders don't need any more troubling news when it comes to local health-care services.
Newly expanded Brunswick Medical Centre one of biggest in Quebec

Allison Hanes: Quebec's health-care crisis takes no vacation

Analysis: It's high time for a national inquiry into Canada's ER crisis
link