Article content
Construction is underway on a new $455 million health-care centre in Portage la Prairie the province says will expand and improve medical and surgical services in the region, and lead to fewer people being forced to travel to Winnipeg for health-care services.
Article content
Once completed, the facility will replace an existing 88-bed hospital in the city located about 85 kilometres west of Winnipeg that is home to approximately 13,000 residents and is located in the Southern Health region.
Article content
"Patients in the area will no longer have to travel to receive an expanded set of services, leading to faster care and improved quality of life," Southern Health CEO Jane Curtis said in a media release Friday. "It will enable the region to continue to provide high-quality services closer to home."
Plans for the facility include 114 acute care inpatient beds, increased day surgery capacity to allow more procedures locally, and an expanded emergency department, the province said.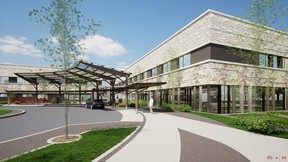 Plans also include new dialysis stations, child and adult rehabilitation services, mental health offices, and enhanced spaces for programs such as diagnostics, palliative care, and outpatient services.
Article content
"The new 269,000-sq.-ft. hospital will strengthen clinical services for residents of Portage la Prairie and surrounding communities and supports the delivery of high-quality care in a rapidly growing area of our province," Health Minister Audrey Gordon said in a media release.
The province said the centre will put an increased focus on offering Indigenous-centred care, as plans also include an Indigenous health services cultural space with a design that will be "informed by Indigenous partners."
The province expects construction on the Portage Regional Health Centre in Portage la Prairie to be completed in the fall of 2025.
The province added the construction of the new health centre will be part of a larger strategy to bring more and improved health-care services and facilities to regions in Manitoba, as the province has said it will invest $1.3 billion to support building, expanding and renovating health-care facilities across the province.
Those plans include construction of a new hospital in Neepawa, renovations at the Dauphin Regional Health Centre, and expansions at Selkirk Regional Health Centre, Boundary Trails Health Centre in Morden-Winkler, Bethesda Regional Health Centre in Steinbach, and Lakeshore General Hospital in Ashern.
— Dave Baxter is a Local Journalism Initiative reporter who works out of the Winnipeg Sun. The Local Journalism Initiative is funded by the Government of Canada.
link