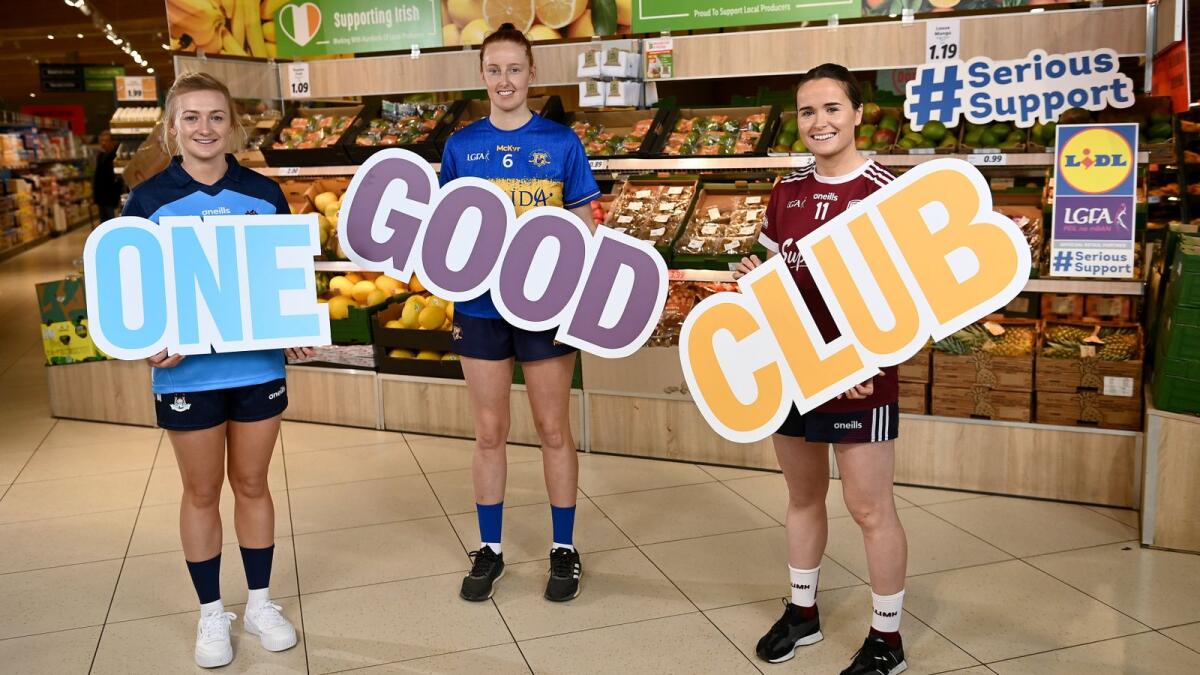 This week, Lidl Ireland has launched the Lidl One Good Club programme for 2023 and are now seeking nominations from clubs across the country.
Following on from the success of the first three years of the programme, the retailer is excited to recruit another club in each county to undertake the 10-week initiative.
Lidl One Good Club – developed and delivered in association with the retailer's partners, the Ladies Gaelic Football Association and Jigsaw, the National Centre for Youth Mental Health – is a five-step youth mental health awareness programme for LGFA clubs which aims to raise awareness and improve understanding of mental health while empowering clubs to positively affect their members and communities.
The launch sees Lidl Ireland call on members from all clubs in Ireland to nominate themselves to participate in the programme, which will commence in March and run for the following 10 weeks.
The five themes of the programme – Be Active, Take Notice, Connect, Give, and Keep Learning – are based on Jigsaw's 'fiv-a-day for your mental health' framework, which provide a simple set of evidence-based actions for people to improve their wellbeing.
Participating clubs are encouraged to undertake activities and to capture the moments and share them on their social media accounts using the hashtag #OneGoodClub and logging them on the dedicated One Good Club portal, where further resources and help are provided.
Clubs that complete all five steps in the programme will receive official Lidl One Good Club accreditation, as well as new jerseys for their club. Accredited clubs will also enter the running to win one of three funding awards available with a total value of €10,000.
They will be awarded to the clubs selected by the judging panel to have demonstrated the following: ost innovative initiative – €2,500; strongest community involvement – €2,500; and best overall programme engagement – €5,000.
The programme is once again supported by the Lidl One Good Club ambassadors Carla Rowe (Dublin), Aishling Moloney (Tipperary), Nicola Ward (Galway) and Emer Gallagher (Donegal), who are fantastic role models for young people in their counties and throughout the country.
Clubs are encouraged to enter via www.lidl.ie/onegoodclub, where nominations will run until Wednesday, February 8, with one club from each country select to join the programme for 2023.
PROUD
Speaking about the launch of Lidl's One Good Club Programme for 2023, senior partnerships manager for Lidl Ireland, Joe Mooney, commented: "We are proud to once again collaborate with our partners – the LGFA and Jigsaw, the National Centre for Youth Mental Health – to deliver the One Good Club programme in LGFA clubs across the country. It has been remarkable to see the level of engagement and creativity demonstrated over the first three years of the programme and we are really looking forward to seeing what activities this year's clubs come up with.
"The success of the programme to date is testament to the dedication and compassion shown by all clubs involved and I'm sure that the impact of their efforts will be felt throughout their communities for years to come."
LGFA president Mícheál Naughton said: "We are anticipating another exceptional Lidl Ireland One Good Club programme in 2023, and we expect a strong expression of interest ahead of next month's closing date. As we embark on the eighth year of our partnership with Lidl Ireland, this programme has emerged as one of the most important on our annual calendar.
"This programme has the ability to make life-changing and long-lasting impacts on participants and their communities. The potential benefits of this vital mental health initiative cannot be underestimated and we were delighted to work alongside Lidl Ireland and Jigsaw once again to roll out the Lidl Ireland One Good Club programme."
The director of communications and fundraising at Jigsaw, Mike Mansfield, added: "At Jigsaw, our core focus is on achieving better mental health outcomes for young people and the One Good Club programme is central to this ambition. Lidl One Good Club allows us to support, educate and empower young people and those around them, on sports grounds, workplaces, kitchen tables, high streets, online and more.
"Grassroots programmes at this scale are hugely important and hugely impactful, and we are delighted to work in partnership with Lidl and the LGFA once more."
Meanwhile, the LGFA TALK Project, for clubs in Antrim, Armagh, Derry, Down, Fermanagh and Tyrone, is a 10-week club-based initiative aimed at increasing the awareness of positive mental health in young members aged 13-18 years, and removing the stigma associated with the subject area. Clubs will be awarded with the status of a Positive Talk Club once they have attended all education days, completed the 10-week project, and can showcase the activities and events they have undertaken during that time. To apply, visit https://forms.office.com/e/mTTpaW4tam. The closing date for applications is Wednesday, February 8.

link