Meningitis and PTSD: Antrim mum's mental health plummeted during miracle daughter's traumatic early years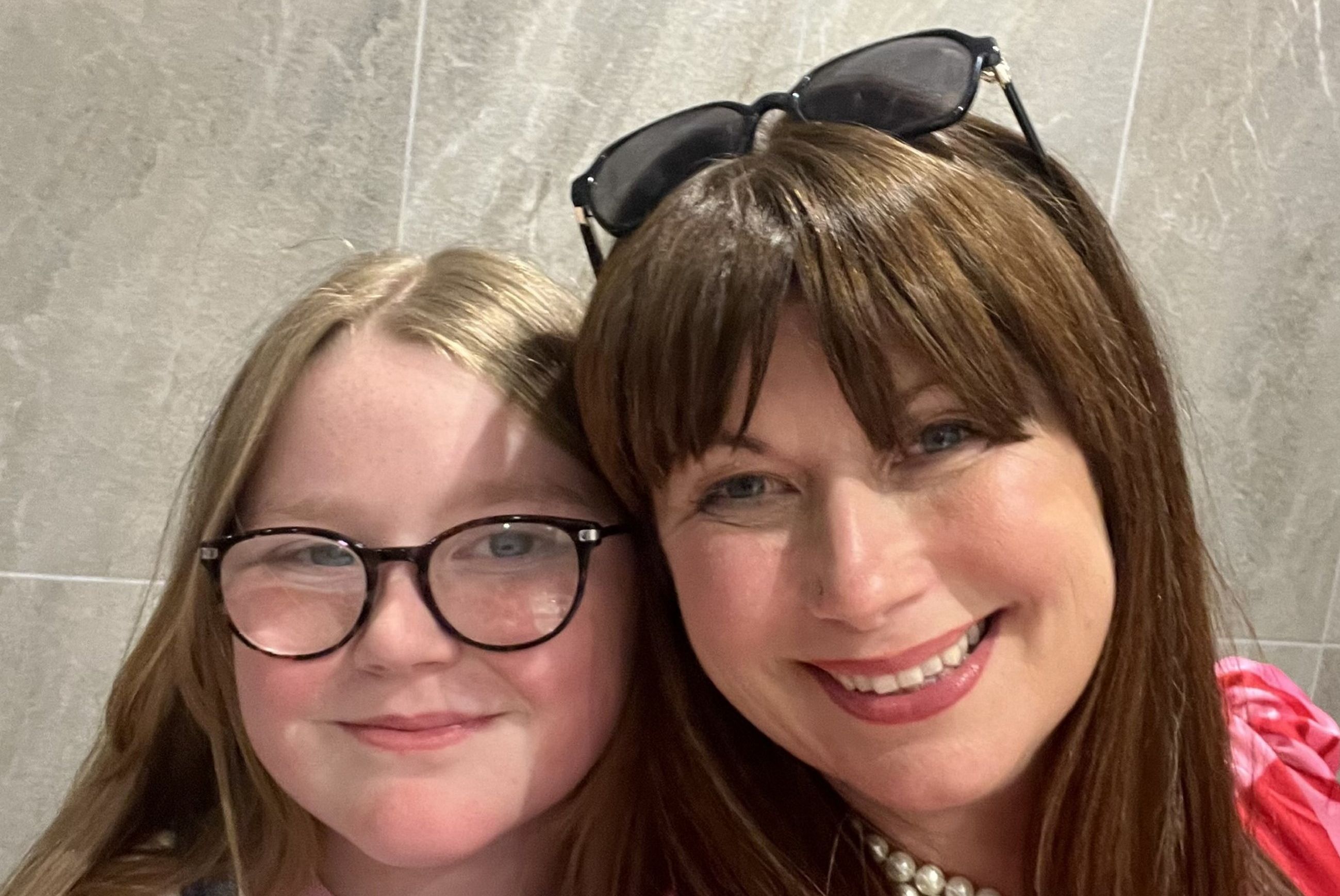 Relief that her daughter Sophia had survived after spending her first three months in intensive care soon turned to devastation when Janet (51) was told that it was unlikely that Sophia would ever walk, talk or see and hear properly.
Defying doctors' predictions, Janet devoted the first few years of Sophia's life to doing everything in her power to ensure she met her milestones.
However, it was a period of such intense fear and worry that it took its toll and when Sophia joined her peers in primary one, her mum suffered a nervous breakdown.
Collapsing under the strain, Janet was diagnosed with post-natal depression, traumatic stress disorder and anxiety.
Janet, who works as a podiatrist in the NHS, is married to Jim, a kitchen manufacturer, and they have three other children, Grace (20), Darragh (14) and Enya (13).
Today Sophia is a healthy 12-year-old who passed her transfer test with flying colours and has just started grammar school.
Looking back on the traumatic early years of her daughter's life, Janet admits: "I think I had been trying to be everything to everybody that, after the relief of getting Sophia into P1, I just crumbled."
Seven years later and well on the road to recovery, Janet is now focused on helping other women to combat mental illness through a new talking and walking group she set up in her hometown of Antrim this summer.
In just a few weeks, 65 women have joined Good Vibe Clan Talk and Walk NI in Antrim and Janet has also now launched a group in Newtownabbey with ambitious plans to roll it out across Northern Ireland.
She says: "I think, for me, a big part of the problem was not having anyone to talk to about it, which is why I set up the talk and walk group.
"I found exercise, nature and connection invaluable in my recovery and the groups are simply about helping other women through developing community support, friendship and company.
"I honestly believe that if I'd had something like that, it would have made all the difference.
"It has been amazing so far. We have a lovely group. The youngest is 23 and the oldest is almost 80. We have all bonded really well and already some of the members want to train as walk leaders, which will free me up to set up groups in other areas.
"I just thought that if I could help even one other person to find someone to off-load to then it would be worthwhile."
Janet still struggles with her mental health but is in a much healthier place than she was after Sophia's birth.
She recalls the horror of that time watching her newborn fight for survival: "Sophia was born with meningitis and spent her first three months in intensive care. I didn't leave her side, but at the time I had a one-year-old, a two-year-old and an eight-year-old at home.
"She had major organ failure and some bleeds on the brain. We were told she was very, very ill and they didn't expect her to survive.
"At that time, she was the only child in Northern Ireland to ever survive viral meningitis at birth.
"Leaving the hospital, we were told she would have all sorts of issues and would probably never walk or talk. We were even introduced to support groups for the blind and deaf.
"The most important thing to us at the time was that she was alive, and I didn't want to believe what they were telling me about her quality of life.
"Her immune system was weak and I went into overdrive protecting her, not letting anyone near her and making everyone sanitise their hands coming into the house, and this was way before Covid-19.
"She was under the care of Antrim Child Development Centre, where she saw a physio, occupational therapist and a speech and language therapist.
"Those professionals were amazing and they gave me the confidence to relax more about Sophia's care at home.
"In the first four years, Sophia and I worked really hard together doing all sorts of therapies and she did meet her milestones, although a little later than other kids her age, but she did everything we were told she wouldn't.
"When Sophia started P1, the pressure all caught up with me and I just crumbled."
Frightened by what was happening to her, Janet went to accident and emergency at Antrim Area Hospital to ask for help.
She recalls: "I felt like I was on a treadmill that I couldn't get off. My mind was constantly racing and couldn't switch off. I wasn't sleeping or eating properly.
"At the time, it felt like I had this black veil which was making everything in my life dark.
"I had no sense of hope and I felt like a failure that I couldn't manage my job and my family at the same time.
"I didn't see a future and I had suicidal thoughts; I really thought my kids would be better off without me.
"I remember going to the emergency room in Antrim Area Hospital and telling them I had a sore hand.
"I didn't, but I just knew I needed help.
"The nurse realised immediately and said to me: 'You are not really here with a sore hand, are you?'
"I just started to cry — and I think I kept crying for five years after that."
Janet was immediately given support by the hospital's emergency mental health team, who then transferred her into the care of the community psychiatric team, who at first visited her twice a week at home.
She underwent two years of cognitive behavioural therapy (CBT), which really helped in her recovery.
"CBT was absolutely life-changing for me," she says.
"It showed me that my coping mechanism was to just keep going; I had never realised there was such a thing as self-care and how important it was.
"It helped me to realise I needed a career break, and that was the best thing I've done.
"For the past 18 months I have been in a good place.
"I'm not better — and I don't think I ever will be better — but I have got the toolbox of knowing what to do and being aware when things are getting too much."
To help her to heal, Janet started to blog about her mental health on Instagram.
She then set up a page called Good Vibe Clan, posting daily affirmations and quotes on self-care, gratitude and self-love.
Receiving messages from strangers, thanking her for being so open and honest about her mental health, led to the idea of the talk-and-walk group.
Her first group launched at the beginning of July and they meet every Thursday morning at 11am in Antrim Castle Gardens.
She explains: "We aim to walk — slowly — for about 30-40 minutes and then stop for a coffee. Sometimes the coffee and chat has lasted two hours. It is so lovely.
"There are a lot of mental health support groups for men, and rightly so, because they really are needed, but I think there is this misconception that women have people to talk to, but the reality is that most women don't want to burden people with their problems.
"I just want to support women. There are so many like me who have suffered with their mental health and others who are isolated and have no one to talk to.
"I especially want young mums to come along, as I know they can feel really isolated, and I'm absolutely delighted that we already have some coming with their prams and walking with us, which is great."
A second talk-and-walk group has just launched in Newtownabbey, meeting every Wednesday evening at 6.45pm outside Ten Coffee shop on the Jordanstown Road, Monkstown.
It is now Janet's hope to set up a talk-and-walk social enterprise to get groups running in towns right across Northern Ireland, as well as launching courses on mindfulness, meditation and yoga.
She adds: "I would love to be able to devise a six-week relaxation programme and roll it out across Northern Ireland, but I need sponsorship and funding.
"That's my next project and I would love to hear from anyone interested in sponsoring or supporting us."
​If you would like to set up a new Good Vibe Clan talk-and-walk group in your area or would like to support Janet in her social enterprise, you can contact her through Instagram @goodvibeclanwalkandtalkni
link