To celebrate the MUHC's 25th anniversary, we interviewed Dr. Liane Feldman, Surgeon-in-Chief at the MUHC, about the evolution of surgical practices in our hospitals over the past quarter century.
What were the main changes at the MUHC over the last 25 years?
There have been major efforts to improve recovery after surgery and decrease hospital stay and complications. Two of the main strategies for that are using more minimally invasive surgery – laparoscopic and robotic surgery – as well as Enhanced Recovery After Surgery (ERAS) Pathways.
As a tertiary and quaternary institution, we have contributed to regionalizing complex care. That's part of our mission at the MUHC. There are many examples such as thoracic surgery, sarcoma, trauma, transplant, cardiac, vascular surgery and many others. We have become much more specialized.
And, of course, the move to the Glen was pivotal. The facilities are beautiful, and the OR is state of the art. The renovations at the MGH and the redevelopment of Lachine are exciting projects as well.
Can you explain more about the Enhanced Recovery After Surgery Pathways and its impact on decreasing hospital stay and complications?
Enhanced Recovery After Surgery, or ERAS pathways, is a multidisciplinary care pathways that help standardize all the various elements of care around having an operation. This begins with how we optimize and educate patients before surgery, to the use of advanced surgical and anesthetic techniques that reduce pain, to how we provide much earlier nutrition and exercise. It comprises about 20 different elements of care.
Colorectal surgery is a good example of the impact of "ERAS". Twenty-five years ago, when we were using open surgery and traditional care, patients used to spend about at least a week in hospital. That was just routine. Now, thanks to this new approach, our colorectal surgery team has reduced the length of stay in hospital to below 3 days, and amazingly, about 25 per cent of our patients actually go home on the same day as the surgery. We are using digital health applications for remote monitoring. That's a great success story as it not only has very high patient satisfaction but it opens up hospital beds to allow more patients to access those resources.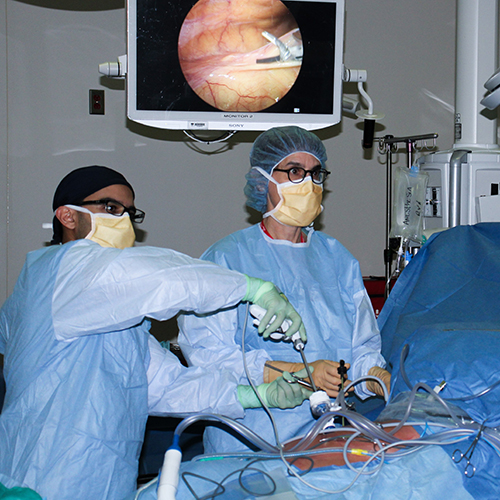 What are the challenges moving forward?
Surgery is better and safer now, and often the best way to cure disease and improve quality of life. Nowadays, even sick patients with comorbidities can benefit from surgery. With the aging of our population, there are more patients that need surgery and can benefit from it. This is a good thing, but our ability to provide access to all those patients hasn't kept up. It's not just that we have a lack of staff, but there's also the growing needs of the population.
The MUHC was a leader 25 years ago in being early adopters of minimally invasive surgery, and 15 years ago as early adopters of ERAS. We now need to set ourselves up to enable us to lead for the next 25 years. Surgery will continue to evolve and be less and less invasive, but to keep up we require new robotic equipment, new people with these skills, new approaches to training, and research and innovation programs in interventional sciences.
Where were you 25 years ago?
I think I was here at the MUHC ! In 1997, I was a chief resident. I was at the Montreal General Hospital, I was also pretty pregnant in November 1997. My son Zach is turning 25 in January, he was born just after the ice storm.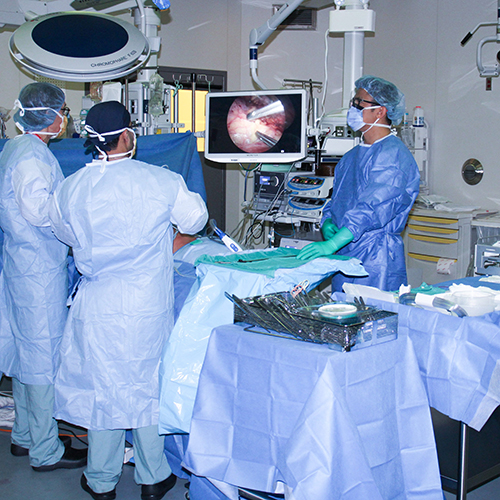 link