N.B. lowers 4th dose eligibility as COVID claims 4 more lives, hospitalizations nearly double
All New Brunswickers 18 or older can now get a second COVID-19 booster dose if at least five months have passed since their last dose, the government announced Tuesday.
It comes as New Brunswick recorded four more COVID deaths in the past week, the number of hospitalized COVID-19 patients has nearly doubled, and almost 2,500 new infections were reported, newly released figures show.
The decision to lower fourth-dose age eligibility from 50 is based on increasing risk and is "aligned" with most Canadian jurisdictions, despite being ahead of federal advice, said Dr. Jennifer Russel, chief medical officer of health.
There are indications that New Brunswick is at the start of a period of "heightened activity" of COVID-19, driven by Omicron subvariants BA.4 and BA.5, she said, stopping short of calling it a new wave of the pandemic.
"Every jurisdiction has had a different experience with COVID. Some people are calling it the third wave of Omicron, some people are calling it the seventh wave. We here in New Brunswick are really sticking with our epidemiologist's recommendation around — this is week 27 of the 2022 COVID year, just like we report on the flu year."
The province wants its COVID reporting to be consistent with other respiratory diseases, Russell said.
But she didn't rule out using the term "wave" again at some point.
"I'm not going to say never. I'm just not using it today."
Omicron subvariant BA.5 now dominant
The highly transmissible BA.5 has quickly overtaken Omicron BA.2 as the dominant strain in the province, representing 45 per cent of the most recent random samples sent for sequencing, compared to 23 per cent, the province's COVIDWatch report indicates.
BA.4 is a close second, representing 32 per cent of the samples.
Both BA.5 and BA.4 have shown an ability to evade the protection offered by previous infection. But data emerging from countries where they have already taken hold, such as South Africa, suggest they are not more severe than previous Omicron subvariants.
"Vaccination is the best way to reduce your risk," Russell said. "Expanding booster eligibility will give people an extra layer of protection."
It will also help protect the health-care system, she said, noting the increases are happening at a time predicted to be a slowdown period for hospitals so staff could get "a much-needed break."
New Brunswick rates for first and second doses remained unchanged again this week at 93.3 per cent and 88.2 per cent, while the third-dose rate increased by 0.1 per cent to 52.9 per cent.
People who had their second dose "either weren't aware that their immunity was going to wane or they had bad side-effects and didn't really see the need to go through that again," Russell suggested.
Asked if the province has a plan to boost vaccination rates, other than encouraging people to get vaccinated, she said, "just continuing to let people know that everybody's risk factor is dependent on age, being immune-compromised, having chronic conditions. And again, we know that waning immunity is happening. 
"And so we want people to really get [whatever] booster that they're eligible for."
Fourth doses did increase by three per cent, to 21.7 per cent, among those 50 and older and five per cent, to 37.2 per cent, among those 70 and older, Russell said.
NACI recommendations on 2nd boosters
Last month, the National Advisory Committee on Immunization recommended people aged 65 or older who are at high risk of severe disease from COVID-19 infection be offered a booster shot this fall, regardless of how many boosters they've previously received.
Everyone else — age 12 to 64 — "may be offered" the additional doses in the fall, NACI's updated guidance said.
The booster doses may be offered six months after a person's previous COVID-19 vaccine dose or COVID infection, the advisory body recommended.
"However, a shorter interval of at least [three] months may be warranted in the context of heightened epidemiologic risk, as well as operational considerations for the efficient deployment of the program."
As it stands, NACI has strongly recommended second COVID-19 booster shots for people aged 80 or older and those living in long-term care and other congregate settings. Provinces may consider offering a second booster to people aged 70 to 79 in the community and a second booster "may also be considered" for adults under 70 in or from First Nations, Métis, and Inuit communities, NACI has said.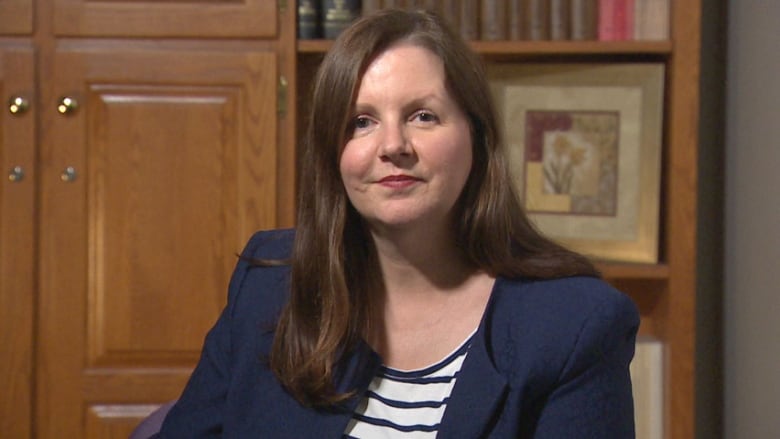 Some provinces, such as P.E.I., have opened up second COVID boosters to people as young as 12.
Until now, fourth doses in New Brunswick have been available only to people 50 or older, long-term care residents, and First Nation, Inuit and Métis individuals aged 18 or older.
Russell has previously indicated the province would wait for NACI recommendations to change second booster eligibility.
"It's always been the case that at times we will base our decision on our own epidemiology," she said Tuesday.
Booster doses are available at pharmacies and Public Health will also be offering clinics in some areas to ensure access, the government said in a news release.
Pharmacists surprised by timing
Pharmacists are ramping up to meet the demand, but it could take a week or two for people to get an appointment, according to the executive director of the New Brunswick Pharmacists' Association.
Although the association has been talking to the province about expanded eligibility for more than a week, it only found out Tuesday the change took effect immediately, said Jake Reid.
More than 180 pharmacies across the province are still offering vaccines, down from about 230 at the peak of the pandemic, but it takes time to order doses and open all their clinics, he said.
They will have enough vaccine to meet the demand, Reid said.
"It might not be today but pharmacies can order as much as they desire, as opposed to the first of pandemic when it was just coming in fits and starts," he said.
"Pharmacies can build up their inventory and make sure they have lots on hand and so within a week or two, once they know what the demand will be for those appointments, they can have all their appointments available."
The demand for vaccines has been "relatively low" for the last few months, Reid said.
In May, pharmacies were handling about 10,000 appointments per week, he said. As of last week, that had dropped to just over 5,000.
It's also the summertime, so some pharmacists might be on vacation, Reid noted, urging people to be patient.
"Just because now that you're eligible for a vaccine, that doesn't mean that you have to get it tomorrow. It doesn't even necessarily mean, you know, you need to get it next week."
In addition to vaccines, it's important people continue to stay home when they are sick, get tested when they are experiencing symptoms, and practise good hand hygiene, the chief medical officer of health said.
People can also opt for outdoor social activities instead of indoor ones to reduce their risks, Russell added.
Deaths and hospitalizations
Two people in their 70s and two in their 80s have died from COVID-19, the province's COVIDWatch report shows. Two of them lived in the Moncton region, Zone 1, and two in the Fredericton region, Zone 3.
Their deaths raise the pandemic death toll to 433.
Horizon and Vitalité health networks have 95 COVID patients as of Saturday, seven of whom require intensive care, their COVID dashboards show. That's up from 50 and four respectively a week earlier.
This includes patients who were admitted for COVID as well as those who were initially admitted for another reason and later test positive for the virus.
Meanwhile the province, which only counts those admitted for COVID, says the number of active hospitalizations and hospital admissions both decreased between July 3 and July 9.
There are 17 people in hospital, down from 19, including two in intensive care, an increase of one, according to the weekly COVIDWatch report.
The number of people newly admitted to hospital for COVID-19 decreased to 15 from 22, it states.
A child under 10 is among the new admissions. The others include one person in their 40s, two people in their 50s, two in their 60s, four in their 70s, two in their 80s and three in their 90s.
Russell acknowledged there is extra work involved in caring for all COVID patients, whether they are in hospital for COVID or with COVID. She cited donning and doffing protective gear and the isolation required as examples. 
But she rejected any suggestion the province is attempting to mislead the public by reporting the data differently than the regional health authorities.
"We're looking at trends. We're looking at the population at large. And the hospital system is its own … closed system, really."
The province does take the Horizon and Vitalité information into account when it's reporting on the entire population, "as is necessary from an epidemiological perspective," she added.
Horizon has 78 active COVID-19 admissions, including six in intensive care, as of Saturday, according to its COVID dashboard. That's up from 36 and three respectively in last week's update.
The distribution of the cases include:
Moncton region, Zone 1 — 22.
Saint John region, Zone 2 — 36.
Fredericton region, Zone 3 — 15.
Miramichi region, Zone 7 — five.
The dashboard provides no details about which hospitals have patients.
Vitalité has 17 COVID-19 patients hospitalized as of Saturday, up from 14, including one in intensive care, unchanged.
The Dr. Georges-L.-Dumont University Hospital Centre in Moncton, Campbellton Regional Hospital and Tracadie Hospital each have five patients, Edmundston Regional Hospital has one in intensive care, and Chaleur Regional Hospital in Bathurst has one patient, the dashboard shows.
2,465 new cases
A total of 2,465 new cases of COVID-19 were reported in the past week, up from 1,915 last week and 1,025 the week prior.
That includes 1,044 cases confirmed through a PCR lab test (up from 768) and 1,421 self-reported by people who tested positive on a rapid test (up from 1,147).
There are now 1,382 active cases across the province, based on PCR cases alone, compared to 966 a week ago.
An estimated 1,700 New Brunswickers are being infected with Omicron for the first time each day, according to COVID-19 Resources Canada, a research group funded by the Public Health Agency of Canada.
That's 213 infections per 100,000 New Brunswickers, as of July 9 — nearly 2½ times the national average of 87, Tara Moriarty, co-founder of the group, told CBC on Monday. The number is probably closer to 2,210 when reinfections are included, she said.
The number of infections and spread contributed to New Brunswick earning the second highest COVID-19 hazard index score in Canada at 2.95, after Newfoundland and Labrador at 2.98, Moriarty had said. The hazard index is also calculated based on vaccine protection, health-care system impact and mortality.
Russell said the "key indicator," the one the province is most concerned about, is the number of people admitted to hospital for COVID.
New Brunswick has had 69,537 confirmed cases of COVID since the beginning of the pandemic, with 67,722 cases considered resolved so far.
19 hospital unit outbreaks
There are COVID-19 outbreaks on 14 Horizon hospital units, compared to eight a week ago — four in the Moncton region, Zone 1, eight in the Saint John region, Zone 2 one in the Fredericton region, Zone 3, and one in the Miramichi region, Zone 7.
No details are available on the dashboard, but Horizon spokesperson Kris McDavid said they include:
The Moncton Hospital's medical surgical intensive care unit, cardiac unit 3400, rehab unit 4400, and the stroke unit 4600.
Sackville Memorial Hospital's Brunswick unit.
Saint John Regional Hospital's family medicine unit 5CS, surgical intensive care unit, rehab unit 4CS, internal medicine unit 4CN, transitional care unit 4AN, and family medicine unit 5CN.
Sussex Health Centre's family medicine unit south wing.
St. Joseph's Hospital's geriatric assessment unit, geriatric emergency management, 5th floor.
Miramichi Regional Hospital's rehab/alternate level of care unit 1 East.
Vitalité has five outbreak units: Tracadie Hospital's medical unit and 2nd north unit, Campbellton Regional Hospital's geriatric unit and Restigouche Hospital Centre's continuous rehabilitation unit C-1.
204 health-care workers off because of COVID
Horizon has seen some improvement in the number of health-care workers off the job after either testing positive for COVID-19 or coming into contact with a positive case, according to the dashboard.
As of Saturday, there were 83 staff absences because of COVID. Last week, 100 employees were absent.
No breakdown is provided.
Meanwhile Vitalité has 121 workers off, up from 82. The Moncton region, Zone 1, has the largest share, at 38, followed by the Bathurst region, Zone 6, with 35, Campbellton region, Zone 5, with 30, and Edmundston region, Zone 4, with 18.
Because of "ongoing shortages" of doctors and nursing staff, Vitalité is urging the public to avoid visiting its emergency departments for any non-urgent health problems.
"People who still come to emergency for non-urgent reasons could be asked to return at a later date, be redirected to the community or face a long wait," the regional health authority advised in a news release.
People whose state of health is not critical are encouraged to make an appointment with their family doctor, speak to their community pharmacist, call Tele-Care (811) or book a virtual appointment at evisitnb.ca. 
Horizon still has one hospital over capacity, according to figures provided by the spokesperson. Upper River Valley Hospital in Waterville has a bed occupancy of 105 per cent.
Miramichi Regional Hospital is at 97 per cent, Saint John Regional Hospital, 96 per cent, the Moncton Hospital, 95 per cent, and the Dr. Everett Chalmers Regional Hospital, 93 per cent.
Vitalité now has seven hospitals listed at or over capacity, two of which have COVID patients.
The Dr. Georges-L.-Dumont University Hospital Centre in Moncton and Tracadie Hospital are both listed at 103 per cent capacity with five COVID patients each.
Enfant-Jésus RHSJ Hospital in Caraquet has the highest bed occupancy at 133 per cent with no COVID patients.
link