Noojmowin Teg Health Centre hosts first Indigenous People's Day celebration in Espanola
Article content
In partnership with the Ojibwa Cultural Foundation and the Town of Espanola, a celebration in honour of Indigenous People's Day was held outside of the Recreation Complex on June 21. The longest day of the year, signaling the beginning of summer, has historically held significance to Indigenous and Non-indigenous peoples. For generations, various Indigenous communities have held celebrations on the Summer Solstice in appreciation of their culture and heritage. Proclaimed National Aboriginal Day in 1996 after a decade of statements in support of the creation of such a day beginning in 1982, it was renamed in 2017 as National Indigenous People's Day.
Article content
Everyone was invited to join and share in the rich culture and traditional knowledge of local Indigenous peoples. Demonstrations of traditional dances as well as their meaning and significance were held, with examples of wonderful beading and craftsmanship on display.
Colourful ribbon skirts brightened the day and lessons in lacrosse were held much to the delight of children and adults of all ages. All accompanied by recordings of traditional drum music played over a speaker, like a heartbeat through it all.
Displays of Indigenous artifacts held at the Ojibway Cultural Foundation from Brunswick House, Lacloche sites and Providence Bay among others were there. Included was a 3D printed model of the Providence Bay Heart Pot produced in collaboration with the Ojibwe Cultural Foundation and Western University. Unearthed in the 1980s, and finally returned to the community, the sherds used were just a few fragments belonging to one of over 123 distinct ceramic vessels recovered at the site on Providence Bay, showing Indigenous people were well versed in making pottery on Mnidoo Mnising for generations. Other artifacts on display included small beads, copper work and replicas of pot sherds recreated so that people can experience a tactile connection to the past.
Article content
On hand were Tina and Josh Eshkawkogan, of Wikwemikong, holding forth their small booth with hospitality, sharing traditional teachings, knowledge of local plants and their healing properties, as well as sharing history of local Indigenous family names. All under the shade of a spectacular quilt representing the Teachings of the Seven Grandfathers. Josh Eshkawkogan can be found each Wednesday at Noojmowin Teg sharing his cultural knowledge for the enrichment and healing of all.
A delicious assortment of food and refreshments were offered, including a dish made with manoomin or wild rice, with raspberries, and a tangy vinagrette. Manoomin is a culturally important food for Anishnaabe peoples, sustaining them in both body and spirit. Strawberry and cedar tea was also available to try, Giizhik or cedar is another culturally important plant. Used to encourage honesty, or in a bath for healing and grief, it is also high in vitamin C. Smiles were clear to see as people in this community shared food and conversation, in the spirit of reconciliation.
Article content
For the children there was birch bark painting to enjoy along with fruit for snacks and juice boxes. Grab bags were distributed to all. Information on support services offered in this community by Noojmowin Teg were available and shared freely while cultural support worker Crystal Clark-McGregor was available to answer any questions. Clark-McGregor hopes to hold this celebration every year in Espanola and wants the community to participate and let organizers know they enjoyed the celebration, to ensure this becomes a new tradition in Espanola.
Overall, it was an exceptional day with plenty of sunshine, and a great way to kick off the summer season with a blending of communities from all across the area.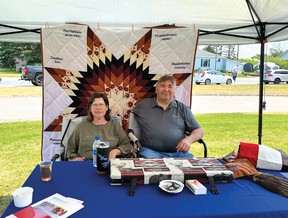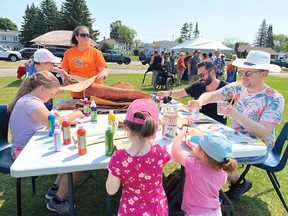 link