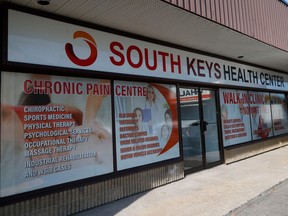 Article content
TORONTO — Ontario is investigating a walk-in clinic in Ottawa that is reportedly charging patients $400 a year for access, Health Minister Sylvia Jones said Wednesday, though the clinic says the fee is legal.
Several media reports say the South Keys Health Center is set to open soon with the membership fee on top of billings for individual services from the clinic's nurse practitioners.
Article content
Nurse practitioners can perform annual physicals, diagnose, order some diagnostic imaging and lab tests and prescribe all medications.
It is illegal to charge a fee for access to doctors or other services covered by the Ontario Health Insurance Plan, but nurse practitioners don't fall under the same banner since their services are not covered by OHIP.
The provincial government funds numerous nurse practitioner positions, such as in about two dozen provincial nurse practitioner-led clinics functioning as primary health care. The Nurse Practitioners' Association of Ontario says on its website that its members are paid by salary and can also be employed by physicians' offices or work in other settings like long-term care.
The Ottawa clinic declined interviews Wednesday, but the director has defended it to other media outlets by saying he is operating within the law and filling a desperate need in the community for primary care.
Jones said the ministry opened an investigation last Thursday.
"OHIP-funded services cannot be charged in the province of Ontario," she said.
Article content
"As soon as we learned that there may have been something happening in the Ottawa region, we opened a report and are asking questions. If it is happening, then the practice will be shut down."
Liberal health critic Adil Shamji said that, even if the letter of the law was not being violated in the Ottawa case, the spirit of comprehensive, universal and accessible health care was.
"I absolutely believe that there are a lot of loopholes in the legislation currently that are being exploited to turn a quick buck," he said.
"The Canada Health Act says that health care is supposed to be comprehensive, universal, portable, publicly administered, and it's supposed to be accessible, and currently the rules are not allowing those five principles to be respected."
If a clinic is functioning as primary care, it should be governed and funded as such, Interim Liberal Leader John Fraser said.
"The government has not moved quickly enough for nurse practitioner-led clinics, and to make them accessible and available to Ontarians in the publicly funded health-care system to complement the work that others are doing in that field," Fraser said.
Article content
"So the loopholes are created by the inertia of the government to actually change how they pay for services and who delivers those services."
The Progressive Conservative government moved with "lightning speed" to give pharmacists powers to prescribe for certain common ailments and cover that service under OHIP, Fraser said, but has not done that for nurse practitioners.
"They actually have a larger scope and they can be more helpful in this situation," he said.
"So it's not as much about closing a loophole — and there are loopholes to close — it's actually taking action to keep up with the changes in health care. We have far more nurse practitioners than we did 15 years ago and right now they're underutilized, vastly underutilized."
Related Stories
Province vows to 'shut down bad actors' but Ottawa clinic charging $400 a year says it is doing so legally

Governor General apologizes for Order of Canada awarded to Waffen SS member
link