Article content
Taking care of the mind and body just makes good sense, and even better business sense for one new clinic in Sherwood Park.
Article content
Business has been booming for Pine Integrated Health Centre during its first few months in operation in Sherwood Park. Since opening in the fall, the clinic has completed 3,500 sessions, which has averaged almost 600 client visits monthly.
"You can't think of just one component of your health and not think of the other and how they have an impact on one another," noted Simone Fleet, clinical lead and physiotherapist, who specializes in women's and pediatric physiotherapy as well as pelvic health.
The Edmonton-based business expanded to the 150 Chippewa Road location because of its high volume of Strathcona County and Fort Saskatchewan patients who were travelling into the city for appointments.
"There are so many families, new moms, single moms, and moms from all walks of life who are living here, and we need to be able to support them," said Samantha Copithorne, psychologist clinical lead, who is also perinatal mental health certified. "I did my practicum with Strathcona County's Family and Community Services, and I saw all of the women's groups and many women who were struggling with all kinds of needs, so I knew this is where we had to be. I was definitely an advocate of coming to Sherwood Park."
Article content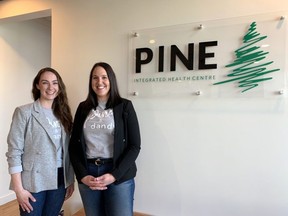 Even though the business can cater to the whole family, its service specialist is supporting women perinatally.
Fleet noted it's crucial during the early periods of postpartum, whether that's days, months or years, to understand how the body is recovering physically and physiology because the physical pain should be addressed just as much as the mental load and drain.
"As a society, we've always been told that if something hurts it's because something right there is wrong and that's the only answer. Thankfully, in our rehabilitation world, as research evolves and that knowledge is translated into practice, it's beautiful that people are starting to look at the whole person. It's definitely hard for most of us to get out of that old mindset," she explained. "When we have individuals come here and they're seeing a variety of practitioners, they say, 'holy moly, you really want to know everything' and we say 'yeah, it all has an impact on you and how you're striving or how you're having troubles and understanding how we adjust that'."
Article content
Care provided by the centre is divided by tables and couches; tables for services such as pelvic floor physiotherapy, massage therapy, acupuncture, chiropractic, and lactation consultation — and with lots of tissues at the ready, the couches provide counselling psychology, speech language pathology, and nutrition.
"There was one client that came in recently saying she was having a hat trick day because she had three different services booked in that one day, and she was taking the day to take care of herself and her health," Fleet said. "It's great that we're able to offer that kind of wrap around service."
Its wide range of therapy services are open to all ages — adults, couples, families, teens, and children.
Article content
"The great thing is that you and your kids could come for an appointment at the same time. Or if you have a child, we have entertainment for them and that helps decrease your mental load. We're trying to cover a lot of bases so that you don't have to go everywhere looking for all these kinds of practitioners," said Copithorne.
Like many other health services following the pandemic, there is pent up demand for help.
"On the psych side, we can't keep up. We're sitting at the point now where we have enough psychologists, but COVID rocked us," Copithorne said. 'm sure I can speak for all of the psychologist, yeah, it was a lot. At this stage, this is when the trauma is starting to hit. People who were copping at hitting burnout. Even copping strategies that used to be super useful are not working anymore, so now we're trying to figure out why and find other resources to help. We're definitely busy on the psych side."
Fleet and Copithorne, along with Simone Moniz, registered provisional psychologist, Pine Cone Health clinical lead (a.k.a. pediatric) and perinatal mental health certified practitioner, foresees nothing but growth for the business moving forward.
To find out more, go to pinehealth.ca or call 587-855-5598.
twitter.com/LindsayDMorey

link