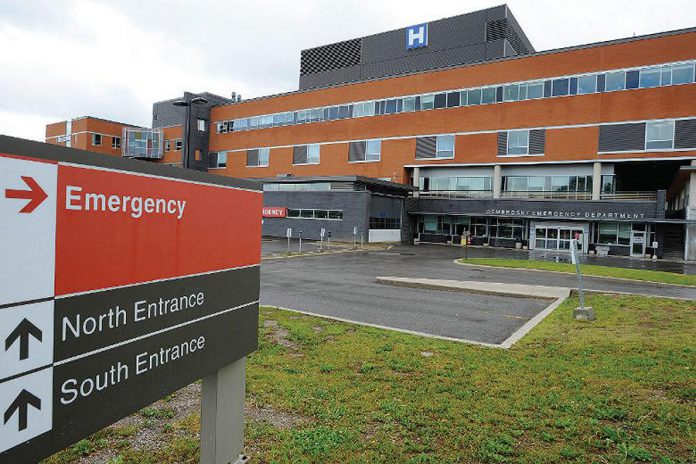 The Ontario government will be providing an additional $17,669,000 in funding for Peterborough Regional Health Centre (PRHC).
The amount includes $6.5 million in operating funding for 2022-23, an increase of 2.6 per cent over last year, as well as $11,669,000 in operational funding to support 43 new hospital beds.
Peterborough-Kawartha MPP Dave Smith made the announcement on Tuesday (May 3), part of a series of announcements for hospital funding made by MPPs across the province this week.
Advertisement – story continues below
According to a media release, the funding is part of an additional provincial investment of $827 million in hospitals across Ontario, representing a four per cent increase from last year and ensuring all publicly funded hospitals receive a minimum two per cent increase to their operating budgets.
"This funding is another landmark investment in our hospital to end hallway health care and deliver better services for our region," Smith said. "This funding marks a significant investment at Peterborough Regional Health Centre."
PRHC executive vice president and chief of staff Dr. Lynn Mikula said the funding is "absolutely critical," as the hospital has operated with more than 40 surge beds in recent years to accommodate an increased number of patients, and as the hospital faces ongoing staff shortages due to the pandemic.
Advertisement – story continues below
Tweet this quote
"As a regional hospital, PRHC is already bursting at the seams, with patient volumes at or above 100 per cent of our capacity at any given time," Mikula said.
"We know that significant growth and expansion will be needed in the years and decades ahead. As the population in Peterborough and the surrounding region continues to grow and age, our programs and services at PRHC must also grow to meet the needs of the communities we serve, and today's investment is an excellent step in that direction."
According to the media release, the funding for new beds is part of a capital plan expansion with more than 50 major projects that will add 3,000 new beds over 10 years and support the continuation of over 3,100 acute and post-acute beds in hospitals and alternate health care facilities, and hundreds of new adult, paediatric, and neonatal critical care beds.
This story has been corrected to indicate the $11,669,000 in funding is operational funding to support 43 new hospital beds.

link