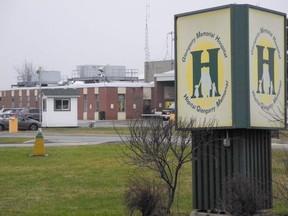 Article content
ALEXANDRIA — A respiratory illness clinical assessment centre has opened in Alexandria.
Article content
The Hôpital Glengarry Memorial Hospital (HGMH) and Eastern Ontario Health Unit (EOHU) announced the opening and said the centre will test, assess, and provide treatment to children and adults with symptoms of respiratory illnesses such as a cold, flu, COVID-19, respiratory syncytial virus (RSV), and other viral respiratory illnesses.
"The current surge in the number of individuals with (respiratory illnesses) is putting an unprecedented strain on our healthcare system," said Dr. Paul Roumeliotis, medical officer of health at the EOHU. "I'm confident the clinical assessment centre at HGMH will allow residents of Cornwall and the five counties to get the care they need faster, while reducing the pressure on emergency departments in our area."
Article content
Roumeliotis was asked if a similar clinic would be opening in Cornwall, and while there are no specific plans yet on that front, it could eventually happen.
"We're working with our local partners, including (Cornwall Community Hospital), to set up similar assessment centres in the Cornwall area, pending their staff capacity and support," Roumeliotis said. "The Alexandria one is the first. However, our ultimate goal is to have multiple centres throughout the EOHU region."
The CCH, while acknowledging on Monday there are no current plans to open a centre in Cornwall, said it will continue to work with its regional partners, including the EOHU, to explore options and support the healthcare needs of our community.
Article content
The CCH issued a news release Monday saying it continues to manage a moderate surge of patients suffering from respiratory illness this virus season, primarily influenza, and respiratory syncytial virus (RSV) and some COVID-19. The hospital said it's seeing more instances of younger children visiting the emergency department with symptoms of respiratory illness and being admitted with influenza or RSV.
"Although CCH continues to see high patient volumes, there have been no service disruptions and the hospital has implemented various mitigation measures to address the surge, including action plans for pediatric patients arriving with symptoms of respiratory illness, and additional beds allocated specifically for pediatric patients," the hospital said in the release.
Article content
EOHU adds flu-vaccine availability to COVID-19 vaccine clinics

Flu, RSV, greater concern within EOHU than COVID-19
As for the respiratory illness clinical assessment centre at HGMH, it opened its doors on Thursday, and it operates by appointment on Mondays, Thursdays, and Fridays from 8 a.m. to 4 p.m. The EOHU said individuals should visit the clinical assessment centre if they, or children in their care, don't have a primary care provider, have symptoms that are getting worse or are not improving, and medical care is needed, have been told by a health professional to go to a clinical assessment centre, or are at high risk of getting very sick from COVID-19 and qualify for COVID-19 testing and treatment.
Article content
Medical authorities say the clinical assessment centre's purpose is to alleviate the strain on hospital emergency departments and allow individuals with respiratory illness symptoms to be seen faster. However, if an adult or child has any of the following severe symptoms, you must call 911 immediately or head to the emergency department. Symptoms for adults include shortness of breath, chest pain, loss of consciousness, and confusion
For children, symptoms include working hard to breathe (the lower chest is moving in more than normal when the child breathes, nostrils are flaring, child is grunting), bluish skin, unable to breastfeed or drink, very sleepy or difficult to wake, peeing less than usual, fever with rash, fever in an infant younger than three months, and seizures or convulsions.
Article content
Appointments can be booked online at www.hgmh.on.ca/clinic, or by calling 613-525-2222, ext. 4177 if you're having difficulty using the online booking system. Appointments will be available within 24 hours of booking the consultation, and the assessment centre will run through the holidays and until the current surge in respiratory illnesses subsides.
In order to leave appointments available for those most in need, individuals who have a primary care provider are encouraged to contact them first. Your family doctor or nurse practitioner will provide you with advice about how to care for yourself or your child at home and will see you in-person or virtually if needed.
Depending on your symptoms, your primary care provider may also ask you to head to a clinical assessment centre.
The Centre de santé communautaire de l'Estrie (CSCE) will also operate a respiratory illness clinical assessment centre at its office in Bourget from 8:30 a.m. to 4:30 p.m. as of this Sunday. Visit www.cscestrie.on.ca/en for more details.
link