Virtual appointments dominated facility service during pandemic height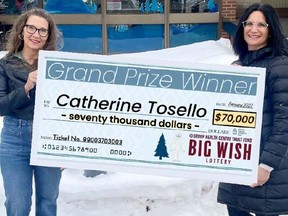 Article content
This year, The Sault Star's 2023 Outlook edition will be published in the printed product and online at sautstar.com. One story will be published Tuesdays, Thursdays and Saturdays, for the next so many weeks, featuring in-depth articles focusing primarily on Sault Ste. Marie and area politics, economic development, health care, education and sports, written by the Star's trusted, experienced editorial team.
Article content
If you're one of Group Health Centre's more than 60,000 enrolled patients, chances are your next appointment there will be up-close and personal.
The Sault Ste. Marie health-care facility was quick to tap into technology during the height of COVID-19 restrictions so that, in late 2020 and early 2021, some two-thirds of patient visits were "some sort of" virtual encounters, carried out via a direct telephone "encounter" or using the online patient portal.
Fast forward to early 2023 and the bulk of staff are back, and one-on-one patient service is returning.
"I just know from experience in health care from the past, if I compare where we are today versus last year at this time, people are more comfortable," says newly minted president and chief executive officer Lil Silvano, a former Sault Area Hospital executive, who took on the top GHC post last November. "And and I would say our environment has changed quite a bit to help to assist that."
Article content
GHC's technological environment has shifted over the past year, as well. Last April, it plugged into a new version of its electronic medical records system to provide a better means of modernizing that component of services. The upgrade has seen GHC move from the 2014 version of EPIC to the most recent version, EPIC 2021. As part of the upgrade, GHC became a member of the Atlas Alliance network, a group of other health-service providers that also uses EPIC as their EMR system. This shared hospital information system is hosted through The Ottawa Hospital.
The EPIC system cost around $8 million in 2014. With joining the consortium and getting on a shared service model, the upgrade will ring in at some $1.9 million.
While the centre explored all available possibilities for a shared hospital information system, the closest option that offered the EPIC EMR was the Atlas Alliance, providing a pathway to valued partnerships.
Article content
"We're actually looking to continue working with our partners in that respect," Silvano said in an interview for the Sault Star's 2023 Outlook edition.
Group Health Centre also seeks to hike patients' use of MyChart, its new online patient portal and mobile app that provides access to medical information, records and appointments, as well as allows clients to message health-care providers.
"(MyChart) is definitely something that will help in terms of expanding our digital care opportunities," Silvano said.
A number of years ago, GHC pitched a plan to the former provincial Liberal government for landing a spanking new bricks and mortar structure to replace Group Health Centre's aging facilities. But the multi-million-dollar blueprint got put on the back burner in 2019 when the Progressive Conservatives took power at Queen's Park and introduced sweeping health-care reforms. Housing multiple GHC services under one roof wasn't a top priority.
Article content
Then came COVID-19, which, naturally, pushed any GHC revamp plans back further.
Now, any plans to expand the physical facility have been put on the back-burner.
"It is a future goal of ours as we are working hard to maintain our existing facilities to meet our patient and community needs best we can," Silvano said. "But it is something that we will inevitably need to look at."
Given patients are returning to the facility, are current quarters getting cramped?
"I don't think so," Silvano said.
GHC communications manager Giordan Zin agreed. One of the benefits of being an ambulatory care facility and not a not an acute care facility, such as Sault Area Hospital, is that visits are scheduled, affording greater flexibility.
Article content
"It's not like the hospital where you never know who is going to show up," Zin said. "We're able to structure and bring in people for the amount of space that we have for that day."
This year marks new beginnings for Silvano, and interestingly, 2023 is a year the Group Health Centre will make a special effort to celebrate its past.
GHC was founded in 1963 as one of the first union-sponsored community health centres in Canada. Founded by thousands of Sault Ste. Marie steelworkers, the facility promised members primary and preventative care with no out-of-pocket cost at a time before provincial health insurance.
Celebrations are in the planning stages.
"We are looking forward to celebrating this important milestone, particularly with our staff, our providers and our original founding members, which, without them, we wouldn't be here today," Silvano said.
Article content
Unfortunately, one of GHC's early architects will not be there. First CEO Fred Griffith, hailed an innovator and health-are leader, died earlier this month.
Group Health Centre has come a long way, being now the home to 80 primary and specialty care physicians, 11 nurse practitioners, more than 100 nurses, more than a dozen clinical programs and some 70,000 rostered patients. The facility hosts more than 300,000 visits across eight Sault Ste. Marie sites.
Like all health-care facilities, the quest to secure a healthy roster of medical professions never ceases.
GHC, Silvano said, continues to work with others, including Sault Area Hospital and city officials, to attract and retain as many physicians and providers "as we can."
Article content
Nurse practitioners are a welcomed group.
"(They) are defiantly important and vital in ensuring that we're able to maintain those rosters," she added.
Silvano succeeded Alex Lambert. He left Group Health Centre last February shortly after his $50 donation to the Freedom Convoy became known. He led the centre beginning in 2014.
Silvano, an Algoma University graduate and chartered accountant, was vice-president and chief financial officer at Sault Ste. Marie's principal health-care facility before joining GHC.
She said she is "very grateful" to work with GHC's "wonderful" team.
"I look forward to leading the organization in its commitment to enhancing the health outcomes of our community and building strong relationships with our physicians, partners and, most importantly, the staff here at Group Health Centre."
On Twitter: @JeffreyOugler
link