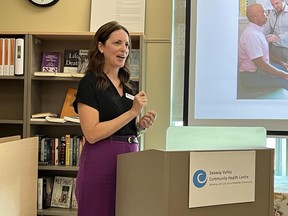 Article content
The Seaway Valley Community Health Centre in Cornwall looked back at an extraordinary and successful year on Thursday, at its first post-pandemic in-person annual general meeting.
Article content
Executive director Erin Killoran told the gathering both she and board president Linda Cleroux are "incredibly proud of the (SVCHC's) successes. Whether our staff were providing direct services to clients or supporting their respective teams, they care deeply about their community, our clients and each other."
Article content
Killoran touched on just a few of the many programs and services during her address – the SVCHC, with 48 staff members, for the year served 5,643 clients, offering 104 programs, and had over 23,000 individual encounters.
Killoran noted that after many months of hard work, the centre achieved official accreditation status in August, and that over the year it collaborated with community partners to provide primary care services to asylum seekers, and expanded its involvement with the Great River Ontario Health Team.
Article content
The executive director highlighted several new initiatives, including the Move 2 Quit smoking cessation program through the University of Ottawa Heart Institute, and a maintenance program for cardiac rehabilitation clients.
The slate of nominees to the board of directors was presented, with four new board members announced for a two-year term to 2025 – Saima Naqvi, Wendy Woods-Fontaine, Gord Shewfelt and Annie St. Marseille.
They join board members Safdar Chaudhry, Linda Cleroux, Arthur de Oliveira Correa, Cindy Drouin, Elizabeth Helmer, Muhammad Njoya and Jason Samson.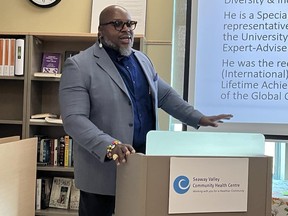 Parting board members are Ann Zeran, Rev. Adam Brown, Kim Height, and Lisa Duprau.
Article content
Guest speaker César Ndéma, president of North-South Development with Roots & Culture Canada, and Eastern Ontario regional director of equity, diversity and inclusivity at Valoris of Prescott-Russell, praised the diverse backgrounds of the board members.
"It's really nice to see that, in a changing Cornwall," Ndéma said. "Cornwall is a community that is becoming more diverse."
Ndéma referenced the influx of refugees and asylum seekers to Canada, and said "they are not all going to be in Toronto, Montreal and Vancouver, eventually they will come to smaller cities.
"So what kind of city are we trying to have here, what kind of health centre do we want to have?" he said.
Ndéma also referenced a changing, shifting society "and a new age of geopolitics. . . we live in a time when conflicts will increase. I'm not being pessimistic I'm telling you the raw truth."
Article content
He said the SVCHC will continue to have a vital role in a changing world and changing city, offering services to all people regardless of background and skin colour.
"You're saving lives and saving souls, this is what you do here," Ndéma said.
The SVCHC's Annual Report booklet referenced the changing times on its front cover, with a theme of "seeking balance in an ever-changing world."
In Thursday's presentation of audited financial statements, SVCHC manager of corporate services Jeff Walmsley told guests that the centre's funding is from the Ministry of Health and Long-term Care and is $4.9 million for 2023; after expenses there was a small surplus of just over $30,000 which will be returned to the ministry.
Killoran presented 10-year staff service awards to Walmsley and Jessica McLeod (registered dietician). Five-year awards were handed to Dr. Leo Gnanaraj Stephen Prabhudas, Julie Lessard (physiotherapist), Jacquie Sorensen (medical secretary), Chantal Lajeunesse (social worker), Alanna Mitchell (nurse practitioner), and Kate Russell (RN-primary care team lead).

link