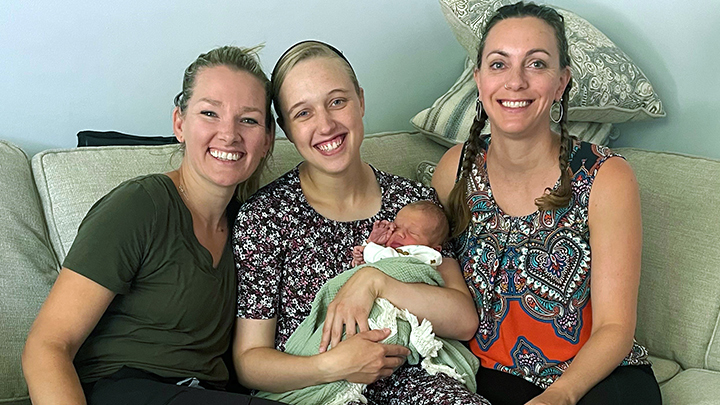 Yolanda Fehr holds her baby boy and shares smiles with Registered Midwives Stacy Peleskey, left, and Leesha Mafuru, who helped her deliver the first baby born using new water-immersion equipment at Taber Health Centre. Photo supplied.
New AHS policy makes mom happy in South Zone's first immersion birth
Story by Kelly Moris
Taber Health Centre (THC) recently welcomed its first baby born in hospital using new water-immersion equipment, with the support of midwives and Alberta Health Services' (AHS) Water Immersion Labour and Birth Policy and Guideline.
In what's also a South Zone first, Yolanda Fehr delivered a boy, her second child, on Aug. 9 while submerged in a pool of water at THC, with the support of Registered Midwives (RMs) Stacy Peleskey and Leesha Mafuru.
Fehr says she's naturally drawn to warm baths as a form of pain relief, and home-based water immersion has become a common practice for RMs and their clients in communities. Families often request the service as an option to help manage pain during labour and birth.
"I already know myself, I really like water, like if I have menstrual cramps I always go for the tub and then I sit in water and relax," Fehr adds. "I knew from (my first) that I had back pain, or back labour, and so I was expecting the same thing this time around."
AHS' policy and guideline outline safe and consistent water-immersion practices with the goal of supporting facilities and care providers who offer, or plan to offer, water immersion during labour and birth.
"A lot of incredible teamwork went into implementing the policy in Taber Health Centre," says Christine Lazzer, director, Midwifery Regulatory & Strategic Planning, Provincial Midwifery Administrative Office (PMAO).
"We worked with people at all levels and across the zone, collaborating, answering questions and ensuring teams felt supported with resources and checklists. We will also be able to support other teams and sites as they introduce water immersion for their patients."
Thanks to generous donors, Taber and District Health Foundation raised $3,000 to purchase the equipment and supplies needed for water-immersion births. With the support of the PMAO, healthcare staff at THC worked together to buy and set up equipment, ensure safe practice and train nursing staff.
For Fehr, it all added up to her having the birth experience she'd hoped for.
"I knew midwives did water births, but not in hospital," she says. "We weren't sure we would like to do it at home, because I lost quite a bit of blood with my first.
"Then it just happened that we had the privilege, that Taber Health Centre now had the pool and we could try in hospital, because weren't quite comfortable doing it at home."
"Some clients may feel safer delivering at the hospital," says Peleskey. "Now clients won't be losing the option of having a water birth — whether they're delivering at home or in hospital."
link