Hand over the management of drug consumption sites to organizations that respect the law
Get the latest from Adam Zivo straight to your inbox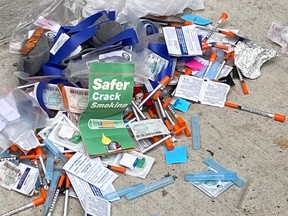 Article content
Supervised consumption sites cause demonstrably severe public disorder and crime, yet the organizations that manage them are often unwilling to admit this or do anything about it. This obtuseness seems inexplicable — until you consider that these organizations advocate for initiatives that blatantly normalize criminal behaviour.
In fact, some centres have purposely hired drug users and dealers to carry out some of their programming.
Article content
A tragic case that illustrates this point is the South Riverdale Community Health Centre (SRCHC), which has been mired in bad press since a local resident, Karolina Huebner-Makurat, was killed by a stray bullet near the organization's safe injection site in Toronto's Leslieville community on July 7.
A month after Huebner-Makurat's death, 23-year-old Khalila Zara Mohammed, a harm reduction worker at the SRCHC, was arrested and charged for allegedly helping one of the shooting suspects escape and hide from authorities. Her arrest prompted the Ford government to initiate a "critical incident review" of all of Ontario's consumption sites, starting with the SRCHC.
Media reports indicate that neighbours had long-standing concerns about the Leslieville consumption site, but details remained murky until last week, when the National Post published a revealing article by award-winning journalist Derek Finkle, who provided a first-hand account of what it has been like to live across the street from the site.
Finkle vividly described how the neighbourhood degraded into an "open-air drug emporium" after the site was opened in late 2017. These problems intensified after researchers with the University of British Columbia advised, in 2019, that police enforcement near Toronto's safe injection sites should be curtailed so that drug users could feel more comfortable accessing the facilities.
Article content
Used needles became ubiquitous, posing serious health risks to unsuspecting children. (The safe injection site is within 100 metres of two schools and three daycares.) One five-year-old boy picked up a baggie containing a large chunk of orange fentanyl, which could have easily killed him.
Finkle reported that addicts had assaulted a handful of people living in the neighbourhood, including his wife. Earlier this summer, a drug-addled woman stumbled down his street in the middle of the day, screaming at neighbours on their porches. She threatened to burn down one particular house, emphasizing that she would do so while the children who lived there were inside.
When community members raised their concerns to the SRCHC's staff and leadership, they were repeatedly ignored.
Things seemed to change after Huebner-Makurat's death, which elicited a hurricane of negative press and provincial scrutiny, but Finkle said that based on what he and his neighbours had experienced, the SRCHC seemed more interested in protecting its reputation and shirking responsibility for community harms than implementing reforms.
Article content
Based on Finkle's account, one might wonder: how can an organization be so grossly indifferent to crime and violence? One compelling explanation could be that criminality is simply normalized within the SRCHC.
In general, the harm reduction movement believes that drug policies should be led by individuals who have "lived experience" with drug use (this typically means active, not former, drug users). While consulting with such individuals can be useful for designing social programs, harm reduction activists take this principle to such extremes that they condone, if not actively encourage, criminal behaviour.
As an example, SRCHC programming has included "Harm Reduction Satellite Sites," wherein drug users are paid to run quasi-supervised consumption sites out of their own homes. In 2020, the organization partnered with another Toronto-based community health centre, which has also funded such sites, to publish an operating guide for other service providers interested in launching similar programs.
The document, whose guiding principles include building "spaces and services where repressive drug laws cannot be enforced," gives a glimpse into a broken organizational culture that tolerates, and even encourages, criminality.
Article content
Among other things, service providers are encouraged to hire drug dealers to run these sites, as trafficking constitutes a form of expertise and working with dealers is "a great way to reach people who otherwise don't typically engage with harm reduction services." Service providers are advised that going to jail is a "part of life" and that satellite workers should continue being paid while incarcerated.
The guide discourages maintaining a rigid code of conduct and argues that it is "not appropriate to expect sobriety" from contracted drug users or dealers, even when they are providing harm reduction services, and that "expectations that workers not use drugs with clients, which might be standard in other programs, should not apply to satellite workers."
Service providers and satellite workers are encouraged to hide the existence of these sites from landlords and other tenants, lest discovery lead to eviction, and to procure lawyers in the event of trouble.
The guide argues that as satellite workers are embedded within distressed communities, they can help users get information about police activity, which suggests that these programs actively help drug users and dealers evade the law.
Article content
The needles and the damage done: Inside our neighbourhood's battle over unsafe injection, crime and murder

Adam Zivo: The Trudeau Liberals are risking political suicide by denying Canada's crime crisis
Needless to say, all of this is grossly irresponsible.
What policy-maker would, in their right mind, support a program where "harm reduction" is provided by drug dealers who, in all likelihood, are high while providing their "services?"
Is it any wonder that an organization that contracts drug users and dealers this way, and actively encourages subversion of the law, would ignore community concerns about public disorder and crime arising from other programs?
In his article, Finkle described how neighbours witnessed harm reduction workers using drugs outside SRCHC's main consumption site. Staff allegedly "disinvited" police officers from being on or near the property, and attempted to prevent plainclothes officers from arresting drug dealers outside the building. One neighbour allegedly overheard a harm-reduction worker advising a client, who needed money, to just go and rob some homes on the street because "they're all rich."
Article content
Those who read Finkle's article might think this kind of alleged behaviour is an anomaly. They might find it unimaginable that a harm reduction worker would allegedly help a criminal evade justice for shooting and killing an innocent mother, and even assume that consumption sites offering high-risk health-care programs are uniformly staffed by highly trained professionals who are held to strict codes of conduct.
But these readers would be wrong. Such behaviour is baked into the policies of the SRCHC and other community health centres, and reflects the overall culture of the harm reduction movement, which prioritizes the interests of drug users above all else.
(SRCHC staff did not respond by Thursday afternoon to queries about its satellite site program and whether it continues to operate.)
Across the nation, Canadians are reporting similar experiences at other taxpayer-funded consumption sites — public drug use and trafficking; an epidemic of crime and violent harassment; and a callous disregard for surrounding neighbourhoods.
The drug users at the vanguard of the harm reduction movement like to say there can be "nothing about us, without us." This principle makes sense in moderation, but, for many organizations, its extreme application has produced workplace cultures and policies that allow patients to run the asylum.
Had these patients taken this opportunity to prove that high-risk programs can be responsibly managed by drug users, all would be well. But that is not what is happening.
It would be unwise to abolish consumption sites, as they provide some public health benefits (i.e. reducing HIV and hepatitis C infections). But it's imperative that these programs are handed over to new providers that respect the law and minimize the involvement of active drug users in program development and service provision.
National Post
Get the latest from Adam Zivo straight to your inbox
link