Ontario's Deputy Minister of Health, Catherine Zahn, made public comments undermining the audit Premier Doug Ford promised.
Get the latest from Brian Lilley straight to your inbox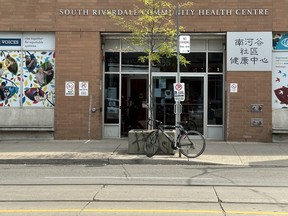 Article content
Can we expect a fair and impartial review of safe injection sites from Ontario's ministry of health? Not given what has been reported about Ontario's deputy minister of health on this issue.
Article content
It appears the top bureaucrat in Ontario's health system is undermining the audit Premier Doug Ford promised local residents.
Article content
Derek Finkle, a journalist and documentary filmmaker who lives near the South Riverside Community Health Centre, has just published a long and detailed account in the National Post of living next to the injection site in Toronto's Lesliville neighbourhood. Fickle describes how he and other neighbours of the site have been pushing for changes long before the July 7 shooting death at the centre that took the life of an innocent woman.
Karolina Huebner-Makurat was shot and killed after a fight among drug dealers in a park adjacent to the site broke out in gunfire. Huebner-Makurat, a wife and mother of two young children, was just out to get lunch when the shooting happened in broad daylight.
Article content
A week after the shooting, Ford told Alex Pierson on Global Radio AM 640 that he wanted the safe injection site to be audited.
"I've directed our team to look into this site and to make sure they're in compliance. If they aren't in compliance, that's it. They're done," Ford said.
Then on July 26, a public meeting was held with representatives from the SRCHC, Toronto Public Health, city council and Ontario's ministry of health. The province was represented by Catherine Zahn, Ontario's deputy minister of health, the highest ranking bureaucrat in the system.
RECOMMENDED VIDEO
In an interview, Finkle said that he didn't know who Zahn was when he met her at the town hall but that she was very friendly with SRCHC CEO Jason Altenberg. He described in his National Post piece how during the town hall Zahn seemed to downplay what Ford had promised and comfort Altenberg.
Article content
"During the town hall, Zahn, the deputy minister of health, stated for the first time publicly that the South Riverdale safe injection site was being subjected to something called a critical incident review. She clarified, while reassuringly patting the arm of CEO Altenberg, seated next to her, that this was not as severe as the full-blown audit the premier had implied was coming," Finkle wrote.
LILLEY: Two charged, including safe-injection site worker, in Leslieville murder

LILLEY: Doug Ford needs to shut down or take over safe injection site

LILLEY: Safe injection site only safe for drug dealers
In a later interview, Finkle said that in his brief interaction with Zahn and his comments at the town hall, harm reduction for addicts was more important than community safety for residents including local children.
Article content
"Dr. Zahn made it very clear that she believes there is not enough harm reduction," Finkle said Thursday. "Based on her comments at the town hall, her concerns about public safety are secondary to her desire for more harm reduction."
All of that should be a concern, but the description of Zahn undermining the audit that Premier Ford had promised residents, her reassurance of Altenberg including patting him on the shoulder should preclude her from any involvement in the review of the centre. Zahn is clearly picking sides and it's not the side of the residents, it's the side of Altenberg and his centre.
No review out of her ministry can be accepted as legitimate at this point.
I asked Ontario's Health Minister, Sylvia Jones, how the public can be expected to have any faith in this review and if she, as minister, still has faith in Zahn. Jones' office didn't dispute anything Derek Finkle described but through spokesperson Hannah Jensen offered a weak response.
"The premier and minister have been very clear, all sites need to be in compliance with the requirements as set out in their agreements. The critical incident review of the South Riverdale Community Health Centre has already begun and will inform our next steps as it pertains to this site," Jensen said.
The ministry carrying out this review was always suspect, any involvement of Zahn now makes it unacceptable.
RECOMMENDED VIDEO
link