Around 6:40 a.m. Tuesday, city police say they were called to the hospital after receiving reports of a man causing damage there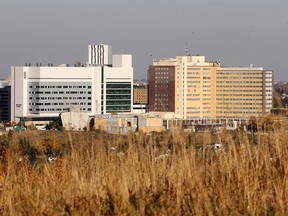 Article content
Surgeries were postponed after a weapon-wielding vandal attacked a floor of the Foothills Medical Centre on Tuesday, raising security concerns among staff.
Article content
Around 6:40 a.m. Tuesday, city police say they were called to the hospital after receiving reports of a man causing damage there.
Article content
"No people were harmed and hospital security helped remove the man from the building," Calgary police said in a statement.
Calgarian Emanuel Brissett, 31, has been charged with three counts of assaulting a peace officer with a weapon, assault with a weapon, property damage over $5,000.
His next court appearance is set for March 30.
AHS said the intrusion led to some surgeries and inpatient laboratory services being delayed.
"A small number of procedures unfortunately needed to be postponed and rescheduled," an AHS spokesman said in a statement.
"Those postponed procedures are being rebooked and some of those procedures are occurring (Wednesday)."
Article content
He didn't say how many procedures had been impacted but added that on Tuesday, Foothills had 79 of them booked.
"We understand this is upsetting for patients and families, but it was the best decision to maintain patient safety. Surgical procedures which did not require in-procedure lab services went forward without delay," said the spokesman.
Incident occurred on floor where crucial equipment kept: staffer
A staff member said the incident occurred on the seventh floor of the McCaig Tower with the intruder activating a fire extinguisher.
Another health care worker said the suspect also used the extinguisher as a blunt instrument.
The worker said the floor hosts a transfusion bank holding blood and other products crucial for the ICU and operating room, along with chemistry analyzers used for medical tests and pathology equipment that are needed for surgical activities.
Article content
"Many cancer operations…require special processing in order to guide correct chemotherapy and other treatments that may follow, and this special processing is time-dependent," the worker, who didn't want their name used, said in an email.
"I think the operating room closures stem from this."
The incident raises questions about the level of security at the facility, said the staffer.
"Currently, while there are swipe cards needed to enter the lab, there is no security presence," they said.
"Priority around making the lab a safe and secure environment is needed to ensure no further incidents like this occur."
AHS said there are no plans to change security arrangements at the hospital because the offender "was in a common area, not a secured space."
Twitter: @BillKaufmannjrn

link