Owners filed a lawsuit alleging VCH is conspiring to pull off a "hostile takeover" of their clinics and seeking damages against VCH, the Medical Services Commission and the province.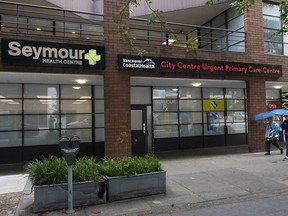 Article content
After spending almost $7 million in the past year to prop up a company that operates a handful of medical clinics, Vancouver Coastal Health has asked B.C. Supreme Court to appoint a receiver to take over management of the company's assets.
Article content
Without restructuring, VCH contends, some 70,000 patients could end up without primary care.
Article content
The husband-and-wife duo who own Seymour Health Centre Inc., meanwhile, have filed notice of their intent to sue VCH and the province for at least $20 million, alleging it was the defendants' goal to "create the conditions for a hostile takeover" of their clinics.
The messy legal battle lands in the middle of the health-care crisis. One million, or about 20 per cent of B.C.'s population, are without a family doctor and a million are on waiting lists to see specialists, according to Doctors of B.C. The system is plagued by ambulance delays, rural emergency room closures and staff burnout.
Seymour Health operates three clinics: a primary care clinic at 1530 West 7th Ave., an urgent and primary care centre at 1290 Hornby St., and an urgent and primary care centre at 221 Esplanade West in North Vancouver.
Article content
In its lawsuit, VCH alleges the owners of Seymour Health Centre, Gursahib (Sabi) Singh Bining and Sandeep (Sunny) Kaur Parmar, owe more than $6.7 million after they defaulted on a loan agreement, a sublease agreement and a letter of intent with VCH.
The petition said Seymour Health stopped paying $50,000 in monthly rent to VCH for the Hornby clinic location in July 2019 and VCH negotiated a repayment plan of $1.7 million in rent arrears in January 2021. But Seymour Health didn't make those payments and "ceased making monthly rental payments entirely after March 1, 2022."
In early 2022, Seymour Health "began to have difficulty paying physicians, suppliers and staff" and suppliers were refusing to deliver supplies.
Article content
"In order to keep the Hornby and W. 7th clinics functioning, VCH provided additional financial support" from June to September 2022 to pay doctors, suppliers, staff and rent totalling $1.9 million.
Between October 2022 and April 2023, there were 13 additional payments totalling $2.5 million, the VCH claim says.
As of May 2, the amounts owed were $4.7 million under the loan agreement and $1.7 million under the sublease. There was an additional $350,000 advanced under a letter of intent, for a total of $6.75 million.
"Without continued financial support from VCH, Seymour will no longer be able to provide primary care services to its approximately 70,000 patients in Vancouver," said VCH's petition. "It is unlikely that Seymour will be able to retain its relationships with its suppliers and landlords without VCH's continued financial support."
Article content
In it lawsuit, filed June 8, the day after VCH's petition, Seymour Health said it acquired its West 7th primary care clinic in 2017 and soon reached capacity.
Then the B.C. government suggested Seymour Health should open an urgent and primary care clinic on Hornby Street — an extended-hours clinic designed to treat conditions not serious enough for an emergency room visit but still needing same-day care, such as sprains, cuts, high fevers and minor infections.
In its lawsuit, Seymour Health said the health minister was "under enormous political pressure to … address the growing scarcity of primary and urgent care capacity."
It said the opening of a new clinic would only be "economically viable" if it had on-site diagnostic labs for tests like X-rays and ultrasounds. Without those labs, patients would face the same delays as if they had to go to a walk-in clinic, it said.
Article content
"The economic viability of the model" that Seymour Health proposed to the government was "critically dependent" on it being able to operate an on-site lab "at a high rate of utilization and to bill and to be paid for that work," said the writ.
Seymour Health said it ultimately agreed to open the new clinic on the basis it "would deliver both physician services and ancillary services and would be paid for them."
At the official opening in November 2018, Health Minister Adrian Dix touted urgent and primary care centres as a way to supplement walk-in clinics and emergency wards and to "co-ordinate teams of health care providers, services and programs to make it easier for people to access care, receive followup care and connect to other services they may need."
Article content
Seymour Health opened another urgent and primary care centre on the North Shore in spring 2019.
But Seymour Health said things did not turn out as planned.
The company said it was turned down for lab licences and for the promised funding for full-time labs, resulting in "strong negative cash flows of approximately $200,000 a month."
"From the start, the province had overpromised and underfunded" the urgent care centres "and now they're using their negligence to interfere with patient care," Seymour Health Centre's chief medical officer, Dr. Eric Cadesky, said in an interview.
Seymour Health, according to its court filings, tried to make up the shortfall a number of ways: $3.4 million from the owners, a $4 million bank loan and a $10 million investment from BDC Capital in exchange for one-third of the equity. The couple also took a second mortgage on their home for $1.5 million.
Article content
The lawsuit alleges VCH, the Medical Services Commission (which grants licences), the province and unidentified other parties "conspired with each other with intent to injure" the plaintiffs.
"Their goal was to ultimately rely on Seymour Health's financial distress … to create the conditions for a hostile takeover" by VCH, the writ alleged.
Seymour Health said the government had recently indicated to the company its intent to "take over the City Centre (Hornby) and North Shore clinics through its agent, Vancouver Coastal Health."
Bining and Parmar have lost $8 million, according to the claim.
Dix said in an interview he wouldn't comment on matters before the court.
But he said, "For many months, they've relied on us to meet their financial obligations. Why we've been supporting Seymour is to see there's no impact in the delivery of care."
---
Spring subscription sale: Our in-depth journalism is possible thanks to the support of our subscribers. For a limited time, you can get full online access to the Vancouver Sun and The Province, along with the National Post and 13 other Canadian news sites, for just $40 for one year or $1 a week for 52 weeks. Support our journalism by subscribing today: The Vancouver Sun.
link