What you need to know about booking a COVID-19 vaccine appointment in York Region
請點擊閱讀中文版
Beginning Monday, June 7 at 8 a.m., eligible individuals who live, work or attend school in York Region who received first doses of COVID-19 vaccines on or before April 18 may now rebook earlier appointments.
Those who have previously booked appointments will have those time slots honoured and not cancelled unless a new and earlier appointment is confirmed.
To schedule an appointment online or by telephone, visit york.ca/COVID19Vaccine
Eligible residents who are not able or comfortable booking an online appointment are encouraged to seek from a caregiver, family member or friend to help schedule the appointment on their behalf.
Telephone support is available and is listed under the applicable clinic.
Second doses will continue to be administered to other eligible individuals as directed by the province including eligible York Region residents 70 years of age and older (born in 1951 and earlier).
Anyone who received AstraZeneca for their first dose may choose to receive a second dose of AstraZeneca vaccine or an mRNA COVID-19 vaccine as of June 4. These appointments may be made 12 weeks after first doses.
Both options for AstraZeneca recipients are considered safe and provide strong protection against COVID-1, said Patrick Casey, York Region's director of corporate communications.
First-dose appointments continue to be offered to individuals 12+ living, working or going to school in York Region.
Individuals must be 12 years old as of the date of their appointment.
Family members 12+ are encouraged to book appointments together for anyone who has yet to receive their first dose of the COVID-19 vaccine.
Individuals 13 years of age and under require a parent or legal guardian to provide consent at the time of the vaccination.
If a parent or legal guardian is unable to accompany their 12 and/or 13-year-old child to the appointment, they then can complete and sign a consent form and send it with the child to the appointment.
Eligible high-risk health-care workers who have already received a first dose can book their second dose beginning May 18.
Information to help you prepare for your appointment is available at york.ca/covid19vaccinebeforeyougo
"As a result of no-shows and/or cancelled appointments, additional vaccine supply may become available and a small number of appointments may appear through the online booking systems. Residents are encouraged to check back often for appointments that may become available," said Casey.
Residents are asked to check the region's website often and be patient as interest is expected to be high and the system was not designed for large volumes.
As of June 2, 757,805 York Region residents — more than 62 per cent — have received at least one dose.
Almost 74 per cent of York Region adults have had at least one dose.
In order to ensure as many vaccines get into as many arms as possible, residents are asked to book only one appointment per person and to cancel any appointments they are not going to use.
Even after you have been vaccinated, health experts advise you to continue following public health safety measures (physical distancing, wear a mask and wash hands frequently.) While the vaccine is very effective at preventing infection or serious illness, there is still a chance you can contract the virus and it's not clear if you can transmit it.
The region was able to get a two-week head start on the rest of the province that opened its online booking portal and call centre Mar. 15.
"This is a very positive step forward," said Dr. Karim Kurji, York's medical officer of health. "We are moving aggressively to vaccinate as many as possible within the province's identified priority populations as vaccine supply becomes available. We are being as nimble as we can using different delivery models depending on the supplies of vaccines and the groups we need to immunize."
The region is still considering moving to the provincial booking portal and customer service line, said spokesperson Patrick Casey.
Residents will be given options for scheduling appointments as soon as they begin the booking process.
Residents who are not able or comfortable booking an online appointment are encouraged to seek out a support person (caregiver, family member or friend) who can assist in booking this appointment on their behalf. Neighbours who know of seniors who might need help are urged to reach out, too.
There is a limited phone call centre available on the website to assist those who need help booking.
Those who require transportation assistance for vaccine appointments can contact YRT Mobility On-Request at 1-866-744-1119 to arrange a ride.
Translation services are available if needed.
Residents who are homebound and cannot attend a clinic may be assisted through the region's mobile outreach teams.
Another option for these individuals may be the drive-thru sites at Canada's Wonderland or Soccer City in Stouffville.
Drive-thru clinics will also be by appointment only.
Additional transportation services are offered by CHATS, CareFirst, Routes, Pinkcars.ca.
For a complete list of community transportation options, call 211 or visit 211central.ca
Walk-in appointments are not available and residents who visit a vaccination clinic without an appointment will be turned away.
For questions about eligibility for the COVID-19 vaccine, call Access York at 1-877-464-9675
---
RELATED: Got questions? Here's where to find answers about COVID-19 and vaccines
---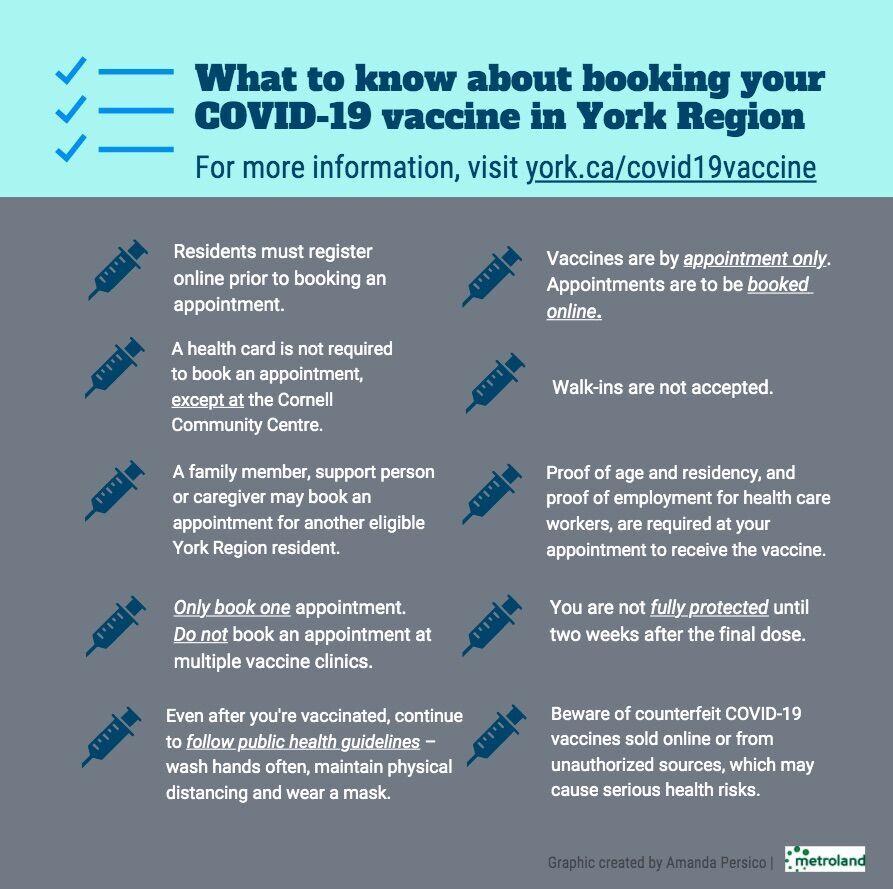 ---
Where to get your COVID-19 vaccine in York Region.
Daily doses and appointments are subject to vaccine availability and supply. 
link